The British Government left Saudi Arabia off a list of thirty countries to be challenged by diplomats over their continued use of the death penalty - despite executing over 90 people a year.
The Kingdom is the only major death penalty state to be omitted from a 20-page Foreign Office document setting out the UK's five-year strategy to reduce the use of executions around the world.
Among the countries given a greater priority were Barbados Singapore and Jordan that between them passed less than ten death sentences in 2014.
10 examples of Saudi Arabia's human rights abuses
10 examples of Saudi Arabia's human rights abuses
1/10

In October 2014, three lawyers, Dr Abdulrahman al-Subaihi, Bander al-Nogaithan and Abdulrahman al-Rumaih , were sentenced to up to eight years in prison for using Twitter to criticize the Ministry of Justice.

AFP/Getty Images

2/10

In March 2015, Yemen's Sunni President Abd-Rabbu Mansour Hadi was forced into exile after a Shia-led insurgency. A Saudi Arabia-led coalition has responded with air strikes in order to reinstate Mr Hadi. It has since been accused of committing war crimes in the country.

Getty Images

3/10

Women who supported the Women2Drive campaign, launched in 2011 to challenge the ban on women driving vehicles, faced harassment and intimidation by the authorities. The government warned that women drivers would face arrest.

Getty Images

4/10

Members of the Kingdom's Shia minority, most of whom live in the oil-rich Eastern Province, continue to face discrimination that limits their access to government services and employment. Activists have received death sentences or long prison terms for their alleged participation in protests in 2011 and 2012.

Getty Images

5/10

All public gatherings are prohibited under an order issued by the Interior Ministry in 2011. Those defy the ban face arrest, prosecution and imprisonment on charges such as "inciting people against the authorities".

Getty Images

6/10

In March 2014, the Interior Ministry stated that authorities had deported over 370,000 foreign migrants and that 18,000 others were in detention. Thousands of workers were returned to Somalia and other states where they were at risk of human rights abuses, with large numbers also returned to Yemen, in order to open more jobs to Saudi Arabians. Many migrants reported that prior to their deportation they had been packed into overcrowded makeshift detention facilities where they received little food and water and were abused by guards.

Getty Images

7/10

The Saudi Arabian authorities continue to deny access to independent human rights organisations like Amnesty International, and they have been known to take punitive action, including through the courts, against activists and family members of victims who contact Amnesty.

Getty Images

8/10

Raif Badawi was sentenced to 1000 lashes and 10 years in prison for using his liberal blog to criticise Saudi Arabia's clerics. He has already received 50 lashes, which have reportedly left him in poor health.

Carsten Koall/Getty Images

9/10

Dawood al-Marhoon was arrested aged 17 for participating in an anti-government protest. After refusing to spy on his fellow protestors, he was tortured and forced to sign a blank document that would later contain his 'confession'. At Dawood's trial, the prosecution requested death by crucifixion while refusing him a lawyer.

Getty Images

10/10

Ali Mohammed al-Nimr was arrested in 2012 aged either 16 or 17 for participating in protests during the Arab spring. His sentence includes beheading and crucifixion. The international community has spoken out against the punishment and has called on Saudi Arabia to stop. He is the nephew of a prominent government dissident.

Getty
Human rights groups and opposition politicians have expressed concern that ministers left the notoriously sensitive Saudi regime off the list to safeguard billions of pounds of defence contracts and security co-operation. 
The Liberal Democrat leader Tim Farron said the time had come to "shine a light" into the "shady corners" of the UK relationship with the Saudi regime.
The Foreign Office minister Tobias Ellwood would only express the UK's "disappointment" at the 47 executions carried out by Saudi Arabia at the end of last week.   
The UK strategy, which was written in 2011, sets out what it describes as a list of "priority countries" where British diplomats would be "encouraged" to "proactively drive forward" and "make progress" towards the UK's ultimate goal of abolishing the death penalty over five years.
It lists China, Iran, Belarus, the US and the Caribbean as the countries where most effort should be focused but goes on to list another 25 countries that have "been identified where posts should also be working towards" reducing the use of the death penalty.
But Saudi Arabia does not appear on either list despite having one of the worst human rights records in the Middle East.
Maya Foa, Director of the death penalty team at international human rights organisation Reprieve said it was a "shocking" omission.
"Saudi Arabia has consistently ranked in the world's top five executioners, and a large proportion of beheadings carried out in the country have been for non-violent offences, including protest," she said.
"It is shocking that the Kingdom was absent from the countries targeted by the UK's death penalty strategy over the past five years, when every other major executioner in the world – China, Iran, Iraq, the US and Pakistan – was included."  
Amnesty International's Head of Policy Allan Hogarth said it was "astonishing" omission.
"We've become increasingly alarmed that the UK government has been bending over backwards to avoid criticising Saudi Arabia's appalling human rights record," he said.
"Ministers are always harping on about how their 'engaged' relationship with Riyadh means they can talk 'frankly' on issues like human rights, but what do these conversations actually consist of and what have they ever achieved? Apparently very little.
"It's time the government reviewed its approach to human rights in the Kingdom and adopted a far more robust stance."
Tim Farron, leader of the Liberal Democrats added: "Saudi Arabia is a barbaric regime and the UK government must do more to stand up to them. The Government must not just write reports and accidentally miss them out due to worrying about diplomatic nicety, it should hold them to account.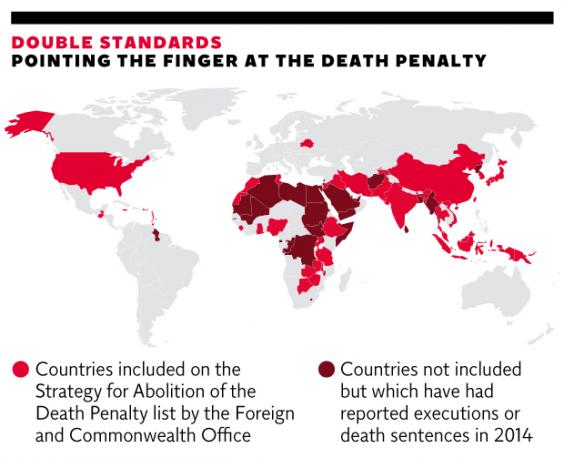 Click HERE for larger annotated version of the graphic
"The Liberal Democrats have called for a debate into the UK - Saudi Arabia relations to try and shine a light into the shady corners of this relationship."
But former foreign secretary Sir Malcolm Rifkind said that there were "a number of advantages" to Britain's relationship with Riyadh, including the provision of Saudi intelligence which had helped prevent terrorist plots.
"There are a number of circumstances where Saudi Arabia and the West have co-operated effectively on counter-terrorism," he said.
"That has to be by far the single most important priority at this moment in time."
David Cameron said that the UK condemned the death penalty in all circumstances and had made representations to the Saudi authorities on this occasion.
"Let me be clear - we condemn and do not support the death penalty in any circumstances and that includes Saudi Arabia," he said.
"We always make representations on the death penalty and the Foreign Office ministers made it very clear on this occasion."
A Saudi Justice Ministry spokesman told the BBC: "As a judicial power or judicial branch, we execute, or we apply, Sharia law according to the facts we see in front of us, irrespective of other influences, and that is what the judges are qualified on. They don't look to any other influences, they deal with the facts that they see in front of them."
A Foreign Office spokeswoman said: "This document is a general policy guide from 2011, rather than a case by case list of countries where the death penalty is applied. A full list of countries of concerns was published in March 2015 in the Annual Human Rights Report, that includes Saudi Arabia and its use of the death penalty. The Government opposes the death penalty in all circumstances as a matter of principle and continues to raise concerns with the Saudi authorities at the highest levels."
Reuse content