Three quarters of Ukip supporters are in favour of bringing back the death penalty, according to research published today which said the party should be defined as belonging to the radical right.
Supporters of Nigel Farage's party are predominately over 55, white, socially conservative and distrustful of government, politicians and large institutions, the annual British Social Attitudes Report found.
The research, which provides the first detailed picture of the views held by Ukip's growing number of followers, found that 75 per cent are in favour of restoring the death penalty, compared to just 48 per cent of the general population. Almost half (46 per cent) said they thought people who want to have children should get married first, compared to 37 per cent generally.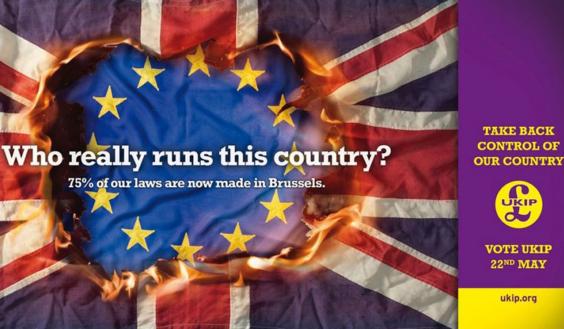 Although the vast majority of Ukip supporters (81 per cent) said they would like Britain to withdraw from the European Union, as many as 17 per cent said they would prefer to stay in – suggesting that the party is attractive to voters for other reasons.
The survey by NatCen, Britain's largest independent social research agency, involved interviews with 2,878 people in England, Scotland and Wales between August and October. Almost eight per cent identified themselves as Ukip supporters, more than ever before.
The researchers found that support for the party was more than twice as high among those aged 55 and over (12 per cent) as it was among under 35s (five per cent). Those in working class occupations were also twice as likely to identify with Ukip as those in managerial and professional positions.
Election Analysis: The Key Voters
Election Analysis: The Key Voters
1/6 Settled Silvers

These are the comfortably-off over-60s, still in work or drawing a decent pension – or both – who are enjoying their entitlements such as the Winter Fuel Allowance, free bus passes and free TV licence. They are worried about immigration and Europe. Both the Conservatives – who are pledging to keep benefits for wealthier pensioners – and Ukip want their votes

Micha Theiner

2/6 Squeezed Semis

Slightly older than the Harassed Hipsters, they are the second key group for Labour's family-focused election strategy. They are married couples on low to middle incomes who own unpretentious semi-detached homes in suburban areas. In 2001, these were the Pebbledash People sought by the Conservatives. Now the pebbledash is gone and a modest conservatory has been built at the back

Micha Theiner

3/6 Aldi Woman

In 1997 and 2001 she was Worcester Woman – a middle-class Middle Englander shopping at Marks & Spencer and Waitrose. Today, the age of austerity means she still goes to Waitrose for her basic food shop but cannily switches to Aldi for her luxury bargains such as Parma ham and prosecco. Identified by Caroline Flint, she is a key target of both Labour and the Conservatives

Micha Theiner

4/6 Glass Ceiling Woman

In her thirties or forties, she has an established career under her belt, perhaps in the "marzipan layer" – one position below the still male-dominated senior executive level. She is now, according to Nick Clegg, forced into making the "heart-breaking choice" between staying at home to bring up her children and going to work and forking out for high-cost, round-the-clock childcare

5/6 Harassed Hipsters

One of the two key groups identified by Labour as crucial to hand Ed Miliband the keys to Downing Street. Well-paid professional couples, often with children, they live in diverse urban and metropolitan areas rather than the suburbs. More comfortably off than most swing voters, they are time poor – struggling to balance raising a young family with busy work schedules

Micha Theiner

6/6 Neo-Greens

These are mainly first-time voters, though some are in their twenties – students and digital-age generation renters helping to fuel the "Green Surge". Idealists, but with no tribal loyalty to any party, they are anti-austerity, middle class, living in urban areas. Despite studying at university or recently graduated, they are struggling to find decent jobs and want cheaper housing and a higher minimum wage

Micha Theiner
More than two thirds of Ukip supporters said they believed migrants from outside the EU should never be eligible for welfare benefits – markedly higher than among the population as a whole. Faith in Westminster politics was also very low, with only 20 per cent saying they trusted the Government.
"Apart from being strongly anti-European and inclined towards tougher attitudes to immigrants, there is also a deep vein of social conservatism and distrust of government [among Ukip supporters]," the report concluded. "Certainly none of these findings suggest that there is any inaccuracy involved in characterising Ukip as a party of the 'radical right'."
The vast majority of Ukip supporters (87 per cent) agreed with the statement 'Young people today don't have enough respect for traditional British values,' while nearly nine in ten wanted to see stiffer sentences passed on criminals.
Less than half approved of gay marriage compared to 60 per cent of the general population. Ukip supporters were also suspicious of big institutions, and were far less likely to believe that public sector organisations such as the BBC, the NHS and the police were being run well.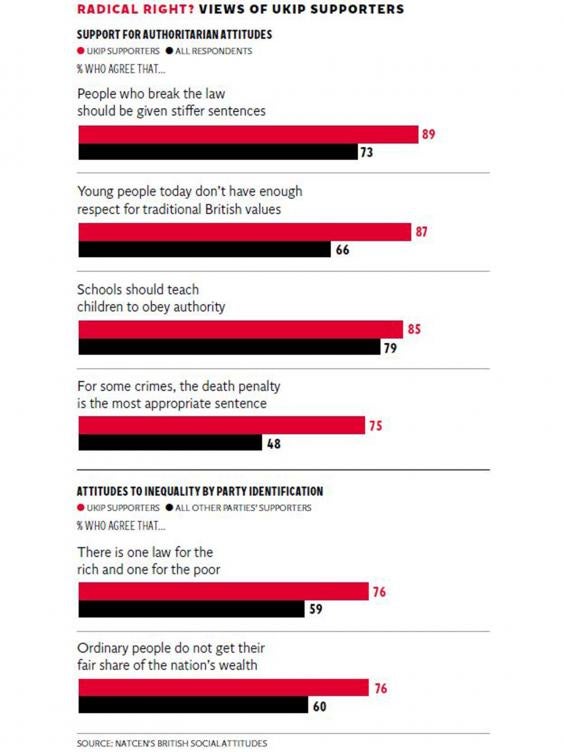 Finally, the survey found that support for Ukip was twice as high among those who said they were "really struggling" on their current income than those who described themselves as "really comfortable". "If Ukip is indeed a party fuelled by protest, the source of its supporters' discontent may in some cases be economic as well as social," the researchers said.
Naomi Jones, co-head of social attitudes at NatCen, said Ukip supporters held "distinctive social views" which were not shared by the rest of the British public. "The fact that they are considerably more likely than the general public to support the death penalty and marriage before children points to them being quite far on the right," she said.
However, she added that Ukip supporters did share some common ground with Labour in their attitudes to economic inequality. Three quarters said they felt that ordinary people did not get their fair share of the nation's wealth – almost exactly the same proportion as Labour supporters.
"That really says to us that they have distinctive views and that they really are more than just a protest vote," she said. "They are sharing these views with quite a high level of consensus – they're not just supporting Ukip in order to be anti-establishment or anti-politics."
Reuse content