Jeremy Corbyn struggled to land many punches in his response to George Osborne's Budget, and was even forced to welcome the introduction of a sugar tax which it appears he was himself preparing to call for.
The Labour leader was handed the toughest task in politics, responding outside his area of expertise to a very lengthy fiscal document with almost no advance warning.
Many of Mr Corbyn's pre-prepared claims were met with laughter from the Conservative front benches - at times it seemed some of the points he raised had already been answered in the Budget itself.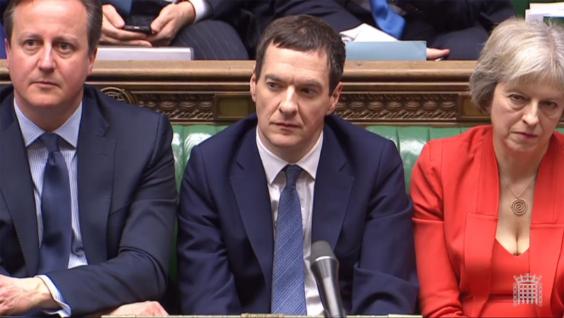 Yet there was one moment in his rebuttal when Mr Corbyn left all of David Cameron, Theresa May and Mr Osborne himself completely ashen-faced.
Mr Corbyn raised the issue of cuts to benefits for disabled people that will see some claimants lose £30 per week.
The cuts have proved highly controversial, and Green MP Caroline Lucas accused the Chancellor of "breathtaking hypocrisy" when he described the Budget as supporting "those who need it most".
After criticising the state of the NHS under the Tories, Mr Corbyn said Mr osborne had "also cut public health budgets, mental health budgets and adult social care".
He said: "Earlier this month the government pushed through a £30-per-week cut to disabled ESA claimants.
George Osborne 2016 budget at a glance
George Osborne 2016 budget at a glance
1/8 Debt forecasts up, growth forecasts down

The OBR's new forecasts have downgraded growth in all of the next five years to 2020. The watchdog says the economy will only grow by 2 per cent in 2016, as opposed to the anticipated 2.4 per cent. Borrowing and productivity growth are also down – with forecast borrowing in 2018-198 £16 billion higher

2/8 New tax on sugary drinks

The Chancellor announced a new tax on sugary soft drinks, which is projected to raise £520 million. At least some of the money will be spent on doubling funding for school sport, the Chancellor says. Labour leader Jeremy Corbyn welcomed the levy

3/8 Tax cut for higher earners paying the 40p rate

The Chancellor has raised the threshold for paying the higher rate of income tax to £45,000. The higher rate is paid by roughly the richest 15 per cent, currently people earning over £42,386

4/8 Increase in tax-free income tax threshold

The tax-free allowance increase to £11,500 in April 2017 – up from £10,600 now. The Chancellor previously raised the allowance from £6,475 in coalition with the Liberal Democrats. The Conservative manifesto pledges to put the allowance up to £12,500 by the end of the Parliament

5/8 New devolution for counties and powers for London and Manchester

The West of England, the East of England and Greater Lincolnshire will all get elected mayor-led combined authorities with new powers. The Chancellor says they are backed by £1 billion new funding. Greater Manchester will get new powers of criminal justice while London will keep its business rates – giving whoever is elected Mayor a lot more spending power

6/8 Fuel duty frozen for sixth year running

The Chancellor had planned to end the fuel duty freeze he had put in place for the whole previous parliament. In the event, he has announced a freeze for another year

7/8 All schools to become academies

As reported yesterday the Chancellor unveiled legislation to turn all schools into academies. He said all schools would either be academies or on their way to being academies by 2020, and that funding had been set aside to fund the change

8/8 Lifetime ISA

The Chancellor announced a new savings account to encourage under-40s to save for retirement – for every £4 saved, the Government will top this up by £1 up to the value of £4,000 a year. Tax-free ISAs will also be increased from £15,000 to £20,000
"Last week we learned that half a million people will lose up to £150 per week due to cuts in personal independence payments
"I simply ask the chancellor this: If he can finance the giveaways he has put in his budget to different sectors, why can't he fund the need for dignity for disabled people in this country?"
On an otherwise comfortable day for the Chancellor, it was the moment when he and the Tory leadership looked most uncomfortable.
Mr Corbyn did not press the point, however, instead moving on immediately to discuss police cuts.
Reuse content