The Government is facing a political row over the independence and effectiveness of Britain's automotive testing regime as the fallout from the Volkswagen emissions scandal continues to spread across Europe.
The former Liberal Democrat transport minister Norman Baker has claimed David Cameron buckled to pressure from German Chancellor Angela Merkel to delay new emissions limits.
Mr Baker, who served as transport minister from 2010 to 2013, said that Ms Merkel had personally telephoned the Prime Minister and called in a favour to protect her country's car industry. He said that Mr Cameron's U-Turn over EU emissions regulation had provoked "fury" within Government and from UK car firms.
"We had negotiated a good deal which both reduced overall emissions and had protections for niche British carmakers such as Aston Martin, but the Germans wanted super credits added back in, which are of no use to our manufactures but were very useful to BMW and Daimler, said Mr Baker.
Super credits are a clause in EU rules for rewarding a large manufacturer with permission to make high-emitting gas guzzlers if it also manufactures a certain number of electric cars or low emissions vehicles. Campaigners say the system has allowed large car makers to continue to produce high CO2 emitting vehicle in exchange for producing a small number of lower emissions vehicles. 
Mr Baker added: "Having got the deal David Cameron then unpicked it. Merkel rang up and wanted a favour and idiotically he said yes. He damaged the British car industry and damaged the environment.  It was Number 10 failing to involve [government] departments as usual that caused the problem."
The chairman of the Commons Transport Committee, Louise Ellman, said Mr Baker's claims raised a "very big questions" about outside influence on policy. "There is certainly a major question about the influence of the motor industry against the interests of the public," she told the BBC Radio 4 Today programme. "Testing should be independent of manufacturers and of government and it doesn't seem that that has been the case."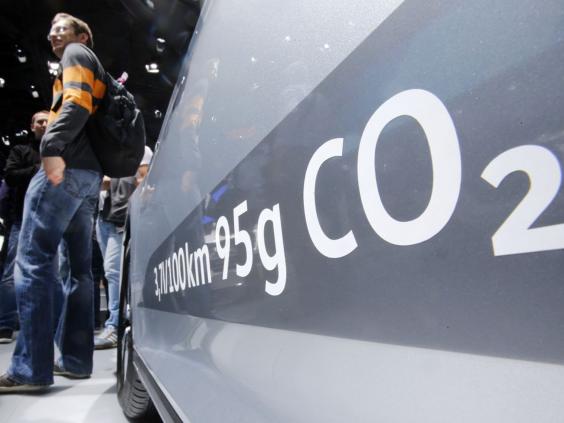 Mr Baker's claim came after Britain's leading car data analyst told the Independent on Sunday that there would be "carnage" if the VW scandal spread to emissions and pollutions testing.
Nick Molden, founder of Emission Analytics, said: "If widespread illegality is found among car manufacturers in Europe then all bets are off. There will be such carnage."
A Government spokesperson refused to deny the claims by Mr Baker, but said the EU-wide negotiations over new C02 targets are "an entirely different issue to manufactures illegally falsifying emissions tests." However fuel efficiency and emissions standards are increasingly being linked amid fierce criticism of the EU's approach to automotive testing.
Elsewhere in Europe the VW emissions scandal continued to cause disruption, as Switzerland banned the sales of VW, Audi, Seat and Skoda diesel cars fitted with the affected VW Group engines, in a move that will shelve 180,000 vehicles that are in the country but yet to be sold. In the UK there are increasing concerns among large fleet operators over the fallout from the VW scandal and possible knock-on effects for second-hand car values.
The IoS understands that several larger firms are considering "totally dumping" the German car maker and are in the process of seeking assurances from rival manufactures they have not manipulated emissions figures. Fleet sales are vital to VW, which currently sells nearly 90 per cent of all Passat models to major firms and car hire companies, who in turn eventually off-load them in the second-hand car market.
Jim Holder, editorial director of What Car? and Autocar, advised VW owners "not to panic" and said that he expected a "short-term dip in confidence and prices of used VWs" before prices returned to normal "within six months." 
Reuse content