Jack Straw may take a job with a firm he helped win a government contract worth up to £75 million after the general election, it has been claimed.
The former Labour Foreign Secretary suspended himself from the party and is being investigated by the Parliamentary Standards Commissioner after becoming embroiled in a "cash for access" scandal.
He and Tory grandee Sir Malcolm Rifkind were filmed by undercover reporters from the Telegraph and Channel 4's Dispatches offering to use their contacts and experience to benefit a fake Chinese company in exchange for thousands of pounds.
Both MPs have denied any wrongdoing. Mr Straw said he observed all rules and the hypothetical discussions only related to employment after the general election when he had already planned to stand down, and not while he was still the MP for Blackburn.
He was secretly filmed boasting of operating "under the radar" to use his influence to change European Union rules on behalf of commodity firm ED&F Man, which paid him £60,000 a year.
According to the Telegraph, Mr Straw also talked about privately lobbying Cabinet Office minister Francis Maude on behalf of Senator International, saying he had helped the office furniture company "get on the ladder".
Mr Straw suggested he would "almost certainly take" an executive position with the firm after May, saying: "I happen to have helped them over the last four years anyway. I mean, without taking a penny from that.
In pictures: Embarrassing political exits
In pictures: Embarrassing political exits
1/9 Mark Harper

Immigration minister Mark Harper resigned after emerged his cleaner was in the country illegally. Mr Harper quit after he discovered his cleaner, whom he employed at his London flat for seven years, did not have indefinite leave to remain in the UK.

2/9 Mark Menzies

Former Conservative MP Mark Menzies resigned as a ministerial aide following allegations made by a Brazilian rent boy in March. The MP for Fylde in Lancashire resigned his position as the parliamentary private secretary (PPS) amid allegations which appeared in a tabloid newspaper, which he strenuously denied.

3/9 Liam Fox

Former Defence Secretary Liam Fox resigned in 2011 over his working relationship with his friend Adam Werritty, which saw the Tory MP ordered to repay £3,000 of expenses for allowing Mr Werritty to live rent-free at his taxpayer-funded second home for a year. Mr Fox faced further embarrassment when it was revealed successfully claimed 3p of taxpayers' cash for a car journey of fewer than 100 metres.

4/9 Denis MacShane

Labour MP for Rotherham Denis MacShane resigned over what a parliamentary enquiry described as "the gravest case of misconduct" ever to be investigated at the time. The ex-Europe Minister was jailed for six months after making false expense claims of nearly £13,000. The former MP previously pleaded guilty to false accounting by filing 19 fake receipts for "research and translation" services. MacShane, 65, used the money to fund a series of trips to Europe, including one to judge a literary competition in Paris.

5/9 Patrick Mercer

Patrick Mercer resigned the Tory whip in May last year after he was filmed by the BBC's 'Panorama' apparently agreeing to lobby on behalf of Fiji for a pro-Fijian cross-party committee.

Rex Features

6/9 Michael Martin

Former Labour party MP Michael Martin became the first Commons Speaker to be forced out of office for more than 300 years following criticism of his handling of the MP's expenses scandal of 2009.

7/9 Jacqui Smith

Former Home Secretary Jacqui Smith stood down in the cabinet reshuffle amid a flurry of controversy after the MPs expenses scandal revealed her husband Richard Timney, who also ran her constituency office, had watched two pay-per-view adult movies which had then, unknown to her, been subject to a claim for reimbursement. The 'porn scandal' not only saw the former Labour MP Ms Smith, who was the first female Home Secretary, eventually resign but also saw her lose her back bench position in May 2010.

8/9 Sir Peter Viggers

Sir Peter Viggers also found himself caught up in the MPs expenses scandal when The Daily Telegraph reported that the Conservative Party Member had attempted to claim for a pond feature identified as a floating duck island, although this was notoriously rejected. The Gosport MP said he would repay £10,000 in claims for garden maintenance and repairs and agreed to stand down at the next election.

PA

9/9 Prime Minister David Cameron

David Cameron gave his shock resignation in … wait, no he didn't. Wales Online were forced to apologise after a story that the government was rocked by news the PM had quit was used in a "training exercise" but went live on the internet by accident before it was quickly pulled.

Getty
"But as a result of getting the name out ... they've said would I be interested ultimately in going on the board?"
A statement from Mr Straw said: "I have acted in accordance with the parliamentary rules at all times in respect of Senator International, as in all other respects. All of these matters will be scrutinised by the Parliamentary Commissioner."
He told the Telegraph he had not been paid by Senator but discussed joining its board when he stands down as an MP.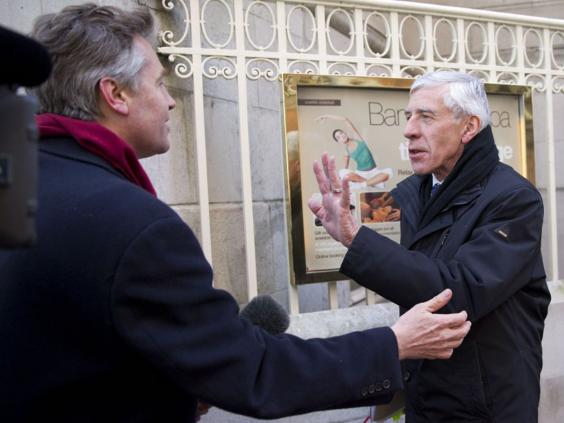 Colin Mustoe, Senator's chairman, told the newspaper that Mr Straw had not assisted his company to secure contracts and had only acted on its concerns about the contract application process in his capacity as a constituency MP, adding: "As far as I'm concerned, he just acted well as a local MP, working with one of the biggest employers in his constituency."
Mr Straw has complained of the journalists' "skilful trap" clouding what should have been his pleasantly "valedictory" last few weeks in the Commons but Sir Malcolm is under more intense pressure as he clings on to his position at the head of the influential Intelligence and Security Committee.
The Tory whip has been withdrawn temporarily while the party investigates and he is under growing pressure to step down from his committee post after being filmed suggesting he could arrange "useful access" to every British ambassador in the world because of his status.
Sir Malcolm, who first entered Parliament in 1974 as MP for Kensington and served for more than a decade in the cabinets of Margaret Thatcher and John Major, dismissed allegations of wrongdoing as "unfounded" and vowed to fight them "with all my strength".
The latest "cash for access" scandal has seen Ed Miliband push his pre-existing plan to ban MPs from taking directorships and consultancies.
The Labour leader is also consulting on legislation to put the ban into law and impose a cap on outside income similar to that in place for members of Congress in the US, who may earn no more than the equivalent of 15 per cent of a minister of state's salary on top of their salary as politicians.
David Cameron said the rules already in place were sufficient but should be properly enforced.
Additional reporting by PA
Reuse content