Tony Blair should be "dragged in shackles" to court as a war criminal, according to the father of a son who was killed in the 2003 invasion of Iraq.
Reg Keys is one of a number of relatives of soldiers killed in the Iraq War who have threatened to take legal action against Sir John Chilcot if he does not publish his report into the war by the end of the year. 
Mr Keys accuses him of failing to understand the feelings of the bereaved as the ongoing "Maxwellisation" process, whereby those criticised in the report are given time to respond before publication, continues to delay the inquiry six years after it was set up.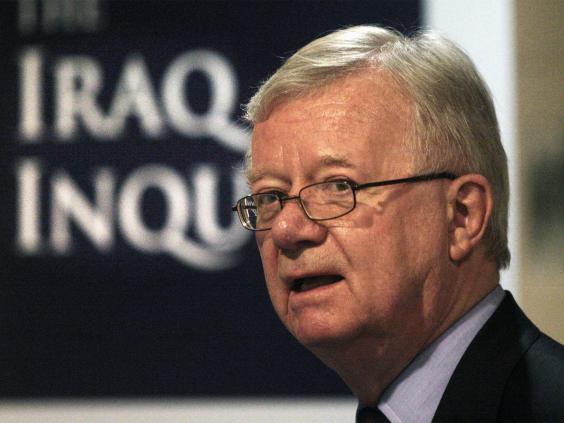 He said Mr Blair should be tried as a war criminal because of the 180 British personnel who were killed and the 3,500 Britons who were wounded, in addition to the thousands of Iraqi's who were killed by Western forces.
The on-going coverage of the delays in the publication of the Chilcot inquiry was "like an open wound that is continually prodded," Mr Keys said.
"The only way for me to move on from this now is to consign Iraq to history and part of doing so is to get this inquiry published," he told the BBC. 
"Yes I'd like to see Tony Blair dragged in shackles off to court as a war criminal because we have to bear in mind 180 British service personnel were killed here, over 3,500 wounded, two million Iraqis fled Iraq, over 100,000 innocent Iraqis have been killed.
"This is an inquiry into a war. This isn't an inquiry into, I don't know, the price of milk, the price of rail travel or the price of energy, and I don't think Sir John has actually got that to be honest, the gravity of what's happened here."
Mr Keys is part of a group of 29 families who have issued a legal ultimatum to Sir John, believing the law requiring inquiries to be concluded in a reasonable timeframe may have been breached.
Jack Straw, who served as Foreign Secretary at the time of the 2003 invasion of Iraq, said the delay in the publication of the report was nothing to do with witnesses to the inquiry and said he shared the families' frustration at the delay.
The Iraq War: A timeline
The Iraq War: A timeline
1/16 11 September 2001

Terrorists belonging to al-Qaeda use hijacked aeroplanes to kill 2,996 people in attacks on the east coast of the US.

AP

2/16 12 September 2001

Tony Blair promises George W Bush that the UK will support the US, whatever the President decides to do.

AFP/Getty Images

3/16 25 March 2002

Jack Straw, Foreign Secretary, warns Blair that invading Iraq would be legally dubious.

Getty Images

4/16 June 2002

Tony Blair asks defence officials to outline options for UK participation in military action against Iraq.

afp/getty images

5/16 24 September 2002

The government publishes a dossier about the threat from Iraq's weapons of mass destruction. A foreword  by Tony Blair states that Saddam Hussein's "military planning allows for some of the WMD to be ready within 45 minutes of an order to use them". It is subsequently alleged that  this dossier was "sexed up" for  political reasons.

Getty

6/16 2 October 2002

Congress authorises President Bush to use military force against Iraq.

Getty

7/16 8 November 2002

UN Security Council passes resolution 1441, insisting that weapons inspectors be allowed back into Iraq and calling on the regime to give up its WMD or face the consequences.

Simon Walker/AP

8/16 18 July 2003

David Kelly, an expert in biological warfare, is found dead after being named as the source of quotations used by the BBC's Andrew Gilligan to suggest that the dossier of September 2002 had been "sexed up". Lord Hutton is appointed to chair a judicial inquiry into his death.

GETTY IMAGES

9/16 13 December 2003

Saddam Hussein is captured near Tikrit, after nine months in hiding.

REUTERS

10/16 2 March 2004

Bombings in Baghdad and Karbala kill nearly 200 people: the worst attacks since the fall of Saddam.

Getty Images

11/16 14 September 2005

Bombs in Baghdad kill 160 people and injure more than 500.

EPA

12/16 30 December 2005

Saddam Hussein is executed.

Getty Images

13/16 28 May 2009

The last British combat troops  leave Iraq.

Getty Images

14/16 24 November 2009

The Chilcot inquiry holds its first public hearing.

Getty

15/16 2 February 2011

The Chilcot inquiry holds its final public hearing.

AFP/Getty Images

16/16 21 January 2015

Sir John Chilcot confirms that his report will not be published before the general election in May 2015.

Getty Images
The chairman of the Foreign Affairs Select Committee, Crispin Blunt, said he did not expect to see the report before the end of the year but said the report will be stronger for having given those criticised the chance to respond.
"If the people being criticised have the opportunity to respond and for those responses if they are valid then to be incorporated into the report, or if not, not incorporated into the whole report, that does mean that the inquiry itself will carry even more authority," he said.
"I think that should be borne in mind, we are engaged in a process that is going to produce an inquiry into an immensely important historic event and the Maxwellisation process gives us the best chance of getting it right."
Sir John insisted last month that the inquiry, which was launched by Gordon Brown in June 2009, was making "significant progress" and in a letter to David Cameron he sought to explain why the process was taking such a long time.
"In a number of cases they have opened up new issues or referred to material that was not part of the evidence submitted to the inquiry, which we are considering with care," he said, adding that his team would complete its task as quickly as possible.
However the retired civil servant added that there was no "realistic timetable for completion" and this will only happen "when all responses are in our possession and have been evaluated".
It drew an angry response from the Prime Minister, who said he was "disappointed" that the inquiry was unable to provide a timetable for completion and warned Sir John: "We are fast losing patience."
He went on to inform him that he had instructed Sir Jeremy Heywood, the Cabinet Secretary, to meet Sir John to discuss how the civil service could help.
Reuse content