Businessmen should stop their "smears" of Ed Miliband and keep out of party politics, Chuka Umunna, the shadow Business Secretary, has said.
In an interview with The Independent, Mr Umunna called for a truce in the war of words between Labour and business leaders since Stefano Pessina, the chief executive of Boots, warned that a Labour government would be a "catastrophe".
However, Mr Umunna also hit back at Lord Rose, the former chairman of Marks and Spencer, who accused Labour of having "anti-business policies" and defended Mr Pessina's right to speak out.
"I have the greatest respect for Stuart Rose as a businessman," said Mr Umunna. "But he is a politician, a Conservative peer, not a businessman sitting as a crossbencher. He is not impartial."
Mr Umunna, who has tried to build bridges with business leaders worried about Mr Miliband's interventionist policies, insisted Labour was right to return Mr Pessina's fire because he made a personal attack on Mr Miliband rather than criticise the party's policies.
"He played the man, not the ball," said Mr Umunna. "There are positive views in business about Labour's policies on skills and Europe. There are things they don't like. In energy, banking and housing, people are quite critical because we think we need change.
"That has never been a problem for us. But when they get personal and throw around hyperbole... we can't just remain silent.
"By all means get involved in the policy debate. That is incredibly important. But throwing around words and smears about a particular party leader is not a good thing for British business. Let's keep business out of the personal, nasty stuff that unfortunately may characterise the general election campaign."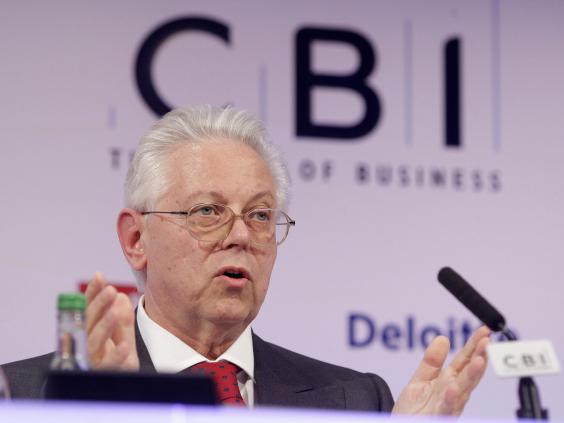 Mr Umunna insisted: "The idea that we are trying to muzzle debate could not be further from the truth." He accused the Tories of seizing on Mr Pessina's remarks to whip up a storm, saying: "There has been a fair amount of co-ordination by the Tories of their business supporters."
The shadow Business Secretary, who is tipped as a future Labour leader, said his party did not want a "row" with Britain's bosses and hoped the dispute with Mr Pessina was a one-off.
Rejecting criticism of Mr Miliband's rhetoric about business "predators," he insisted: "The only way we will be able to reform and grow the economy is in partnership with business. In the overwhelming majority of cases, business is the solution, not the problem when we look at the challenges Britain faces.
"We want to do everything we can to help people make their first million pounds."
He insisted many successful entrepreneurs shared Labour's opposition to "business as usual".
Although no big names from industry endorsed Labour at the 2010 election, Mr Umunna insisted the party would have business cheerleaders in this year's campaign.
He believes Labour's trump card with bosses is its principled pro-EU stance and refusal to take the opportunist route of promising an in/out referendum like David Cameron.
A Labour peer, Lord Mitchell, an IT entrepreneur, said: "The major downside of a Tory victory would be a referendum on the EU.
"If you are a business leader you should be waking up in the middle of the night scared stiff of us leaving the EU."
He said events organised by the party had attracted hundreds of Labour-supporting business people.
Today Boris Johnson entered the row by criticising the Monaco-based Mr Pessina for not paying taxes in Britain. The Tory Mayor of London defended Mr Pessina's right to speak out, but said it was "disappointing" that he had moved Boots' headquarters to Switzerland to reduce its tax liabilities.
He told LBC radio: "I think it is a good thing if companies that earn great sums in Britain should pay their taxes in Britain."
Mr Cameron said he could "very much agree" with Mr Johnson's comments about Boots' move.
Meanwhile, the Prime Minister faced embarrassment when it emerged that Smythson, the leather goods firm which employs his wife Samantha, is based in Luxembourg and owned by a trust in Guernsey.
Reuse content