The perceived impartiality of Britain's civil service was "compromised" by information released for "partisan purposes" during the Scottish independence referendum, an investigation by MPs has concluded.
A new report by the Public Administration Select Committee says the Treasury should never have published its advice about an independent Scotland sharing the pound.
"Sir Nicholas Macpherson's advice should not have been published. Its publication compromised the perceived impartiality of one of the UK's most senior civil servants," the MPs concluded.
"The decision to publish will have unintended consequences for advice given to ministers on future major issues—including referendums. We invite the Government to make it clear in its response to this report that the publication of advice to ministers will never recur."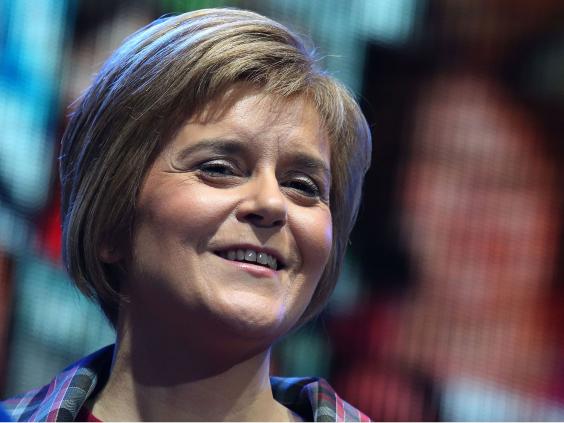 The Committee also criticised a Scottish Government white paper, "Scotland's Future", whose content it says was dependent on the SNP winning the 2016 Scottish Parliament elections.
Nicholas Macpherson, the Treasury permanent secretary and its most senior civil servant, said earlier this year that he believed impartiality guidelines "do not apply" in "extreme" cases like the Scottish Independence referendum.
"Her Majesty's Treasury is by its nature a unionist institution. The clue is in the name," he told a meeting of the Strand Group at King's College London.
SNP Treasury spokesperson Stewart Hosie at the time said the comments were "astounding" and wrote a letter to the head of the civil service Jeremy Heywood in protest.
Scotland goes to the polls
Scotland goes to the polls
1/20 Scotland decides

Piper Ryan Randall leads a pro-Scottish independence rally in the suburbs of Edinburgh

Getty Images

2/20 Scotland decides

A "No" campaigner bursts into song as the BBC's Nick Robinson walks past

Getty Images

3/20 Scotland decides

Chris McAleese holds a Saltire flag as he speaks with Gerrard Corrigan, left, and Robbie Devine outside Bannockburn Polling Station in Scotland

AP

4/20 Scotland decides

George Mackay and his daughter Anne Mackay run a polling station from their caravan at Coulags near Lochcarron

PA

5/20 Scotland decides

Voters arrive at the polling station in the village hall in the remote Highland area of Lochcarron, Scotland

PA

6/20 Scotland decides

A No campaign supporter and Yes campaign supporter debate with each outside the Scottish Parliament building in Edinburgh, Scotland

AP

7/20 Scotland decides

Martin Greenhouse arrived at Partick polling station wearing a Scottish football jersey with the number 14 - for 2014 - on the back. Martin said that he'd lived in Scotland for years and would be remaining north of border regardless of the outcome tonight. "Westminster does London very well. But not the rest of Britain. Devolution works, independence will work better and the regions of England will take note. That's why my wife and I are voting YES."

James Cusick/The Independent

8/20 Scotland decides

A supporter of the 'Yes' campaign stands outside a polling station

Reuters

9/20 Scotland decides

A yes supporter talks with a man and a woman with a Union flag in George Square, just a few hours before polling stations will close in the Scottish independence referendum

Getty Images

10/20 Scotland decides

Chris McAleese at Bannockburn Polling Station, as voters go to the polls in the Scottish Referendum

PA

11/20 Scotland decides

Ryan Randall plays the bagpipes outside a polling station in Edinburgh, Scotland

Reuters

12/20 Scotland decides

Fashion makes a point on voting day in the Scottish Independence referendum in Stirling

EPA

13/20 Scotland decides

Voters come to Notre Dame Primary School polling station as the people of Scotland take to the polls to decide their country's fate

Getty Images

14/20 Scotland decides

Voters come to Notre Dame Primary School polling station as the people of Scotland take to the poles to decide their country's fate in a historic vote

Getty Images

15/20 Scotland decides

First Minister of Scotland Alex Salmond chats to school children at Strichen Primary School in Strichen

PA

16/20 Scotland decides

Former Prime Minister Gordon Brown with No campaigners outside the polling station at North Queensferry Community Centre as polls open

PA

17/20 Scotland decides

Scottish First Minister Alex Salmond gives the thumbs up after voting in the Scottish referendum in Aberdeenshire, Scotland

EPA

18/20 Scotland decides

Residents take part in a "short walk to freedom" march in Edinburgh

Reuters

19/20 Scotland decides

Young voters leave a polling station in Charlotte Square, Edinburgh

Reuters

20/20 Scotland decides

David Aguilar, left, and Aleix Sarri from Catalonia, who are visiting Scotland to support the Scottish independence referendum, gesture and hold up a placard supporting a Yes vote at passing motorists in Edinburgh, Scotland

AP
Scotland's First Minister this month accused the Treasury of a "pre-election partisan attack" after a separate incident in which the department released figures framed as critical of the SNP's anti-austerity programme.
"It is clearly the case that the UK Government is including the SNP in political attacks prepared at taxpayers' expense - while continuing to exclude us from pre-election access to the civil service," Nicola Sturgeon said.
"This inconsistency reeks of hypocrisy, as well as a Treasury which has become transparently party political."
The Public Administration Select Committee is chaired by Conservative MP Bernard Jenkin. It comprises five Conservative MPs, five Labour MPs and one Liberal Democrat MP.
Reuse content