Conservative MPs will today launch a campaign to force Tony Blair to reveal how much he earns – and continue to declare who pays him for the rest of his life.
The Tory MP Andrew Bridgen is tabling a Commons motion arguing that the rules that apply to serving MPs about disclosing their income should also apply to former prime ministers.
Mr Bridgen, MP for North West Leicestershire, told The Sunday Times: "Tony Blair has embarked on a career of personal enrichment and has blurred the lines between his public and private interests.
"No other former prime minister has gone to work for other sovereign states. Mr Blair is still in public life, but is not bound by its principles, and that needs to be changed."
Since Mr Blair left office in 2007, he earned fees far above the salary paid to a prime minister, making him a multimillionaire. As a former prime minister, he is also entitled to a taxpayer-funded allowance introduced by Margaret Thatcher. In 2012-13, he claimed £115,000.
His most controversial source of wealth is from the commissions he accepts in countries with questionable civil rights records.
Tony Blair: A career of controversies
Tony Blair: A career of controversies
1/11 The Tony Blair 'selfie'.. A journalist takes a picture of Kennard Phillips 'Photo Op', depicting Prime Minister Tony Blair taking a 'selfie' in front of an explosion in Iraq, during a press viewing of the exhibition Catalyst: Contemporary Art and War

2/11 Protesters pictured outside the QEII Conference centre in London in 2011 as former British PM Tony Blair give his evidence in the Chilcot Iraq Inquiry

3/11 David Lawley-Wakelin, who disrupted Tony Blair's testimony at the Leveson Inquiry by bursting into the court

4/11 Blair giving evidence

5/11 Tony Blair visiting troops in Iraq in 2007

6/11 Blair meeting with troops in Basra, Iraq in 2003

7/11 Britain's Prime Minister Tony Blair speaks to British soldiers at Divisional Headquaters in Basra, May 2007

8/11 British Prime Minister Tony Blair eats dinner with British troops in Basra, Iraq, 21 December, 2004

9/11 Syrian president Bashar El Assad during his official visit to the United Kingdom in 2002. Mr Blair tried to engage Mr Garcia in a conversation about Syria. The former Prime Minister made clear he was very much in favour of military intervention last summer.

10/11 Syrian president Bashar El Assad and wife Asma during their official visit to the United Kingdom in 2002. Mr Blair tried to engage Mr Garcia in a conversation about Syria

11/11 Former Prime Minister Tony Blair's signature adorns a program he signed for an Iraq veteran during a reception at the Guildhall in London following the service of commemoration at St Paul's Cathedral honouring UK military and civilian personnel who served in Iraq
Last July, he was hired by a consortium led by BP that is seeking to construct a gas pipeline from Azerbaijan to Italy, across Turkey, reducing Europe's dependence on Russia for gas. Mr Blair was hired for his knowledge of EU politics, but has been criticised for aiding Azerbaijan's undemocratic government.
His firm, Tony Blair Associates, also reportedly receives £7m a year for advising Kazakhstan's despotic President, Nursultan Nazarbayev. In August, a letter was leaked in which Mr Blair offered advice to the Kazakh ruler on how to handle damage to his reputation when his police fired on civilian protesters, killing 15.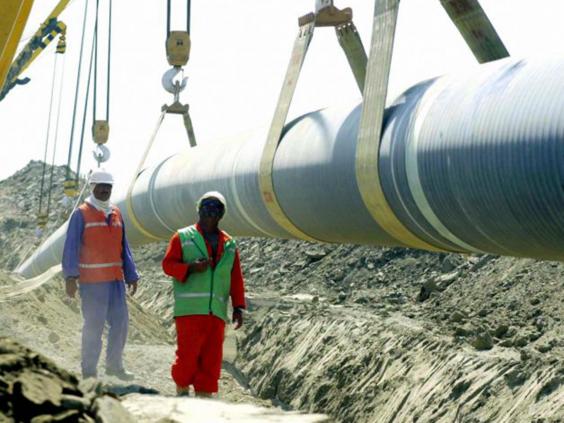 Recently, Mr Blair tried to quash speculation that he was worth £100m, implying that the figure was nearer £20m.
Though Mr Blair's vast earnings are the immediate target of Mr Bridgen's motion, if his proposal were to become law – which is unlikely – it would equally apply to Sir John Major, Gordon Brown and later to David Cameron.
Since leaving office, Mr Blair has avoided being involved in UK politics, and has sought to avoid Parliament, though last week he appeared in front of the Commons Northern Ireland Select Committee to answer questions about letters sent to suspected members of the IRA in 1999 telling them that they were not wanted by the UK police.