The Prime Minister delivered a blunt warning to disillusioned Conservatives that a flirtation with Ukip at the next general election could lead to a Labour government.
At the end of a conference overshadowed by defections to the anti-EU party, David Cameron insisted: "If you vote Ukip, that's really a vote for Labour.
"Here's a thought. On May 7 you could go to bed with Nigel Farage, and wake up with Ed Miliband. I don't know about you, but not one bit of that works for me."
Hours after his speech, Ukip received a morale boost after a former Tory donor Arron Banks announced he was switching allegiance to donate £1 million to the anti-European Union party.
In a direct pitch to Ukip supporters as well as Eurosceptic Tories, Mr Cameron also promised to force the European Union to agree tougher rules on EU nationals working in Britain by exempted this country from rules allowing "free movement" across the Union. "It will be at the very heart of my renegotiation strategy for Europe," he said.
"Britain, I know you want this sorted. So I will go to Brussels. I will not take No for an answer and, when it comes to free movement, I will get what Britain needs."
Mr Banks, who runs the insurance company Go Skippy, has previously funded the Tories to the tune of £250,000, Ukip claimed, although that figure was disputed by the Conservatives.
He explained he had decided to increase his donation from £100,000 to £1m after William Hague, the Leader of the Commons, dismissed the significance of the defection.
Mr Hague had told the BBC: "I have never heard of him, so we are not going to get too upset about that."
The huge donation was the latest in a series of announcements by Ukip designed to disrupt the Tories' final party conference before the general election.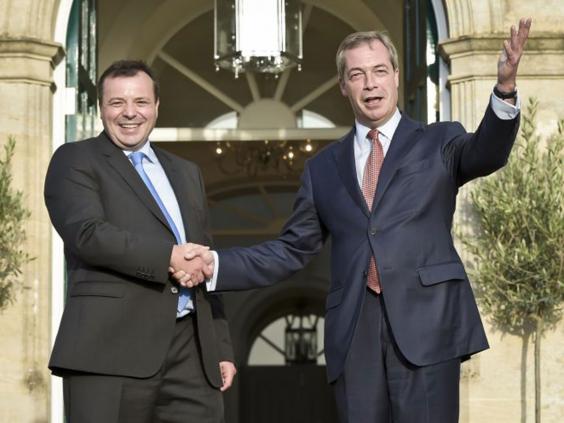 Over the weekend Mark Reckless followed fellow MP Douglas Carswell in jumping ship and triggering Commons by-elections and speculation dogged the conference that a third Tory MP could be about to follow suit.
Mr Carswell is expected to inflict a fresh blow on his former party by successfully defending his Essex constituency of Clacton next week in Ukip colours.
The former deputy mayor of London, Richard Barnes, also changed allegiance, while William Cash, the journalist son of the Tory MP Sir William Cash, announced he was joining Ukip.
In a letter to the Independent, Sir William says: "I entirely disassociate myself from my son's action. It is a huge misjudgement, as with Reckless and Carswell."
Setting out the reasons for his decision, Mr Banks said: "We are being dragged down to the lowest common denominator of financial growth when we should be looking to trade worldwide and should be basing our future prosperity on a long-term global outlook.
"The Conservative Party try to sell us the myth that EU reform is achievable when frankly all Cameron can offer is tinkering around the edges. He is not even able to bring himself to say that he would support UK exit if his supposed reforms do not work."
The Labour frontbencher, Michael Dugher, said: "David Cameron is haemorrhaging support and his authority is ebbing away. He can't control his party, who clearly have no confidence in his leadership.
"Once again we see that Ukip are reliant on Tory money as well as Tory policy and Tory politicians, putting paid to the idea they stand up for working people."
Reuse content