Labour's lead over the Conservatives has dropped to just one point amid signs that the Tories are making headway in the crucial political battle over living standards, according to an opinion poll for The Independent.
Some 39 per cent of people agreed with the statement that their family's finances would be better off  with David Cameron and George Osborne than with Ed Miliband and Ed Balls, but only 28 per cent agreed when the statement was reversed to say they would be better off with the Labour leader and shadow Chancellor than the Prime Minister and Chancellor.
The ComRes findings are a setback to Labour, as previous surveys have suggested that the party is seen as most trusted to tackle the "cost of living crisis", while the Tories were ahead on general economic competence.
Polling was conducted after Downing Street released figures showing that take-home pay had risen for all but the top 10 per cent of earners in 2012-13 – although some experts cast doubt on the statistics. At the weekend, Mr Balls promised to clear the annual budget deficit as soon as possible in the five-year parliament after next year's general election.
Fresh doubts about his pledge to restore a 50p top tax rate on incomes over £150,000 emerged last night, when the independent Institute for Fiscal Studies said the move would raise "little revenue" -- perhaps only £100m, and "make at best a marginal contribution to reducing the budget deficit".
According to ComRes, women (31 per cent) are more likely than men (24 per cent) to believe their family's finances would be better off under Mr Miliband and Mr Balls, while men (43 per cent) are more likely than women (35 per cent) to think they would be better off under Mr Cameron and Mr Osborne.
However, there is scepticism that either main party will improve living standards. More people disagree than agree that the Tory or Labour teams would make their family better off.
The survey puts Labour on 33 per cent (down four points on last month) and the Conservatives on 32 per cent (unchanged), giving Labour its smallest lead in a ComRes poll for The Independent since December 2011, when two parties were level on 38 per cent. 
The UK Independence Party is now on 14 per cent (up four points on last month), while the Liberal Democrats are unchanged on 9 per cent despite the controversy over Lord Rennard, their former chief executive. These figures would give Labour an overall majority of just four seats, raising Tory hopes of denying Labour victory by next year's general election.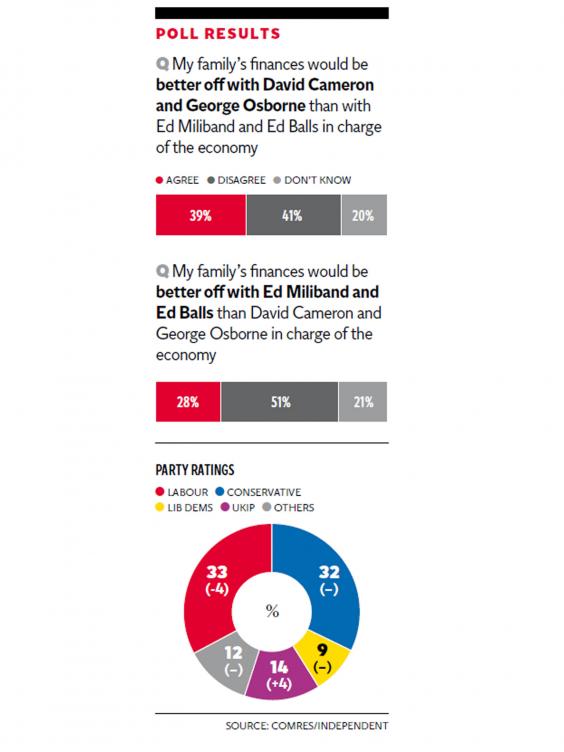 Only 29 per cent believe Mr Balls would make a better chancellor than Mr Osborne, while 47 per cent disagree with this statement. Almost one in four people (23 per cent) who voted Labour in 2010 do not think Mr Balls would do a better job than Mr Osborne.
Three in 10 people (30 per cent) say they would be more likely to vote Labour if Mr Balls were replaced as shadow Chancellor, while 50 per cent would not. Almost one in four Ukip supporters (23 per cent) and 26 per cent of Tory supporters say they would be more likely to back Labour if Mr Balls were moved from his current post. Mr Miliband has insisted that Mr Balls will remain in the Treasury brief.
ComRes interviewed 1,002 adults by telephone between January 24-26. Data were weighted to be demographically representative of all GB adults. Data were also weighted by past vote recall. ComRes is a member of the British Polling Council and abides by its rules.
Reuse content