Five in six voters do not trust Jeremy Corbyn 'to make Britain a safer place to live', an exclusive poll for the Independent shows.
As few people trust the Leader of the Labour Party to keep Britain safe (16 per cent) as trust the party's former leader, Tony Blair (14 per cent). And most Britons trust neither (54 per cent).
Just 3 per cent of Tory voters have faith in Corbyn, five times as few as have faith in Blair. While most Tories are likely to be lukewarm towards Labour's leader, Corbyn will struggle to win the next election if he cannot win over any of those who voted for the Conservatives last May.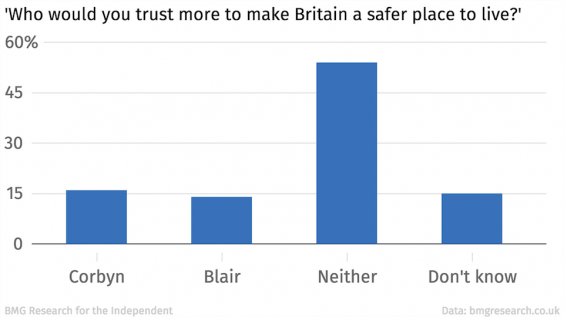 Keeping a country safe is widely seen as the main prerequisite for any leader. David Cameron has said it's his greatest priority, and Barack Obama asked "how do we keep America safe?" in his final State of the Union this week.
Corbyn's most well-known policy position is his opposition to war, from the recent bombing of Syria to the Iraq War waged by Blair. But while both positions find support among voters, Corbyn's overall approach does not fare well.
Aside from his scarce support among Tories, just 8 per cent of Ukip voters trust Corbyn to make Britain safer, twice as few as trust Blair.
If Corbyn cannot win over any 2015 Tory voters, he must win over a significant number of 2015 Ukippers if he hopes to win the 2020 election.
Ukip's share of the vote rose from 3 per cent in 2010 to 13 per cent in 2015. It is unlikely that Corbyn will win back many of these voters if he is not trusted to make Britain safe.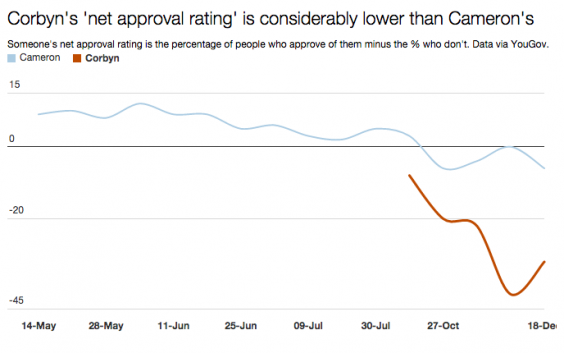 The rest of the poll, which surveyed a nationally representative group of 1,586 people and was conducted over the New Year period by pollsters BMG Research, offers little Christmas cheer for Corbyn.

While a quarter of SNP and Green supporters trust him to make Britain safe, most of them trust neither he nor Blair.
And only 11 per cent of self-described 'centrists' trust him (although these more specific findings should be treated with caution – only the entire poll is weighted to be representative).
Perhaps most crucially, just 14 per cent of those who didn't vote in 2015 have faith in the Labour leader.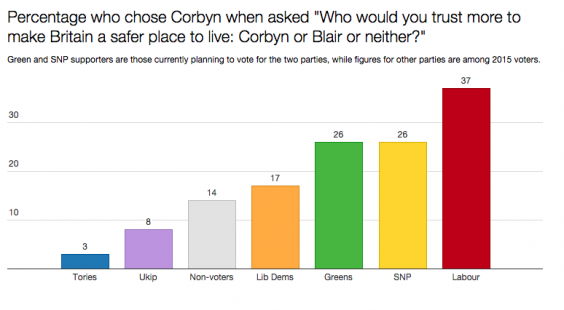 After Corbyn's leadership bid encouraged tens of thousands to join the Labour Party and elect him leader, Corbyn supporters have expressed hope that he'll win many non-voters over to the Labour cause. These findings do not suggest that is likely.
Reuse content