David Cameron is under pressure to start negotiations on TV election debates with the other party leaders after Labour and the Liberal Democrats accused him of trying to sabotage the programmes.
Although the Prime Minister insists he wants the live debates to go ahead, the two other parties are worried that the Conservatives have not set a date for talks to agree them. The Tories promised that discussions would start after the party conference season, which ended on Wednesday.
Three debates between the three main party leaders were held for the first time in the UK at the 2010 general election and the first one attracted 10 million viewers.
Mr Cameron does not want the debates to dominate the campaign at next May's election as they did in 2010 and wants them held at an earlier stage. He has said that one option could be a head-to-head between him and Ed Miliband and a five-way debate which also included the leader of the Lib Dems, Ukip and the Greens.
The starting point for Labour and the Lib Dems is a re-run of 2010 with three debates between Mr Cameron, Mr Miliband and Mr Clegg, but they would consider other ideas. They believe that the Tories are stalling in the hope that time runs out for the parties and the BBC, ITV and Sky to reach agreement on the format.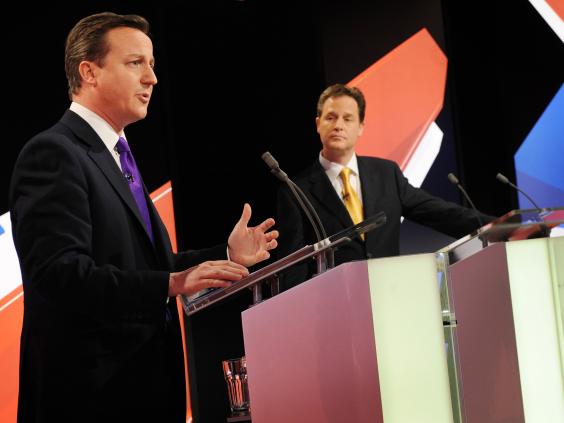 A Labour source said: "The Tories are still dragging their feet. The reason is that they have a huge advantage with 85 per cent of the print media by sales heavily invested in a Conservative victory. The less the public see David Cameron going head-to-head with Ed Miliband, the better it is for the Conservative Party. If the Tories can deny the public seeing the two leaders unmediated by the Daily Mail, The Sun and The Times, that suits them."
Michael Dugher, the Shadow Cabinet member in charge of Labour's communications, has written to Grant Shapps, the Tory chairman, asking him to name his party's negotiating team and fix a time and the talks to start.
Mr Dugher said: "The truth is David Cameron doesn't want to face Ed Miliband in those TV debates. He has been ducking and diving for months."
Nick Clegg said: "This foot-dragging by the Conservatives is getting rather boring. Let's just get on with it. We had the TV debates last time, people enjoyed them, they livened up the whole thing, they're actually quite good fun.
"The Tories should come clean - if they want to run scared they should say they don't want to do them, but not this endless ducking and weaving. I think people want the TV debates. The more people can see how the leaders measure up against each other, the better."
A Tory source said: "Our position remains the same – the Prime Minister has repeatedly said he is keen to do debates, but we need to work out the format.  There are a number of newspaper and online bids to stage debates, so we need to look at that too."
Reuse content