David Cameron has been accused of using an Ofcom ruling as cover for an attempt to torpedo televised leaders' debates in the run-up to the general election in May.
The row blew up after the media regulator ruled that the Green Party did not have enough support across the country to be treated by broadcasters as a "major party" during the campaign.
However, it said it believed that Ukip, which topped the poll in last year's Euro-elections and won two parliamentary by-elections, should be added to the major party list entitling it to the same airtime as the Conservatives, Labour and Liberal Democrats.
Although the issues are not formally linked, Ofcom's decision will undermine the Green Party's demands to be included in any televised leaders' debates.
The broadcasters' current proposals only involve the Conservatives, Labour, the Lib Dems and Ukip.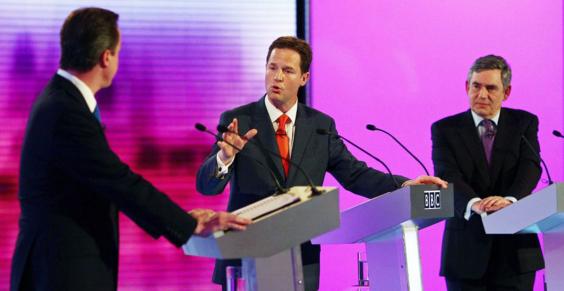 Mr Cameron repeated last night his opposition to the debates being staged without the Greens, which Labour and the Lib Dems claim is a ruse for scuppering them altogether.
The Prime Minister told ITV News: "I don't think the current proposal will work. You can't have one minor party without having another minor party, and I think that's only logical and fair."
Ed Miliband, the Labour leader, responded: "The Prime Minister should be able to stand on his record and stop running scared."
A Labour source added: "David Cameron is fooling no one but is making a fool of himself."
The Deputy Prime Minister, Nick Clegg, tweeted: "Come on David Cameron, the broadcasters have invited us, the public expect it, just say yes and stop making excuses."
The Ofcom interim ruling means that Nigel Farage's party will now be afforded the same treatment by broadcasters in England and Wales as the main Westminster parties in the run-up to 7 May.
Qualifying for "major party" status would increase the number of party political broadcasts the Greens could make as well as guaranteeing coverage in television and radio bulletins.
Ofcom's initial ruling was that the party, including the Scottish Greens, had not "secured sufficient support in previous elections and current opinion polls" to be included. Its decision will now go out to consultation.
Policies: Where the Greens stand on the major issues
Policies: Where the Greens stand on the major issues
1/13 Taxes

Wealth tax of up to 2 per cent on the assets of 300,000 people who are worth more than £3m, the country's richest 1 per cent

Corbis

2/13 Wages

National minimum wage to be lifted to living-wage levels and to reach £10 an hour by 2020. Would also "curb boardroom excesses" by linking salaries at the top of companies to pay at the bottom

Getty

3/13 Pensions

End pensioner poverty by introducing a weekly "citizen's pension" of £170 for a single person and £300 for a couple

Getty

4/13 Energy

Targets and timetables for improving efficiency and reducing greenhouse-gas emissions across all sectors. Wants electricity use to be reduced by a third by 2020, by half by 2030 and two-thirds by 2050

REX FEATURES

5/13 Health

Accuses Labour and Tory governments of introducing privatisation by stealth into the NHS. Pledges to "maintain a publicly funded, publicly provided health service"

Getty Images

6/13 Education

Money would be allocated to schools according to their needs rather than their status. Schools which remain in the private sector would be classed as businesses, have all charitable status removed and pay taxes

Getty

7/13 Railways

Bring railway network back into public hands as franchises expire or if companies break the terms of their agreements

Getty

8/13 Immigration

Rules would be "based on the principle of fair and prompt treatment of applicants rather than on excluding dishonest applicants whatever the cost to the honest ones"

Getty Images

9/13 Food

Minimise transport of food and other agricultural products by supporting local food distribution and pressing for transport costs, especially air freight, to fully reflect environmental impact

Creative Commons

10/13 Farming

Phase out all "factory farming" and support a transition to small, free-range units, mixed rotational farming and extensive grazing. Would ban battery farming of poultry

Getty

11/13 Genetic engineering

Moratorium on the release of genetically modified organisms (GMOs) into the environment and on the importation of food and feed containing GMOs, pending comprehensive assessment of the technology's safety

Getty

12/13 Cannabis

Possession, trade and cultivation of cannabis would be immediately decriminalised. Trade in cannabis would be examined by a Royal Commission, with a view to establishing a fully legalised and regulated trade

Reuters

13/13 Housing

Reform housing benefit to give greater help to poorer tenants and to prevent eviction or repossession of either private tenants or homeowners

Getty
The Green Party leader in England and Wales, Natalie Bennett, said the "deeply disappointing" draft ruling risked damaging British democracy.
"The media regulator has failed to grasp the fast-moving, fluid state of British politics today, and the fact that voters are seeking out the choice of real change," she said.
"Ofcom should not be making that option harder to find, but ensuring voters have the chance to hear and judge the full range of political options today."
The BBC, ITV and Sky News have proposed three debates – one between David Cameron and Ed Miliband; one in which they are joined by Nick Clegg; and a four-way debate including the Ukip leader, Nigel Farage.
The Green Party has reacted furiously to Ms Bennett's potential exclusion and has gathered more than 275,000 signatures in a petition backing its case.
The party, which is defending one parliamentary seat and aiming to win two more, is averaging around 7 per cent in the polls. Some recent surveys put it ahead of the Lib Dems in support.
The Greens have called for an urgent meeting with the regulator and the party also said it would take legal advice over the ruling.
Caroline Lucas, the Green MP for Brighton Pavilion, said: "Not only is this grossly unfair, but it denies the public the opportunity to hear from a fresh voice."
Reuse content