David Cameron and Jeremy Corbyn have traded blows over each other's mothers at Prime Minister's Questions.
Mr Corbyn make a joke referencing the fact Mr Cameron's mother had signed a petition against cuts in her local area – despite the fact her son was implementing them.
The Prime Minister however hit back – claiming that his mother would tell the Labour leader to put on "a proper suit", to do up his tie, and to "sing the national anthem".
The put-down was a reference to an episode earlier in Mr Corbyn's leadership in which he appeared not to sing the national anthem at a remembrance service.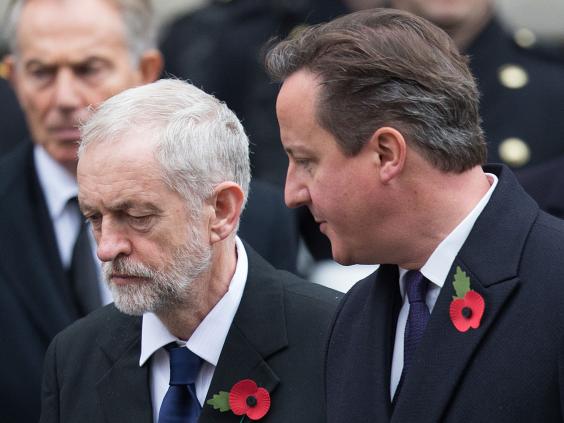 Conservative MPs were particularly tickled by the joke, whooping and jeering at Mr Corbyn across the chamber.
In pictures: Jeremy Corbyn reshuffle
In pictures: Jeremy Corbyn reshuffle
1/11 Jonathan Reynolds,Shadow Railways Minister: RESIGNED

He resigned as shadow railways minister in protest at the reasons for sacking Pat McFadden

2/11 Kevan Jones, Shadow Defence Minister: RESIGNED

He resigned as a shadow defence minister who strongly supports renewal of Trident. Has spoken out against Jeremy Corbyn's leadership before and was also the centre of a row with Ken Livingstone after he said Jones "might need some psychiatric help" (Jones has previously spoken about his struggle with depression)

3/11 Stephen Doughty, Shadow Foreign Minister: RESIGNED

He quit as a shadow foreign minister in protest at the sacking of his colleague Pat McFadden as shadow Europe minister. He said he had "looked at his own conscience" and decided to step down

4/11 Pat McFadden, Shadow Europe Minister: SACKED

He was sacked as shadow Europe minister for "disloyalty" to leader Jeremy Corbyn

5/11 Pat Glass, Shadow Europe Minister: SAFE

Former junior shadow education minister Pat Glass replaced Pat McFadden as shadow Europe minister

6/11 Emily Thornberry, Shadow Defence Secretary: SAFE

She was promoted to shadow defence secretary. She is anti-Trident and therefore more in tune with Corbyn's stance and replaces Maria Eagle, who was pro-Trident

Getty

7/11 Emma Lewell-Buck, Shadow Minister for Devolution and Local Government: SAFE

Emma Lewell-Buck was promoted to shadow minister for devolution and local government

8/11 Michael Dugher, Shadow Culture Secretary: SACKED

Outspoken critic of Jeremy Corbyn's leadership, has been sacked as shadow culture secretary for his "incompetence and disloyalty"

9/11 Hilary Benn, Shadow Foreign Secretary: SAFE

Hilary Benn remains as shadow foreign secretary, but Corbyn's team has insisted his role now comes with 'new conditions' that he must agree with Corbyn over foreign policy. Benn insists there are no 'new conditions' attached to his job and insisted: "I haven't been muzzled. I'm going to be carrying on doing my job exactly as before"

10/11 Maria Eagle, Shadow Culture Secretary: SAFE

Maria Eagle, moved from shadow defence to shadow culture secretary as part of Corbyn's move to make his defence team match his anti-Trident views

11/11 Andy Burnham, Shadow Home Secretary: SAFE

Reports linked him to foreign secretary brief, but Corbyn appears to have backed down on sacking Hilary Benn. He does not see eye-to-eye with Corbyn on home affairs such as the Snooper's charter, but removing your shadow home secretary so soon after starting would have been a dangerous move by Corbyn
Mr Corbyn had a response of his own, however – telling Mr Cameron that his own mother would urge him to fight for the NHS, and that she had dedicated her life to the health service.
During other exchanges at PMQs Mr Corbyn raised the issue of the junior doctors' strike, accusing the Health Secretary Jeremy Hunt of basing his arguments on incorrect figures.
A BBC investigation had found that the author of a study cited by Mr Hunt had accused the Health Secretary of using the figures in an "inaccurate" manner before they had been verified.
The Prime Minister defended his health secretary, who could be seen shaking his head from the sidelines. Mr Cameron claimed that new statistics showed that Mr Corbyn's accusations were wrong.
The Prime Minister's claim was contradicted by a warning in the study making it clear that there was no evidence the figures regarding excess deaths at weekends had any connection to staffing levels, as Mr Hunt had claimed, however.
Reuse content