David Cameron has hit out at Jeremy Corbyn after a video emerged of him comparing the actions of Isis with those of the US military.
The Prime Minister condemned the Labour leadership front-runner's approach to foreign affairs as "absolutely the wrong approach" and that he said would undermine Britain's national security.
Mr Corbyn wants the UK to leave Nato and in footage unearthed yesterday, he called for an "acceptance and understanding" of so-called Islamic State.
Speaking on a visit to Norwich, Mr Cameron criticised Mr Corbyn's stance in the first remarks he has made about the Labour leadership race since the left-winger rose from rank outsider to firm favourite to win.
"My concern is that we do everything we can to protect and enhance the security of the United Kingdom and the idea we'd be stronger and more secure by leaving Nato, as Jeremy Corbyn suggests, or by comparing American soldiers to Isil - I think this is absolutely the wrong approach and it will make Britain less secure, and it will never happen under my watch," the Prime Minister said.
Mr Corbyn made his controversial comments about Isis on Russia Today in June 2014. Asked by the presenter what tactics Iraqi forces should pursue to regain control in the region, he replied:  "I think it requires a sense of unity and understanding amongst people in Iraq that would want to remain a part of Iraq."
"And also an acceptance and understanding of why so many people in some of the cities in the north have apparently been prepared to accept the Isis forces."
 The Islington North MP added: "Yes they are brutal, yes some of what they have done is quite appaling. Likewise, what the Americans did in Fallujah and other places is appalling, but there has to be seen to be an acceptance of a much wider view of the world than is apparent at the present time."
He also expressed a wish that a political solution could be found to end the conflict in Syria, which has been raging since 2011.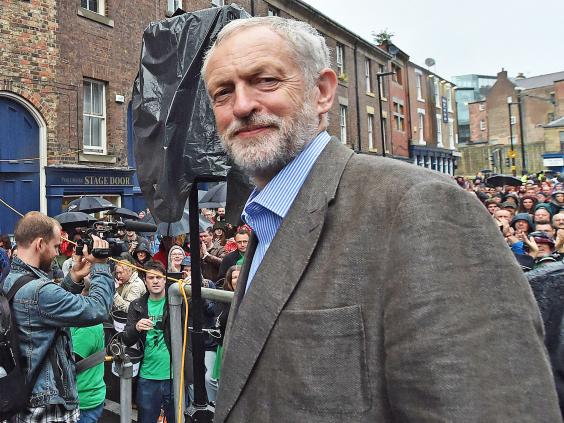 "While the West has not yet sent in large numbers of troops, the danger is that in this sort of perilous civil war that is going on, the Western forces will once again be dragged in, and the war will just go on for a long time and with awful consequences for the people of Iraq," he said.
"I think there has to be a political solution. All wars have to end in some kind of political compromise - why not start with a political compromise now, rather than fuelling the war by putting more weapons, more arms and more money into the conflict."
The video, which was filmed last year but was widely circulated yesterday, provoked a strong reaction from Corbyn fans and detractors alike.
John McTernan, a former adviser to Tony Blair, described his comments as "nauseating".
Responding to the emergence of the video Mr Corbyn's camp made clear he wants to "choke off" the influence of Isis in the Middle East.
A spokesperson said: "Jeremy Corbyn believes the violent ideology of Isis is a vicious, repugnant force that has to be stopped - where Jeremy Corbyn talks about the need for a political solution and compromise he means not with Isis but against Isis, working across the region and beyond to choke off supplies that help find and arm them and working with neighbouring states in the region to come to common solutions."
Labour leadership: The Contenders
Labour leadership: The Contenders
1/2 Jeremy Corbyn

Jeremy Corbyn started off as the rank outsider in the race to replace Ed Miliband and admitted he was only standing to ensure the left of the party was given a voice in the contest. But the Islington North MP, who first entered Parliament in 1983, is now the firm favourite to be elected Labour leader on September 12 after a surge in left-wing supporters signing up for a vote.

PA

2/2 Andy Burnham

Andy Burnham started out as the front-runner in the leadership election, seen as the candidate of the left until Jeremy Corbyn entered the race. The former Cabinet minister has found himself squeezed between the growing populism of Corbyn's radical agenda and the moderate, centre-left Yvette Cooper, not knowing which way to turn. It has attracted damaging labels such as 'flip-flop Andy', most notably over his response to the Government's Welfare Bill. He remains hopeful he can win enough second preference votes to take him over the 50 per cent threshold ahead of Corbyn.

PA
Reuse content