David Cameron is to embark on an intense round of last-minute shuttle diplomacy in a final attempt to secure support for his controversial migration reforms from other European capitals.
With just six weeks to go before Mr Cameron's renegotiation demands are formally discussed at a meeting of European Council in Brussels, the Prime Minister has cleared chunks of his diary for a series of visits to other EU leaders.
Tomorrow the Prime Minister will be in Germany for meetings with Angela Merkel and other senior German politicians in Christian Democratic Union before flying on to Budapest for talks with his Hungarian counterpart Viktor Orbán. It is more than ten years since a British Prime Minister visited the country.
Senior Government sources said Mr Cameron would hold further talks in European capitals around the World Economic Forum meeting in Davos, which starts on 20 January, and had put aside time for more visits in the run-up to the Council meeting on  18 February.
George Osborne and Philip Hammond will also be dispatched around Europe to drum up support for the British proposals, which are currently being worked on in Brussels.
In the past seven months, Mr Cameron has already visited 17 European capitals on top of meetings in Downing Street and Brussels – the most by any British Prime Minister in recent history.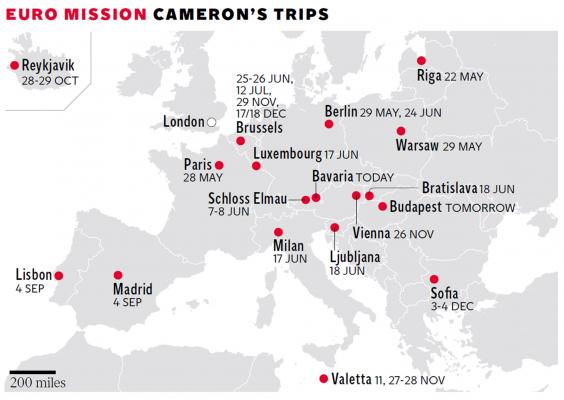 The strategy behind the trips, which have received little publicity in Britain, is to send a statement to other European leaders – and more importantly their voters – that the UK values their views and is not taking their support for granted.
Many of the countries visited, such as Slovenia, Slovakia Romania and Austria have not received an official visit from a serving British Prime Minister in decades.
And the Prime Minister has been prepared to woo domestic public opinion in an attempt to build goodwill. In Bulgaria he took part in a photo opportunity with his counterpart Boyko Borissov, standing alongside a controversial 20-mile border fence that the Government has erected along its border with Turkey.  
He he has written an article for Bild, the German equivalent of The Sun, making the case that his planned reforms will benefit their readers as much as the British.
"We want to deal with the loss of democratic consent for the EU by shifting power from Brussels to the Bundestag," he writes.
"And we want to stop people taking out from a welfare system without contributing to it first. Because like Germany, Britain believes in the principle of free movement of workers. But that should not mean the current freedom to claim all benefits from day one."
Reuse content