David Cameron was battling a Euro crisis on several fronts last night after he vowed to defy a 1 December deadline for Britain to make a surprise £1.7bn extra payment to the European Union.
Putting himself on a collision course with Brussels, the Prime Minister angrily warned that the demand would fuel support for Britain to leave the European Union and reinforce the view of it as an institution run by heartless technocrats.
But the Government also stood accused of incompetence over its handling of the issue and Mr Cameron will face demands from Tory Eurosceptics next week to go further and rule out paying any more money at all.
The storm broke after a recalculation of Britain's recent economic performance landed the UK with the unexpected bill for €2.1bn, prompting a clearly furious Mr Cameron to demand an extraordinary meeting of EU finance ministers and an explanation from the European Commission (EC).
"It is not acceptable. It is an appalling way to behave, I'm not paying that bill on 1 December. If people think I am they have another thing coming. It is not going to happen," he told a press conference in Brussels.
"These emergency meetings need to take place. The figures need to be thoroughly investigated. An estimation of how this happened needs to be property produced. People should be in no doubt: as an important contributor to this organisation, we're not suddenly going to get out our chequebook and write a cheque for €2bn.
"You don't need to have a Cluedo set to know someone has been clubbed with a lead piping in the library. It's a €2bn bill; you've only got a month to pay it. That is not an acceptable way to behave and it's not an acceptable sum of money."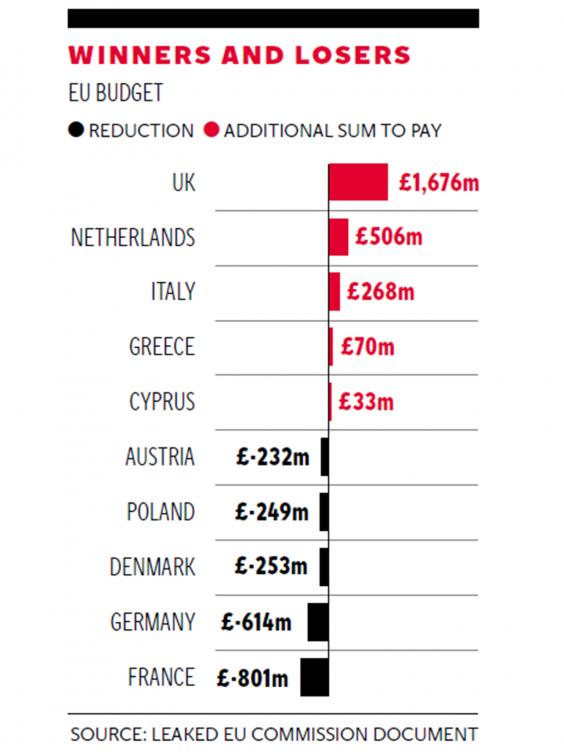 The Prime Minister also warned that such moves played into the hands of people arguing for Britain to leave the EU. "When you are presented with a bill for that, is that helpful for Britain's membership of the EU? No, is it not," he said.
The news emerged during dinner talks on Thursday between EU leaders, apparently taking British diplomats by surprise despite Labour claims that the Government should have known about the payment for weeks.
Mr Cameron was forced to intervene this morning, telling EC President Jose Manuel Barroso he had "no idea" of the impact such issues have in Britain, where the Conservatives are attempting to halt a surge in electoral support for Ukip.
But the Government also faced uncomfortable questions over when it knew about the planned surcharge. The Prime Minister said he learned of the demand only on Thursday, although he acknowledged the Treasury had been contacted a few days earlier.
Shadow Chancellor Ed Balls said the Treasury must have known about the surcharge for "weeks and weeks and weeks", and added: "Our problem is that David Cameron now is isolated, one foot out of the door, ignored, and therefore he's not getting the kind of good deal for Britain."
Labour also claimed that the change in rules on assessing economic growth which led to the new bill had been publicised by the Office for National Statistics (ONS) last May.
Mr Barroso hit back at the Prime Minister, maintaining that Britain should have been aware of the demand as the commission's proposals were a result of rules agreed by all member states, including Britain, and were based on ONS statistics.
During his press conference, during which he banged his fist on his podium, Mr Cameron pointed out that other countries including the Netherlands, Greece and Italy were facing similar payments, and shared his anger and frustration. Germany and France, meanwhile, are due to receive refunds from their budget contributions.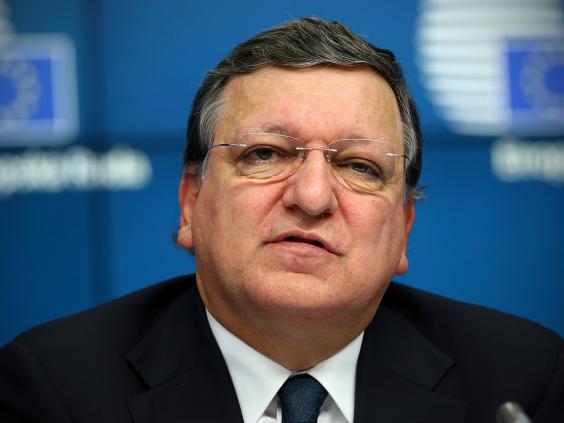 "The Italian Prime Minister put it as well as anybody when he said 'this isn't a figure, this is a lethal weapon': when people produce a lethal weapon like this, don't they understand that it leads to people across Europe thinking that the European Commission consists of technocrats and bureaucrats without a heart or a soul?"
Nigel Farage claimed that the Prime Minister would have no alternative but to agree to the "outrageous" extra payment. The Ukip leader, whose party is attempting to capture its second parliamentary seat in next month's Rochester and Strood by-election, said the demand had created "real political trouble" for the Prime Minister.
"The EU is like a thirsty vampire feasting on UK taxpayers' blood," said Mr Farage. "We need to protect the innocent victims, who are us. He's in a very weak position. He can do nothing about this.
"And I think, really, he's now being pushed into a position where, unless he brings forward his referendum promise, I think he's in real political trouble."
Conservative MP Mark Pritchard said: "The timing and content of the EU budget demand shows how inept Brussels is. Brussels needs to work with the UK Government, not work against it.
"Unless this behaviour changes, the EU referendum could be brought forward."
The former Tory cabinet minister John Redwood welcomed Mr Cameron's stance and added: "I would take a lot of persuading that we should pay it at all."
Mr Cameron will come under pressure to toughen his defiant message further on Monday when he makes a statement to MPs on the Brussels summit.
Richard Corbett, the Labour MEP for Yorkshire and the Humber who previously worked in Brussels as an adviser to the European Council President, wrote on his website that the EC's handling of the budget repayments was "politically inept", even if member states had previously agreed the rules.
But he also questioned whether the Government was hoping to keep the news quiet after it suffered a number of political setbacks at the hands of Ukip. "Questions should be asked at national level too," Mr Corbett wrote. "Is it true that the Treasury knew about this already a week ago? If so, why the silence from George Osborne? Was he hoping to hush it up until after the Rochester and Strood by-election?"
Reuse content