The Defence Secretary has paid a low-key visit to Saudi Arabia to discuss how Britain can cooperate more closely with the oil-rich autocracy on defence issues.  
Michael Fallon's visit, which has not yet been widely reported in the British media, was reported by Persian Gulf-based news agencies.
The Bahrain News Agency said Mr Fallon met with HRH Prince Mohammed bin Nayef bin Abdulaziz, crown price, deputy prime minister and interior minister of Saudi Arabia on 29 March.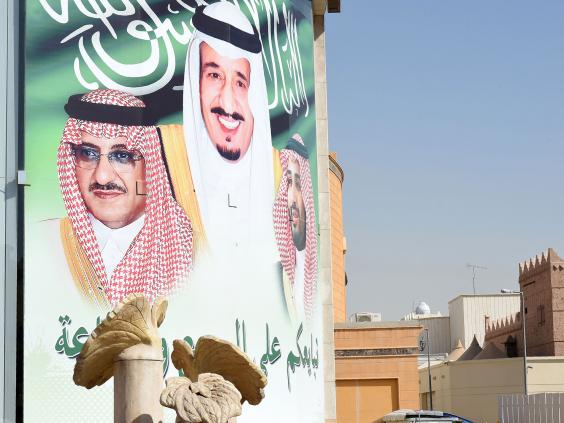 "During the meeting, they discussed areas of cooperation between the two countries, especially in the field of defence," Emirates News Agency, another Gulf news organisation said.
"The meeting also touched on the latest regional and international developments in the region, including the fight against terrorism and extremism."
As interior minister Prince Mohammed is directly responsible for security in the kingdom, including the internal repression of protest and dissent.
Saudi Arabia bans public gatherings, discriminates against its Shia minority, and has sentenced pro-democracy protesters and internal dissents to death by crucifixion and beheading, according to human rights groups and previous reports.
In one case reported in the Western media,  Abdullah Al-Zaher was arrested in 2012 after attending a pro-democracy protest at the age of 15. He was sentenced to beheading and crucifixion.
10 examples of Saudi Arabia's human rights abuses
10 examples of Saudi Arabia's human rights abuses
1/10

In October 2014, three lawyers, Dr Abdulrahman al-Subaihi, Bander al-Nogaithan and Abdulrahman al-Rumaih , were sentenced to up to eight years in prison for using Twitter to criticize the Ministry of Justice.

AFP/Getty Images

2/10

In March 2015, Yemen's Sunni President Abd-Rabbu Mansour Hadi was forced into exile after a Shia-led insurgency. A Saudi Arabia-led coalition has responded with air strikes in order to reinstate Mr Hadi. It has since been accused of committing war crimes in the country.

Getty Images

3/10

Women who supported the Women2Drive campaign, launched in 2011 to challenge the ban on women driving vehicles, faced harassment and intimidation by the authorities. The government warned that women drivers would face arrest.

Getty Images

4/10

Members of the Kingdom's Shia minority, most of whom live in the oil-rich Eastern Province, continue to face discrimination that limits their access to government services and employment. Activists have received death sentences or long prison terms for their alleged participation in protests in 2011 and 2012.

Getty Images

5/10

All public gatherings are prohibited under an order issued by the Interior Ministry in 2011. Those defy the ban face arrest, prosecution and imprisonment on charges such as "inciting people against the authorities".

Getty Images

6/10

In March 2014, the Interior Ministry stated that authorities had deported over 370,000 foreign migrants and that 18,000 others were in detention. Thousands of workers were returned to Somalia and other states where they were at risk of human rights abuses, with large numbers also returned to Yemen, in order to open more jobs to Saudi Arabians. Many migrants reported that prior to their deportation they had been packed into overcrowded makeshift detention facilities where they received little food and water and were abused by guards.

Getty Images

7/10

The Saudi Arabian authorities continue to deny access to independent human rights organisations like Amnesty International, and they have been known to take punitive action, including through the courts, against activists and family members of victims who contact Amnesty.

Getty Images

8/10

Raif Badawi was sentenced to 1000 lashes and 10 years in prison for using his liberal blog to criticise Saudi Arabia's clerics. He has already received 50 lashes, which have reportedly left him in poor health.

Carsten Koall/Getty Images

9/10

Dawood al-Marhoon was arrested aged 17 for participating in an anti-government protest. After refusing to spy on his fellow protestors, he was tortured and forced to sign a blank document that would later contain his 'confession'. At Dawood's trial, the prosecution requested death by crucifixion while refusing him a lawyer.

Getty Images

10/10

Ali Mohammed al-Nimr was arrested in 2012 aged either 16 or 17 for participating in protests during the Arab spring. His sentence includes beheading and crucifixion. The international community has spoken out against the punishment and has called on Saudi Arabia to stop. He is the nephew of a prominent government dissident.

Getty
David Cameron earlier this year that Britain's relationship with the country was important for its security.
"They are opponents of Daesh and the extremism [they spread]," he said.
MPs on Parliament's international development committee this year called for an arms embargo against the country because of alleged war crimes committed by the country's forces in Yemen.
Saudi Arabia has admitted bombing multiple hospitals operated by the charity Médecins Sans Frontières. During its intervention on the side of Yemen's internationally-recognised government, it has also killed people at a wedding party and bombed schools.
Despite these reports, the British Government has permitted increased arms sales to the regime.
Andrew Smith of Campaign Against Arms Trade said: "The death toll is rising and the humanitarian situation is getting worse. UK arms have been central to the destruction, and yet the Defence Secretary is sitting down for photos with the Crown Prince and discussing ways to make the toxic relationship even closer. 
"Thousands have been killed by the bombardment and yet the UK has continued to arm the Saudis and fuel the destruction."
Mr Fallon made the flying visit on his way to the DMIDEX arms fair in Qatar. Here he announced that the UK lead a new naval taskforced in the Gulf to tackle smuggling, terrorism, and piracy.
A Ministry of Defence spokesperson confirmed Mr Fallon had visited the country. The spokesperson said: "During these talks he reiterated the importance of working together to deal with global threats, including countering the poisonous ideology of Daesh, and regional instability."