MPs are set to evict officials from the Department of Health from their headquarters on Whitehall to make way for a Commons debating chamber while Parliament is refurbished. 
A cross-party committee of MPs and peers now strongly favour widening the Parliamentary Estate's security zone to incorporate neighbouring Richmond House, which has been home to health officials since it opened in 1987. 
This block would then be either converted into a debating chamber or used as MPs' offices to make room elsewhere on the estate for a temporary home for the Commons. The House of Lords chamber could be moved to the Queen Elizabeth II Conference Centre 200 metres from the Palace of Westminster, although this is expected to be resisted by peers unhappy at the risks of crossing busy roads. 
The rebuild, which has been estimated to cost around £7bn and take at least six years from 2020, is vital because Parliament does not function properly as a working office. Built in the 19th century, the Palace of Westminster's problems include infestations of rats, patchy wi-fi, crumbling brickwork, asbestos, and the inability to properly close many of its 3,800 windows. 
The committee was established last year to assess how to proceed with the work after a report led by Deloitte Real Estate, which cost £2m, came up with several options.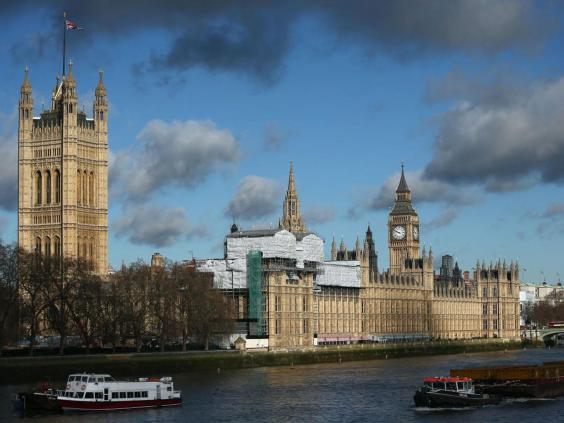 However, members of the 12-strong committee have been privately critical of this report. For example, one option to decant MPs and Lords separately has turned out to be extraordinarily difficult, because the chambers share various systems. If one chamber is out of action while being refurbished, the other will almost certainly have to be as well. 
"We're barely considering what was in the options appraisal," said one member of the committee. "It's £2m wasted." 
The source added that Richmond House would be taken over "specifically for the advantages" of the ease of expanding security, and others confirmed that this was now the favoured option. There were fears that moving MPs off-site left them exposed to an attack. 
Richmond House would become part of what is known as the Northern Estate, which is linked to Parliament though an underground passage, but is on the opposite side of the road.  
A temporary chamber could then be constructed within Richmond House, in a courtyard, or in the other listed buildings, such as Norman Shaw North or South. 
If the final idea is pursued, MPs could be moved to Richmond House while a listed building is reconfigured to house the Commons' debating chamber. 
It is unclear where the health officials would be moved to, but the Cabinet Office's property unit has been contacted to look into expanding the security cordon to include Richmond House.  
It is thought most of the committee now accepts that the only way to rescue Parliament is to move out all staff and MPs rather than reconstruct it on a piecemeal basis, which could take decades. But this has led to concerns that some one-term MPs might never get to speak from the green benches. 
There are also concerns that meeting the start date four years from now is too tight a timetable for what is likely to be one of the most fiendishly difficult refurbishment jobs that the British construction industry has ever undertaken.  
A committee source said the QEII remained "a strong contender" for the Lords, but warned: "Lords' votes have got to remain close to the Commons because we're a Parliament, not two separate institutions."
Reuse content