Campaigners against domestic violence barricaded the entrance to the Treasury on Monday, in protest over cuts to vital services for vulnerable people. 
Domestic violence services across the UK have lost more than 30 per cent of their funding since 2010, according to Sisters Uncut, the feminist action group who organised the protest outside Westminster two days before the Budget. 
According to reports protesters chanted slogans such as "hey mister, get your hands off our sister" outside the doors of the Treasury. No arrests were made but one of the campaigners claimed a member of the public pulled her hair and called her a "vile bitch". 
The group claim that austerity is a "sexist, racist choice" and the ability of domestic survivors to flee abuse now depends on their postcode.
Kat Vail, a member of the campaign group, said: "We have a very basic demand: the government must ring fence funding for domestic violence services. This is the only way to make sure they can stay running and keep saving women's lives.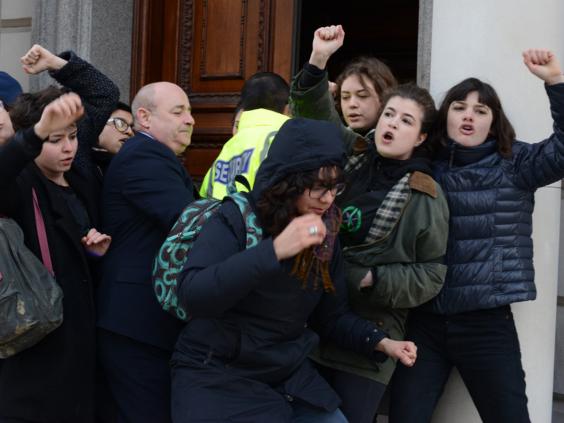 "Domestic violence is high in the UK – one in three women will experience it – yet services that support survivors are being forced to close because the government won't put a secure funding place in plan."
The activist group added that specialist domestic violence services that support women in minority groups decreased by 17 per cent between 2010 and 2014. 
"George Osborne has used his budgets to create a 'permanent pothole fund', but domestic violence services are still being forced to struggle with short-term, shallow pots of cash. Women are not safe if funding is not secure," said Tara Adams, a domestic violence support worker who took part in the demonstration. 
Rachel Gibbons, another activist from Sisters Uncut, who also claims she was called a "vile bitch" by a member of the public during the protest, said: "We were expecting aggression from the police, but not members of the public. People should be angry about the fact that women are dying because they can't flee abuse, not about us peacefully drawing attention it."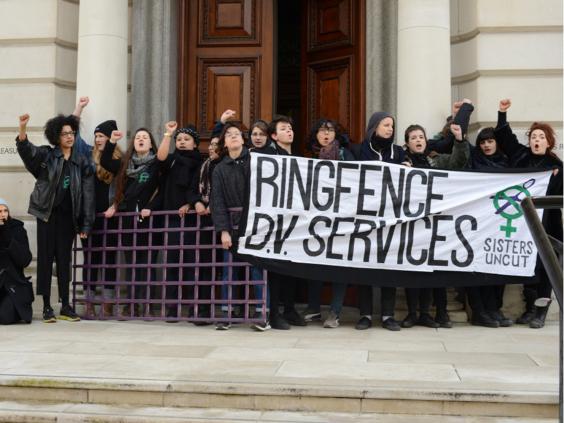 To mark International Women's Day last week, Labour MP Jess Phillips stunned Parliament into silence as she read out the names of every woman who had been killed by a man in the previous year. The list of 120 included women and girls aged between 13 and 81. 
Ms Phillips told the Commons: "In 2015 a women was murdered in the UK every three days. Women murdered by men that they should have been able to trust.
"Commonly, women are murdered by their partners, husbands and boyfriends, but also in some cases by their fathers, their sons, their brothers.
"We wish to give voice to honour the women who died. Today I stand to honour every victim and the fight to end violence against women."
Reuse content