The controversial idea that Britain's nuclear submarines could be rendered irrelevant before the new fleet is even launched, will be bolstered this week by a report to be presented to MPs examining the Trident programme. Emerging drone technology, which could make the oceans "effectively transparent", will make the submarines that carry the UK's nuclear deterrent vulnerable to attack, warns the report which was commissioned by the British American Security Information Council (Basic), a nuclear disarmament think-tank.
The report, to be presented to MPs on the Defence Select Committee this week, says rapid advances in technology mean the world's oceans are becoming a "sensor rich" environment full of drones with "eyes and ears everywhere". As a result there will be "no hiding place for submarines."
If Britain's submarines become easily detectable they will lose "all their advantages as strategic weapons platforms".
The Defence Select Committee has written to BAE and Babcock, constructors of the UK submarine fleet, asking them to respond to the drone threat claims. 
The report is a fillip for Emily Thornberry, the shadow Defence Secretary, who has faced fierce criticism of her review of the Trident replacement programme. Her suggestion that drone technology posed a threat to nuclear submarines, thereby diminishing the potency of the nuclear deterrent, has been ridiculed as "tired old science fiction".
Lord Hutton, the former Defence Secretary, speaking on Radio 4's Today, described the idea that technological advances posed a clear danger to Trident as "camouflage for those who want to espouse unilateral disarmament".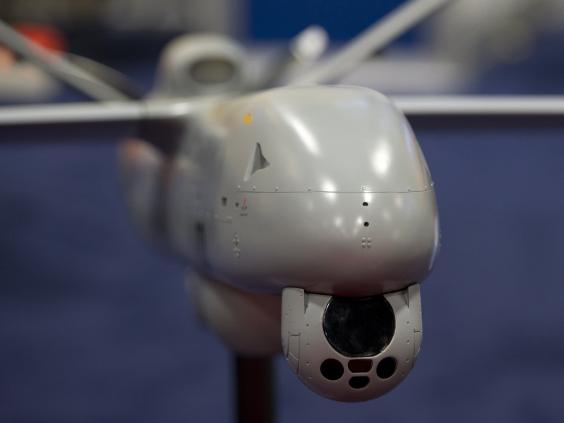 Ms Thornberry said that "serious questions have been raised about whether the successor submarines will be redundant before they even hit the water and we need to look at this very carefully before we commit to spending £41bn on them. " 
The Basic report makes it clear that advanced drone technology is far from sci-fi fantasy and is already being used in anti-submarine warfare by the US and Chinese navies.
Air-dropped drones and underwater craft called gliders are employed to track enemy submarines. The US Navy is known to use relatively low-cost Coyote drones, launched from aircraft and fitted with Magnetic Anomaly Detectors, to hunt for subs. Similar technology is employed on Chinese built drones the report says. 
Improved sensors, based originally on designs to detect and measure tiny magnetic fields generated by the human brain, will revolutionise drone capabilities, the report states.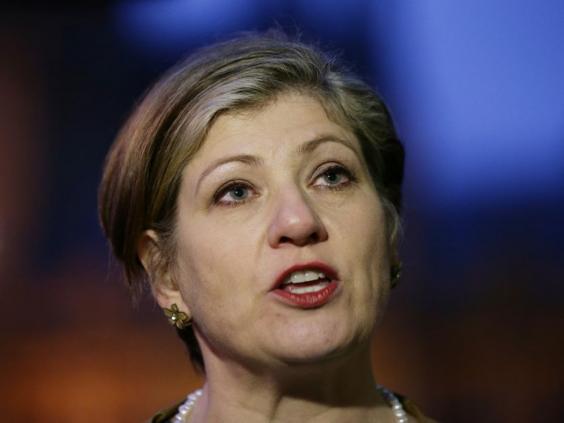 Another technique employed is to borrow the soaring approach of albatrosses and other ocean-going birds. Drones imitate the birds by turning into the wind to gain altitude then glide downwards.
The US has produced drones that can land on the sea, re-deploy its wings as sails and recharge, allowing it to take off again later. Another research project is examining air drones that can land at sea and then propel themselves underwater.
Unmanned underwater craft, or gliders, also pose a threat to submarines. With greater endurance abilities they have been used to track the Deepwater Horizon oil spill, as well as radiation levels around Fukushima in Japan. They are extremely quiet and can carry acoustic sensors so sensitive they can, as one researcher put it, "hear a fish fart". Unsurprisingly, they have been used to track fish shoals by the sounds they make. 
UK news in pictures
UK news in pictures
1/30

A man carries a EU flag, after Britain voted to leave the European Union, outside Downing Street in London

REUTERS

2/30 23 June 2016

AFP/Getty Images

3/30 22 June 2016

British Prime Minister David Cameron poses for a photograph after addressing pro-EU "Vote Remain" supporters at rally in Bristol, whilst campaigning to avoid a Brexit, ahead of the 23 June EU referendum

AFP/Getty Images

4/30 21 June 2016

Scottish Conservative leader Ruth Davidson (left) and Mayor of London Sadiq Khan speak during the EU debate at Wembley Arena in London

Getty Images

5/30 20 June 2016

A full moon rises behind Glastonbury Tor as people gather to celebrate the summer solstice in Somerse

Getty Images

6/30 19 June 2016

Hot air balloons took to the air as part of the annual Lord Mayor's Hot Air Balloon Regatta, a charity event in aid of the Lord Mayor's Fund, in London

Getty Images

7/30 19 June 2016

Liberal Democrats leader Tim Farron (C) poses with supporters after arriving in the Liberal Democrat Vote Remain campaign bus, campaigning to avoid a Brexit in the EU referendum, during a launch event in east London

AFP/Getty Images

8/30 18 June 2016

A man lights a flare among pro-refugee activists rallying outside the French Embassy in central London, during a protest after most of an aid convoy of vehicles organised by campaign groups heading to northern France were turned back at the French frontier at the port of Dover

AFP/Getty Images

9/30 17 June 2016

Prime Minister David Cameron and Labour Leader Jeremy Corbyn arrive to pay their respects at the scene where Jo Cox was shot in Birstall

Getty Images

10/30 16 June 2016

Floral tributes and candles are placed by a picture of slain Labour MP Jo Cox at a vigil in Parliament square in London. Cox died after a shock daylight street attack, throwing campaigning for the referendum on Britain's membership of the European Union into disarray just a week before the crucial vote

AFP

11/30 15 June 2016

Boats from the 'Fishing for Leave' campaign group join a flotilla along the Thames River in London. The flotilla organised by members of the Fishing for Leave group, who are campaigning to leave the European Union ahead of the referendum on the 23 of June, was countered by boats representing the 'In' campaign

Getty Images

12/30 14 June 2016

A general view of the Tate Modern's new Switch House in London. The Tate Modern art gallery has unveiled its new Switch House building designed by architects Herzog & de Meuron

Getty

13/30 13 June 2016

Labour Leader Jeremy Corbyn (C) and Deputy Labour Leader Tom Watson (R) attend a vigil for the victims of the Orlando nightclub shooting, outside the Admiral Duncan pub on Old Compton Street in Soho, London

Getty Images

14/30 12 June 2016

A pigeon flies ahead of Britain's Queen Elizabeth and Prince Philip, and Princes William, Harry and Kate Duchess of Cambridge behind as they wave to guests attending the Patron's Lunch on the Mall, an event to mark her 90th birthday, in London

REUTERS

15/30 11 June 2016

A Guardsman faints at Horseguards Parade for the annual Trooping the Colour ceremony in central London

REUTERS

16/30 10 June 2016

The national service of thanksgiving for the 90th birthday of Britain's Queen Elizabeth II at St Paul's Cathedral in London, which is also the Duke of Edinburgh's 95th birthday

Getty Images

17/30 9 June 2016

Princess Anne, Princess Royal attends the Founders Day Parade at The Royal Hospital Chelsea in London

Getty Images

18/30 8 June 2016

Two women walk barefoot through heavy rain in Westminster in London. The Met Office has issued flood alerts for parts of the south east of England as torrential rain hit parts of the country

Getty Images

19/30 7 June 2016

An Osprey catches two Rainbow Trout at Rothiemurchus in Kincraig, Scotland. Ospreys migrate each spring from Africa and nest in tall pine trees around the Aviemore area, the raptor was hunted to the point of extinction in the Victorian era, their migratory habits eventually brought them back to Scotland with the first successful breeding pair being recorded in 1954

Getty

20/30 6 June 2016

David Cameron speaks at a Remain in the EU campaign event at the Oval cricket ground in London

Getty Images

21/30 5 June 2016

Original participants take part in Japanese artist Koki Tanaka's recreation of the 1985 youth training scheme protest as part of the Liverpool Biennial. The 1985 protest saw 10,000 UK school children take to the street to protest against the Conservative government's controversial youth training Scheme

Getty Images

22/30 4 June 2016

Troops parade along The Mall after the Colonel's Review in London

Getty Images

23/30 3 June 2016

Large scale recreation of Dutch flower painting 'A Still Life of flowers in a Wan-Li Vase' by Ambrosius Bosschaert made out of real flowers is seen outside National Gallery in London

Rex

24/30 2 June 2016

Final preparations are made for the RHS Rose Show in London. The RHS London Rose Show runs from June 3-4 at RHS Lawrence Hall in Westminster

Getty Images

25/30 1 June 2016

Sheep are judged on the opening day of the Royal Bath and West Show in Shepton Mallet. The result of the EU referendum is likely to be closely watched by members of the farming community as the UKs membership of the European Union has long been a contentious issue for the farming industry

Getty Images

26/30 31 May 2016

German President Joachim Gauck (C), British Premier David Cameron (L) and Princess Anne, Princess Royal attend the 100th anniversary commemorations for the Battle of Jutland at the Lyness cemetery in Lyness, Scotland

Getty Images

27/30 30 May 2016

People enjoy the fine weather as they gather on the beach at Sennen Cove in Cornwall

Getty Images

28/30 29 May 2016

K, Moses Adams (South Africa), performs a noseblunt slide during the Red Bull Hold The Line competition at The Royal Albert Hall in London

Getty Images

29/30 28 May 2016

Princess Anne, Princess Royal and Vice Admiral Sir Tim Laurence attend a service at a war graves cemetery to mark the Battle of Jutland in South Queensferry, Scotland. The events begin a weekend of commemoration leading up to the anniversary on 31 May and 1 June to mark the centenary of the largest naval battle of World War One where more than 6,000 Britons and 2,500 Germans died in the Battle of Jutland

Getty Images

30/30 27 May 2016

Leader of Britain's opposition Labour Party, Jeremy Corybn, arrives to deliver a speech on the merits of Britain remaining in the European Union, in Doncaster

Getty Images
Commercial gliders are being used by oceanographers to collect data on water temperature and cloudiness, salinity and ocean current speeds. Japanese scientists are examining proposals to deploy about 1,000 gliders to form a network to measure and survey the oceans, the report says.
China is particularly interested in the unmanned underwater craft and the report cites a 2010 US Department of Defence report which noted the Chinese were targeting this technology specifically.
Paul Ingram, the chief executive of Basic, said: "In the past anti-submarine warfare has been carried out by a small number of highly capable ships and manned aircraft. Their task has been like that of a handful of police looking for a fugitive in a vast wilderness. Lacking the manpower to cover the whole area, they have to concentrate their forces on the most likely paths and hideouts, and hope for a lucky break. 
With the advent cheap drones, the police are joined by thousands more searchers, who are less well-equipped but have the numbers to walk shoulder to shoulder and sweep the entire area. Escape becomes impossible."
Parliament is expected to vote on the future of Trident later this year.