The Government should review its practice of forcing benefit claimants to jump through hoops like attending Jobcentre meetings in order to claim benefits, a policy unit set up by Downing Street has recommended.
The Behavioral Insights Team, set up by David Cameron in 2010, said piling unemployed people with responsibilities on pain of sanction might actually be making it harder for them to get jobs.
The so-called Nudge Unit, which was part-privatised in 2014, warned that some Government policies were reducing so-called "cognitive bandwidth" or "headspace" of the people they were designed to help.
"There is evidence that welfare conditionality in the UK – mandatory behavior requirements such as attending meetings with work coaches or providing repeated evidence of disability in order to receive benefits – is associated with anxiety and feelings of disempowerment," the policy unit said in a report released on Thursday.
"However, as far as we know no one has examined whether welfare conditionality has cognitive depleting effects."
The report, headlined "Poverty and decision-making", tries to apply the latest findings from behavioral science to improve government services.
It says that far from anxiety-inducing forms and meetings the welfare system should instead be taking steps such as providing annual summaries of benefit entitlements to people.
The researchers called on the Department for Work and Pensions to conduct experiments into whether welfare conditionality actually had any positive effects and suggested that self-set and enforced goals might be a better way of helping people into work.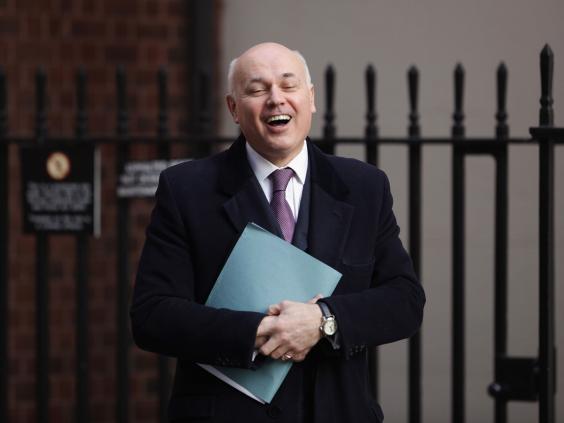 While the report suggests conditionality may have encouraged some people to take jobs, it says that pressure to take any job even when it was not a good fit may actually damage a claimant's earning potential and career path in the long run.
Dr Kizzy Gandy, a led researcher at the policy unit, said "simply tweaks" to services could help improve the way services worked.
"Government policies should help people to have less on their mind, not more," she said.
"We are optimistic that behavioural science can help government departments to better design policies to help those who are 'just managing' in order to prevent and overcome poverty. 
The most ridiculous reasons people had their benefits sanctioned
The most ridiculous reasons people had their benefits sanctioned
1/16

"One case where the claimant's wife went into premature labour and had to go to hospital. This caused the claimant to miss an appointment. No leeway given"

2/16

"It's Christmas Day and you don't fill in your job search evidence form to show that you've looked for all the new jobs that are advertised on Christmas Day. You are sanctioned. Merry Christmas"

3/16

"You apply for three jobs one week and three jobs the following Sunday and Monday. Because the job centre week starts on a Tuesday it treats this as applying for six jobs in one week and none the following week. You are sanctioned for 13 weeks for failing to apply for three jobs each week"

4/16

"A London man missed his Jobcentre appointments for two weeks because he was in hospital after being hit by a car. He was sanctioned"

2011 Getty Images

5/16

"You've been unemployed for seven months and are forced onto a workfare scheme in a shop miles away, but can't afford to travel. You offer to work in a nearer branch but are refused and get sanctioned for not attending your placement"

2013 Getty Images

6/16

"You are a mum of two, and are five minutes late for your job centre appointment. You show the advisor the clock on your phone, which is running late. You are sanctioned for a month"

7/16

"A man with heart problems who was on Employment and Support Allowance (ESA) had a heart attack during a work capability assessment. He was then sanctioned for failing to complete the assessment"

Copyright (c) 2015 Rex Features. No use without permission.

8/16

"A man who had gotten a job that was scheduled to begin in two weeks' time was sanctioned for not looking for work as he waited for the role to start"

9/16

"Army veteran Stephen Taylor, 60, whose Jobseeker's Allowance (JSA) was stopped after he sold poppies in memory of fallen soldiers"

2014 Getty Images

10/16

"A man had to miss his regular appointment at the job centre to attend his father's funeral. He was sanctioned even though he told DWP staff in advance"

2014 Getty Images

11/16

"Ceri Padley, 26, had her benefits sanctioned after she missed an appointment at the jobcentre - because she was at a job interview"

Jason Doiy Photography

12/16

"A man got sanctioned for missing his slot to sign on - as he was attending a work programme interview. He was then sanctioned as he could not afford to travel for his job search"

2012 Getty Images

13/16

"Mother-of-three Angie Godwin, 27, said her benefits were sanctioned after she applied for a role job centre staff said was beyond her"

14/16

"Sofya Harrison was sanctioned for attending a job interview and moving her signing-on to another day"

15/16

"Michael, 54, had his benefits sanctioned for four months for failing to undertake a week's work experience at a charity shop. The charity shop had told him they didn't want him there"

16/16

"Terry Eaton, 58, was sanctioned because he didn't have the bus fare he needed to attend an appointment with the job centre"
"We find that in many cases, simple tweaks to service design can yield disproportionate gains in improving decision-making."
Labour Shadow Work and Pensions Secretary, Debbie Abrahams, said: "Even the government's own Behavioural Insights Team now recognise the mountains of evidence that the widespread use of sanctions is not leading to better outcomes for people seeking work. Indeed, this government team's report suggests that sanctions may be operating as a barrier to finding a job.
"This government should be ashamed of their persistent failure to act on this issue over many years, after I, and other campaigners, have provided evidence of the devastating impacts of their sanctions policy.  I have committed to putting an end to Tories' cruel and unnecessary sanctions regime, as part of our work to transform the social security system." 
Welfare conditionality and sanctions were a favoured approach of former Work and Pensions Secretary Iain Duncan Smith, and also of the last Labour government. Meetings with so-called 'work coaches' form a major part of the Government's beleagured new Universal Credit welfare system.
There are some signs the Government may have backed away from the most controversial aspects of the policy in recent months. 
Before his resignation Mr Duncan Smith introduce a "warning period" for sanctions, partially following the recommendations of a parliamentary committee that said the system was not working and putting vulnerable people at risk of destitution and harm. 
Last week the new Work and Pensions Secretary Damian Green announced the he would scrap reassessments for chronically-ill disabled people seeking to claim Employment Support Allowance (ESA) – affecting around 100,000 people.
Large swathes of the welfare system do still however rely on conditionality and testing and any push to unpick the approach will take a long time, however. 
Clarification: Though a press release issued by the Behavioural Insights Team called for the DWP to "Remove some of the mandatory requirements for accessing benefits", the report it referred to only suggested that these should be reviewed. This article has been updated to reflect the report's content.  
Reuse content