Ed Miliband came under mounting personal criticism from his party today after a by-election surge by Ukip in a Labour heartland left a huge question mark over his general election strategy.
Senior Labour politicians warned that time is running out for Mr Miliband to convince voters he is a credible prime minister, with just over 200 days until the May election.
While the attacks centred on fears that the party is losing its working-class support, they turned personal, with MPs, including Jack Straw, making disparaging comments about his appearance and its impact on voters.
The former Foreign Secretary referred to Mr Miliband as having "panda eyes and strange lips", and another Labour MP described him as a "dreadful retail proposition".
Frank Field, the former Labour minister, said "all bets are off" if Ukip's strong showing in the Heywood and Middleton by-election heralds the start of the party's "assault into Labour's neglected core vote".  
He also faces a revolt over his decision to force Labour MPs to vote in favour of recognising Palestine.
In pictures: The rise of Ukip
In pictures: The rise of Ukip
1/8 1993: Alan Sked forms Ukip

History professor Alan Sked had been active in anti-EU politics for a while beore he founded Ukip in 1993. He resigned from the party after the 1997 election, concerned that it was attracting far-right members, and has been critical of Ukip since. Picture: Reuters

Reuters

2/8 2005: Kilroy defects

Former TV presenter Robert Kilroy-Silk founded Veritas in 2005, after a failed bid to become leader, and took many of Ukip's elected members with him. But the party slowly lost its popularity and didn't put forward any candidates in the last election. Picture: REUTERS/Kieran Doherty REUTERS KD/RUS

3/8 2010: Farage becomes leader, again

Farage had led Ukip from 2006 until 2009, when he stood down to fight against the Speaker, John Bercow, for his Buckingham seat. He failed to win the election and returned to lead the party in November 2010. Picture: REUTERS/Kieran Doherty

REUTERS/Kieran Doherty

4/8 2010: Ukip fights for election

Nigel Farage was injured in a plane crash on polling day in the 2010 general election, but his party increased its success in the votes. It fielded 572 candidates and took 3.1% of the vote, though failed to win any seats. REUTERS/Darren Staples

REUTERS/Darren Staples

5/8 2013: Eastleigh gains

Ukip's candidate Diane James got the highest ever number of votes for any candidate from the party, but was beaten by the Liberal Democrats. The surge in support gave Ukip confidence ahead of local and European elections later in the year. Picture: Reuters

6/8 2013: Bloom kicked out

Godfrey Bloom, who served as an Ukip MEP from 2004 to 2014, had the whip withdrawn in 2013 after sexist comments and an attack on a journalist. He sat as an independent MEP until 2014, when he ended his term in office. Picture: REUTERS/Luke MacGregor

7/8 2014: European election success

Ukip got a higher proportion of the vote than any other party in 2014's European elections, adding 11 new MEPs and taking its total to 24. REUTERS/Luke MacGregor

8/8 2014: Carswell defects

Douglas Carswell defected from Ukip at the end of August, and was followed by Mark Reckless at the end of September, who resigned from the Tories amid rumours of many more defections to come. Picture: REUTERS/Toby Melville
MPs urged Mr Miliband to abandon his so-called "core vote" strategy of trying to win power with  the 29 per cent who backed Labour in 2010 and Liberal Democrat voters who have since abandoned the party.
They said that Ukip's success in reducing Labour's majority in the Northern seat from 5,971 to just 617 illustrated how Nigel Farage's party is gaining ground among Labour's once-loyal working-class base. Some Labour MPs fear Ukip will deprive their party of victory in key Lab-Con marginals next May.
But Labour's high command insists that Ukip is more of a threat to the Conservatives. They pointed out that while Labour held the Greater Manchester seat in Thursday's by-election, the  Tories lost Clacton – where Douglas Carswell, who had defected from the Tories, gave Ukip its first elected MP, increasing his 12,068 majority in 2010 to 12,404. The setback in Heywood and Middleton comes at a difficult time for Mr Miliband, already under fire over a lacklustre party conference speech.
Jack Straw, the former Foreign Secretary, said Mr Miliband had leadership qualities and had united his party, but told Sky News: "I know people say he's got panda eyes and strange lips. Well, I could make the same remarks in different ways about Mr Clegg or Mr Cameron."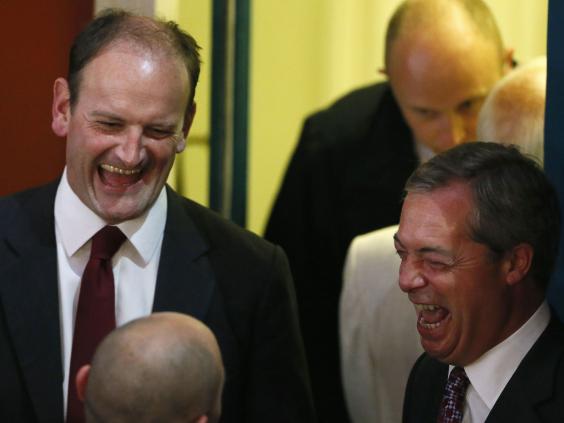 Another  Labour MP said: "As a retail proposition, Miliband is dreadful... even people who aren't interested in politics have an opinion on him: he's weird."
John Mann, Labour MP for Bassetlaw, said: "Ed Miliband needs to step up to the mark. This is much more than: 'Do we like Ed Miliband? What does he look like on the telly?' They are small issues that can be addressed and I think should be. But there's a bigger issue: is Labour in touch with its core vote? Labour needs to broaden its base. People like me need to feel comfortable that we are properly part of that coalition in Labour, and that has not been the case in recent times."
Some Labour MPs are worried that loss of working-class support shown by the Scottish referendum could see some of Labour's 41 seats north of the border fall to the Scottish National Party next May.
Frank Field, Labour MP for Birkenhead, said: "If last night's vote heralds the start of Ukip's serious assault into Labour's neglected core vote, all bets are off for safer, let alone marginal seats at the next election."
A former Labour Cabinet minister said: "Alarms should be sounding over Labour's core vote strategy. Appealing to the core was Ed's supposed winning card over his brother [David]. A very serious rethink is now needed."
Marcus Roberts, a former Miliband aide who is deputy general secretary of the Labour-affiliated Fabian Society,  said: "Ukip is a rising threat to Labour, and the party urgently needs to consider its response in terms of message, policy and organisation.  Labour needs to be a party as capable of listening to voters' concerns about immigration as it is of singing the praises of the NHS."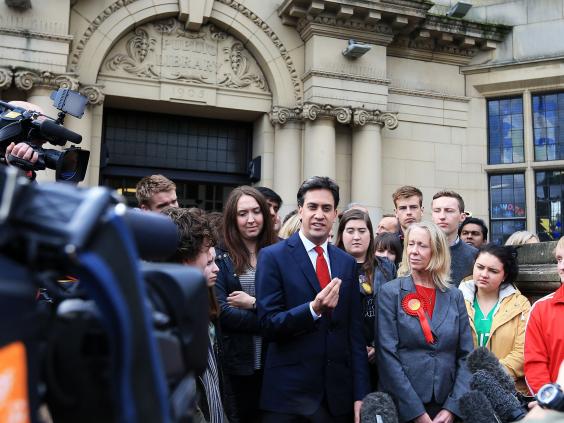 Patrick Diamond, a former Downing Street policy adviser under Tony Blair and Gordon Brown, said: "The Heywood and Middleton result demonstrates that Labour has to be prepared to talk about immigration rather than pretending it doesn't exist as an issue on the doorstep. For many Labour voters, it is the number one concern.
"That doesn't mean trying to be more Ukip than Ukip. Labour should talk about immigration in a balanced and measured way that doesn't inflame hostility and resentment. If the party appears to be taking the voters for granted, it will be deservedly punished at the polls."
Mr Miliband also faces a revolt by some members of his Shadow Cabinet after asking them to vote for a motion calling for unilateral recognition of Palestine in the Commons on Monday. 
Miliband aides denied Labour is pursuing a "core vote" strategy and insisted that his "one nation" approach had not been abandoned. They said a repeat of the Greater Manchester by-election next May would hand Labour the 14 marginal seats it is targeting in the North-west.
On a visit to Heywood and Middleton, Mr Miliband said: "There are lessons for Labour in this result. We've seen once again the scale of disillusionment with Westminster politics, disillusionment that has been building for a long time and disillusionment that led people in some communities that used to vote Labour to choose Ukip in this by-election... It is not prejudiced to worry about immigration."
Reuse content