Ed Miliband will use his party's final conference before the general election to present "a plan for Britain's future", including tackling low pay, housing and helping small businesses thrive in the economic recovery.
The Labour leader set out for Manchester armed with pledges to help families "treading water and not benefiting from the recovery". He said that while constitutional change post-referendum was important, what mattered more was addressing the everyday issues facing families.
Mr Miliband is under pressure to deliver the speech of his life in two days' time after a low-profile performance in the Scottish referendum campaign, in which he was overshadowed by Gordon Brown's crucial role in keeping the union together.
On Tuesday, the Labour leader needs to give a convincing performance as a prime minister-in-waiting who can be seen on the steps of Downing Street next May after a turbulent summer in which his image came under intense scrutiny. Aides dismissed the suggestion that he was being outgunned by his predecessor, and said what was important was the "bread and butter" issues that were affecting voters.
While there is no serious talk about his leadership, all three main party leaders are vulnerable this conference season.
Arriving in Manchester yesterday, Mr Miliband announced that a Labour government would help small businesses by cutting business rates next year – going further than a pledge last year to freeze them. This would be paid for by not going through with a Tory plan to cut corporation tax.
A Labour government would also create New Homes Corporations, which would be run by local authorities and accountable to communities, to create 500,000 new homes. The corporations would take responsibility for areas prioritised for development and would, the party claims, ensure better strategic planning and infrastructure and encourage house building.
Housing is one of Labour's central manifesto themes, with the numbers of new homes being built under the coalition falling to the lowest in peace time since the 1920s. Labour says there will be a shortage of two million homes by 2020, equivalent to five cities the size of Birmingham.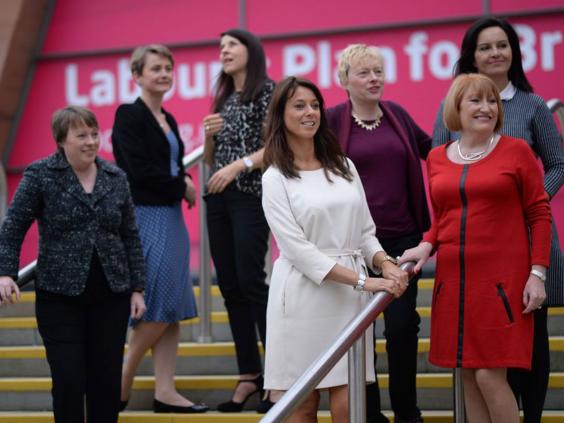 The Labour leader said: "The last few months have been about keeping our country together. The next eight months will be about how we can change our country together. Right across Britain, people are yearning for change. Constitutional change matters. But we all know something else matters even more.
"Our country doesn't work for everyday working people and only works for a privileged few at the top, and we've got to change it. This conference is for all those families who are treading water and not benefitting from the recovery ... for all the young people worried about their future ...for everyone who cares about our NHS, which is sliding backwards. This week we will set out Labour's Plan for Britain Future."
He added: "This is our last conference before the general election. Britain needs a new plan. Britain needs a new government. We're going to make it happen."
Sir Michael Lyons, the chairman of Labour's housing policy review, said: "We need to mobilise across the nation to build the homes our children need. More land released, a wider range of builders and a bigger role for local authorities working with their partners are all important. Our report will offer a comprehensive view of how these measures and others can help us get to 200,000 homes a year and beyond."
A Liberal Democrat spokesman said: "It was Labour's pitiful effort in government which left us with a housing crisis in the first place and it has been left to us to fix it. Labour's shocking record on house building has meant young people struggle to get on the ladder and face sky-high mortgage repayments when they do. The Lib Dems have moved quickly in government to build 190,000 affordable homes and bring 70,000 empty houses back into use."
In pictures: Ed Miliband trying to look normal
In pictures: Ed Miliband trying to look normal
1/17 The beggar

Ed Miliband casually gives money to a homeless woman in Manchester, surrounded by press photographers.

2/17 The Bacon Sandwich

Ed Miliband buys a bacon sandwich from cafe owner Antonios Foufas at New Covent Garden Market in London as he kicks off a day of campaigning on the eve of the local and European elections

3/17 The Bacon Sandwich

Ed Miliband chats with a cafe owner Antonios Foufas at New Covent Garden Market in London

4/17 The Bacon Sandwich

Ed Miliband embarked on a whirlwind campaign tour of England - but struggled at the first hurdle (a bacon sandwich). Aides intervened after just a few less-than-elegant bites

Jeremy Selwyn

5/17 Flower Shopping

Ed Miliband talks with a couple of traders at New Covent Garden Market in London

6/17 Flower Shopping

Ed Miliband purchases some red roses for his wife at New Covent Garden Market in London

7/17 Talking Business

Ed Miliband talks with a trader at New Covent Garden Market in London

8/17 Good Morning Britain

Miliband on ITV's Good Morning Britain show on 20 May 2014, a day of gaffes in which he was also caught out by BBC Wiltshire for not knowing who the local Labour leader was

9/17 '£70 Weekly Shop'

Ed was accused of being 'out of touch with reality' after he seemed not to know what he - or the average British family - spends on a weekly food shop

PA

10/17 Drop in Polls

Ed Miliband paid a visit to Leighton Hospital in Crewe to speak with the staff about the NHS, but faced difficult questions about polls showing his personal ratings falling well behind those David Cameron and George Osborne

PA

11/17 On the Sofa with Farage

Ed Miliband appeared on the Andrew Marr Show to debate with Nigel Farage - but has all but conceded defeat in the Newark by-election, allowing Ukip a free run at the Tories

BBC

12/17 Wollies in Wellies

Miliband was among a number of politicians to come under fire for 'touring' the floods in the South and South West earlier this year

PA

13/17 Wollies in Wellies

The Labour leader admitted it was 'a difficult decision for politicians whether to visit areas like this'

14/17 Missed Opportunity

Miliband's performance at the Labour conference last year failed to make much of an impression on voters, polls suggested

Getty Images

15/17 Sharing the Moment

Miliband, Nick Clegg, David Cameron and Angus Robinson enjoy their moment with Andy Murray, after the tennis player's Wimbledon win

Getty Images

16/17 Casual Husband

Miliband and his wife Justine are pictured in their hotel room in Brighton as he prepares to give his keynote speech to the annual Labour Party Conference

Getty Images

17/17 The Milibands

Just your average family of four?

Getty Images
A Tory party spokesman said: "This is just an empty promise from Ed Miliband. The last Labour government also promised to build over 200,000 homes a year – but in reality house building collapsed to its lowest level since the 1920s.
"Labour left our housing market and economy its knees – and would do it all over again."