I am something of a sceptic when people assert that most voters in this general election are preoccupied by the issue of Brexit. However, I have no doubt at all that the focus on the UK's future negotiations with the EU has had the effect of pushing the qualities of leadership and experience to the forefront of the campaign.
Our political system is parliamentary, not presidential, but it is still designed to have someone at the helm: a prime minister who leads the government and is the face of Britain in all our important international relationships and negotiations.
An ORB poll for The Independent yesterday confirmed that Theresa May has an advantage over Jeremy Corbyn as a leader, but how much does this matter?
A ComRes poll (1,012 respondents sampled on 11 May 2017) brought a number of threads together. Designed to provide a quick reaction to the leaked policies from Labour's manifesto, its findings on specific policies appeared highly encouraging for the party: more than 70 per cent support for banning zero hour contracts, as well as keeping the pension age at 66; two-thirds support for increasing tax on salaries above £80,000; and around 50 per cent public support for pledges to build 100,000 council homes and renationalise elements of the energy and railway industries. Not a bad beginning but one which immediately crashed in flames: the same poll found that 54 per cent of all respondents thought Mr Corbyn would be "a disaster" as prime minister, compared with 30 per cent who thought he should be given a chance to lead the country: majority public support for a party's policies whose leader a majority also believe would be a disaster if ever he was in a position to implement them.
Another set of answers in the poll revealed the heart of the political dilemma facing the Labour party at this election: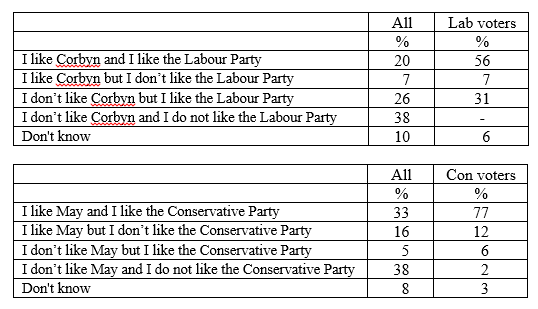 The same number of respondents (38 per cent) said they did not like the Labour leader or his party, as said the same of the Conservative leader and her party. But it was the remaining answers that pointed to the gap between the two main parties in the 2017 campaign so far. Whereas 33 per cent said they liked both Ms May and her party, the comparable figure for Mr Corbyn and Labour was 20 per cent. In terms of what one might loosely describe as a personal vote (liking the leader but not her/his party) Mr Corbyn's amounted to 7 per cent and Ms May's to 16 per cent. The figures relating to those who intend to vote for the party despite not liking its leader were the most troubling of all for Labour: one quarter of all respondents (and nearly one third of Labour voters) said that they liked the Labour party but did not like Mr Corbyn. The comparable figures for Ms May were 5 per cent and 6 per cent respectively.
We know from the result of the June 2016 EU referendum that the UK is divided on the issue of Leave or Remain. Outside London, most people seem to have moved on from the result; but everyone knows that important negotiations lie ahead and Survation (1,005 respondents sampled 5-6 May 2017) asked whom people would "most trust to negotiate the best Brexit deal for Britain"? Overall, 62 per cent nominated Ms May and 20 per cent Mr Corbyn, but among those who voted Remain in 2016, nearly half (47 per cent) chose Ms May compared with 33 per cent who chose Mr Corbyn.
General election campaigns certainly showcase leadership: individual party leaders are under a relentless spotlight as they tour the country and perform in a succession of media interviews. ICM (1,970 respondents sampled 28 April-2 May 2017) asked people to assess the performance of the party leaders, based on what they had seen of the campaign so far.

Whereas 76 per cent of Conservative voters judged Ms May to be running a good campaign, 54 per cent of Labour voters thought the same about Mr Corbyn's campaign to date.
Before we all get carried away by the hype surrounding Ms May, it is worth remembering that she was elected party leader and therefore Prime Minister without a contest and that she had hardly lit up the sky during her long tenure in the Home Office where she seemed increasingly side-lined by David Cameron and George Osborne. The point is that she was not then, nor is she now, a political colossus who naturally dominates all she surveys. Her seeming pre-eminence rests heavily, it seems to me, on the alternatives facing the public. 
MORI (1,004 respondents sampled 21-25 April 2017) asked one of their standard questions: "Who do you think would make the most capable prime minister?" They found 61 per cent nominating Ms May and 20 per cent Mr Corbyn; this 61 per cent was the highest rating for any leader in the MORI series since the company began asking the question in 1979.
A general election, like politics itself, is not a nursery school sports day race where everyone gets a prize. It is utterly brutal and anyone who is not prepared for the terms of such a race should not be allowed anywhere near the starting line. The Conservatives are determined to make this election campaign all about leadership; and why would they not when the formidable array of Jeremy Corbyn, Tim Farron and Paul Nuttall are the alternative offers?
The election campaign has some weeks to run but the territory Labour needs to claw back is formidable: too many people say they are voting Labour in spite of Jeremy Corbyn being the party leader. That is a fragile foundation for a party that has only a few weeks left to demolish Conservative poll leads of 14-18 per cent.
David Cowling is a political analyst and Senior Visiting Fellow at King's College London. He will be commenting on the election for The Independent throughout the campaign
Reuse content