What did we learn from that debate? Not a lot. But there was something of a shift in gear from the Remain side. Amber Rudd, the Government's representative, appeared determined all night to focus on Boris Johnson and his prospects of becoming Prime Minister, ending with the jibe: "He's the life and soul of the party but he's not the man you want driving you home at the end of the evening." 
Mr Johnson's supporters will probably take it as a sign that Downing Street are rattled, and it could be argued that making the campaign about Boris, who despite his detractors remains one of the country's most recognisable and liked politicians, is a risky approach. 
What's clear, is that the Tories have rarely looked so divided, and while Labour might want to shift the debate from personalities to policies, it could be the 'Blue on Blue action' that dominates headlines right up until referendum day. 

Ms Rudd accused Mr Johnson and the Vote Leave camp of making up statistics such as the £350m claim - a figure disputed by some experts who say it is closer to £150m - which is on the side of the campaign's battle bus.
She said: "That bus is pure fantasy. 
"We're going to repaint that bus with a leprechaun on one end a big rainbow and pot of gold at the other." 
Both Ms Rudd and Labour's shadow business secretary Angela Eagle accused Mr Johnson of only being on the Leave campaign to further his ambition to replace David Cameron. 
Ms Eagle said "the only job Boris is interested in is David Cameron's".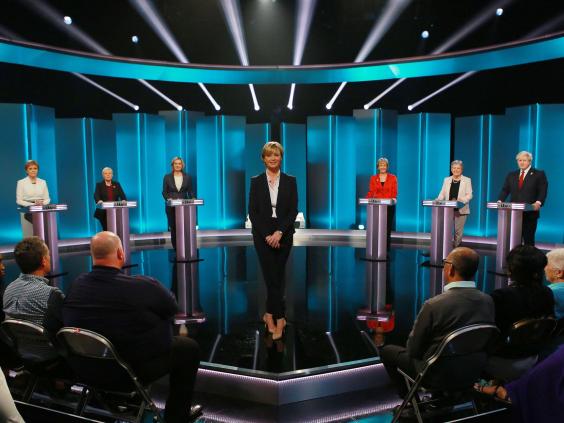 First Minister Nicola Sturgeon criticised Mr Johnson's claim the UK could better spend the money it sends to Brussels on alleviating the problems within the NHS.
She said: "It's a bit rich to hear the man who once said people should be charged for using the NHS saying he is now the defender of it.
"I am staggered that Boris Johnson is now standing here still defending this £350m a week figure. It's a scandal that is still emblazoned across the campaign bus because it is an absolute whopper. 
"The statistics authority says so, the House of Commons select committee says so, everybody knows so. 
"The contribution each of us makes to the EU every day is less than a pound, but what do we get for that money? We get freedom of travel, we get a single market of 500m people, the chance to cooperate to keep us safer. These are the gains of being in the EU".
But Brexiters hit back at the comments by the trio saying they were getting too "personal" in a bid to discredit Mr Johnson.
Former Work and Pensions Secretary, Iain Duncan Smith, told Politics Home the Remain camp were using "scare stories". 
He added: "Then they laced that permanently with abuse. Personal abuse, mostly aimed at Boris, sometimes at the others, but mostly at Boris. Scripted, you could see their heads dip to read the scripted lines, and I thought that contrasted starkly with the team that I'm proud of, the Vote Leave team.
What's the European Parliament ever done for us?
What's the European Parliament ever done for us?
1/5 A cap on the amount of hours an employer can make you work

The Working Time directive provides legal standards to ensure the health and safety of employees in Europe. Among the many rules are a working week of a maximum 48 hours, including overtime, a daily rest period of 11 hours in every 24, a break if a person works for six hours or more, and one day off in every seven. It also includes provisions for paid annual leave of at least four weeks every year

Getty Images

2/5 Helping the people of Britain to avoid smoking

In 2014 MEPs passed the Tobacco Products Directive strengthening existing rules on the manufacture, production and presentation of tobacco products. This includes things like reduced branding, restrictions on products containing flavoured tobacco, health warnings on cigarette packets and provisions for e-cigarettes to ensure they are safe

3/5 Helping you to make the right choices with your food

Thanks to the European Parliament, UK consumers have access to more information than ever about their food and drink. This includes amount of fat, and how much of it is saturated, carbohydrates, sugars, protein and so on. It also includes portion sizes and guideline daily amount information so people can make informed choices about their diet. All facts must be clear and easy to understand

4/5 Two year guarantees and 14-day returns policy for all products

Consumers across the EU have access to a number of rights, from things which are potentially very useful, to things which used to be annoying. For example, shoppers in the UK receive a two-year guarantee on all products, and a 14-day period to change their minds and return a purchase, these things are useful

www.PeopleImages.com-licence restrictions apply

5/5 Keeping your air nice and fresh (and safe)

Believe it or not, although the situation is improving, some areas of the UK have appalling air quality. A report by the Royal College of Physicians released on 23 February says 40,000 deaths are caused by outdoor air pollution in the UK every year. Air pollution is linked to a number of illnesses and conditions, from Asthma to diabetes and dementia. The report estimates the costs to British business and the health service add up to £20 billion every year
Meanwhile employment minister Priti Patel told The Telegraph: "I thought it was totally unnecessary, absolutely unnecessary. 
"I have the view that when you resort to personal insults you have lost the argument".
Reuse content