Barack Obama will jet into the UK next month and use his star power to convince Britons they should vote to stay in the European Union. 
The timing of the US President's intervention, a major coup for the Remain campaign, is revealed by The Independent on Sunday, as a ComRes poll for this newspaper finds that Boris Johnson, unofficial leader of the Leave campaign, matches David Cameron on "trust" – suggesting that the referendum could be closely fought. Asked which of the two they trust more to do what is best for Britain, 35 per cent say Mr Cameron and 34 per cent Mr Johnson.  
Mr Obama's visit will also help restore relations with Mr Cameron. In an interview last week, the US president accused the Prime Minister of being "distracted" over the Libya campaign.
This has been viewed as an unprecedented rift between countries that are supposed to have a "special relationship". Mr Obama appeared to suggest that Mr Cameron did not help oversee the transition to a stable government after the fall of Muammar Gaddafi in 2011, though the President's advisers have since insisted he did not mean to be critical.
A No 10 source confirmed that Mr Obama will make his intervention and visit the UK as an extra leg of a trip to Germany next month. He is scheduled to open the Hannover Messe 2016 technology fair on 24 April. 
What's the European Parliament ever done for us?
What's the European Parliament ever done for us?
1/5 A cap on the amount of hours an employer can make you work

The Working Time directive provides legal standards to ensure the health and safety of employees in Europe. Among the many rules are a working week of a maximum 48 hours, including overtime, a daily rest period of 11 hours in every 24, a break if a person works for six hours or more, and one day off in every seven. It also includes provisions for paid annual leave of at least four weeks every year

Getty Images

2/5 Helping the people of Britain to avoid smoking

In 2014 MEPs passed the Tobacco Products Directive strengthening existing rules on the manufacture, production and presentation of tobacco products. This includes things like reduced branding, restrictions on products containing flavoured tobacco, health warnings on cigarette packets and provisions for e-cigarettes to ensure they are safe

3/5 Helping you to make the right choices with your food

Thanks to the European Parliament, UK consumers have access to more information than ever about their food and drink. This includes amount of fat, and how much of it is saturated, carbohydrates, sugars, protein and so on. It also includes portion sizes and guideline daily amount information so people can make informed choices about their diet. All facts must be clear and easy to understand

4/5 Two year guarantees and 14-day returns policy for all products

Consumers across the EU have access to a number of rights, from things which are potentially very useful, to things which used to be annoying. For example, shoppers in the UK receive a two-year guarantee on all products, and a 14-day period to change their minds and return a purchase, these things are useful

www.PeopleImages.com-licence restrictions apply

5/5 Keeping your air nice and fresh (and safe)

Believe it or not, although the situation is improving, some areas of the UK have appalling air quality. A report by the Royal College of Physicians released on 23 February says 40,000 deaths are caused by outdoor air pollution in the UK every year. Air pollution is linked to a number of illnesses and conditions, from Asthma to diabetes and dementia. The report estimates the costs to British business and the health service add up to £20 billion every year
The source said: "Barack Obama is coming over at around that time. You wouldn't look stupid saying that [the President is going to tell British voters to stay in the EU]. It would be pretty shocking if he didn't ask voters to stay in the EU."
Rumours have circulated for months that Mr Obama, who is considered the greatest electoral campaigner of his generation after becoming the first black person to win the White House in 2008, would intervene on the EU vote.
Bob Corker, the chairman of the US Senate foreign relations committee, said last month that Mr Obama was planning "a big, public reach-out" to persuade British voters of the merits of staying in the EU. But several government and Remain campaign sources have now confirmed the timing and added that he will fly into the UK to make a direct appeal to the British electorate.
The IoS can also reveal a host of high-profile names who have joined the Women In campaign, led by Jenny Halpern Prince. These are journalist and television presenter Mariella Frostrup, award-winning computer scientist Dr Sue Black, and author Kathy Lette.
Brexiteers are furious at the prospect of Mr Obama swaying undecided British voters. A pre-emptive online petition has nearly 16,000 signatories, who want to "Stop President Obama from speaking inside our Westminster Parliament concerning Britain staying inside the European Union". Steve Baker, the Conservative MP who said Britain's recent EU membership renegotiations were akin to "polishing poo", told the IoS: "Whenever a US president intervenes in our constitutional future, I always reread the US Declaration of Independence. We will solve peacefully at the ballot box the problem for which their nation fought a bloody war of insurrection.
"I will take lessons from the US president when the US accepts a supreme court over its own, and free movement from Canada to Central America – but God bless America!"
Peter Bone, another Conservative MP who is prominent in the Leave campaign, added: "Why should President Obama tell the UK whether we should be part of a European superstate or a sovereign nation? He should keep his comments, his views, to himself."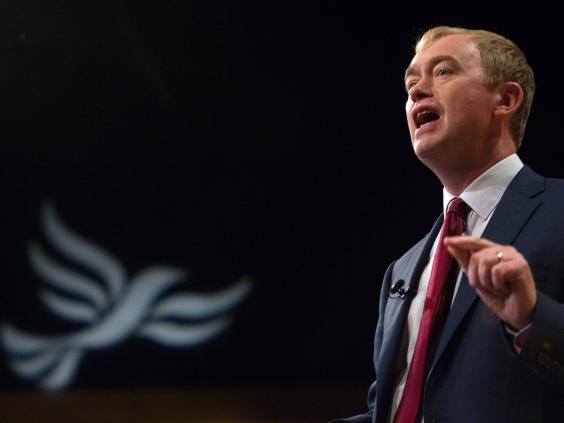 But Tim Farron, leader of the pro-EU Liberal Democrats, said Mr Obama's visit was "welcome". He added: "This is a reminder that if Britain wants to be a big player on the world stage, then being in the EU is one of the ways we achieve it.
"Sometimes our friends from outside have a clear picture on where we stand. People often refer to the fact that we're the fifth biggest economy in the world, but they forget we were only the seventh biggest economy when we joined the European Community [in 1973]. Our political relevance is enhanced by the EU."
Mr Farron's pro-EU stance has taken a surprising knock by the establishment of a Liberal Democrat Brexit campaign, headed by former MP Paul Keetch. Mr Farron said: "It wouldn't be the Lib Dems if someone didn't oppose what 99.5 per cent of the party agree with."
A White House spokesman said there was no UK visit to announce "at this time".
Reuse content