Boris Johnson, the unofficial leader of the "Leave" campaign, matches David Cameron on "trust", according to a ComRes poll for The Independent on Sunday. Asked who they trust more to do what is best for Britain, 35 per cent say Mr Cameron and 34 per cent Mr Johnson. 
The poll underlines the importance of the Mayor of London's decision to put himself at the head if the "Leave" campaign. More voters also think Boris Johnson decided to campaign for Leave "because he believes it is best for Britain" than "because he thinks it is best for his career". 
Although opinion is evenly divided – 41 per cent to 39 per cent – the level of support for the Mayor of London is unusual, given popular scepticism about politicians' motives and the Prime Minister's coded attack on Johnson: "I have no other agenda than what is best for our country."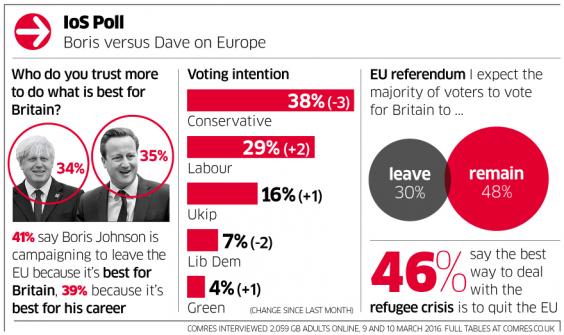 Click HERE for larger annotated version of the graphic
The poll finds that more people say the best way to "deal with the refugee situation" is to leave the EU (46 per cent) than to stay in (33 per cent), but that national security would be stronger in (42 per cent) than out (35 per cent). Turkey's application to join the EU is opposed by 50 per cent and supported by only 18 per cent – the remainder don't know. 
By a substantial margin of 48 per cent to 30 per cent, people expect their fellow citizens to vote to stay in the EU in the referendum on 23 June. 
The poll makes sobering reading for George Osborne, the Chancellor, who presents the Budget on Wednesday, and who is Mr Johnson's main rival to succeed the Prime Minister. Asked about Mr Osborne, 41 per cent of voters say he has "done a bad job as Chancellor", while only 31 per cent say "good job". A majority, 51 per cent, say the economy is "no better off now than it was this time last year", while 31 per cent say it is "better off". 
What has the EU ever done for us?
What has the EU ever done for us?
1/7 1. It gives you freedom to live, work and retire anywhere in Europe

As a member of the EU, UK citizens benefit from freedom of movement across the continent. Considered one of the so-called four pillars of the European Union, this freedom allows all EU citizens to live, work and travel in other member states.

2/7 2. It sustains millions of jobs

A report by the Centre for Economics and Business Research, released in October 2015, suggested 3.1 million British jobs were linked to the UK's exports to the EU.

3/7 3. Your holiday is much easier - and safer

Freedom to travel is one of the most exercised benefits of EU membership, with Britons having made 31 million visits to the EU in 2014 alone. But a lot of the benefits of being an EU citizen are either taken for granted or go unnoticed.

4/7 4. It means you're less likely to get ripped off

Consumer protection is a key benefit of the EU's single market, and ensures members of the British public receive equal consumer rights when shopping anywhere in Europe.

5/7 5. It offers greater protection from terrorists, paedophiles, people traffickers and cyber-crime

Another example of a lesser-known advantage of EU membership is the benefit of cross-country coordination and cooperation in the fight against crime.

6/7 6. Our businesses depend on it

According to 71% of all members of the Confederation of British Influence (CBI), and 67 per cent of small and medium-sized enterprises (SMEs), the EU has had an overall positive impact on their business.

7/7 7. We have greater influence

Robin Niblett, Director of think-tank Chatham House, stated in a report published last year: "For a mid-sized country like the UK, which will never again be economically dominant either globally or regionally, and whose diplomatic and military resources are declining in relative terms, being a major player in a strong regional institution can offer a critical lever for international influence.
Asked about their "personal financial situation", voters are even less impressed: only 26 per cent say they are "better off", while two thirds, 66 per cent, say they are "no better off". 
The only good news for the Chancellor is that he and Mr Cameron together are trusted to run the economy more than Jeremy Corbyn and John McDonnell, the Shadow Chancellor, by 45 per cent, while only 29 per cent trust the Labour leadership more. 
The poll also finds that the public are evenly divided on the question of building more nuclear power stations in the UK: 37 per cent supported the idea, 36 per cent opposed. Men are around twice as likely as women to support new nuclear power (53 per cent compared with 23 per cent). 
The poll finds the Conservatives leading by nine points when people are asked how they intend to vote, down from last month's 14-point lead, but with Labour on 29 per cent, still below the 31 per cent share of the vote secured by the party at the last election. 
ComRes interviewed 2,059 GB adults online on 9 and 10 March 2016. Full tables at the ComRes website.