British expats have voiced their outrage after being denied a say in the EU referendum because their postal votes failed to arrive.
Voters living abroad in three continents told The Independent they were forced to miss the historic poll because of "totally unacceptable" administrative errors and delays.
Jo Zell, from Bromley in south-east London, said she applied for a postal ballot after moving to Paris.
"I got a confirmation email to say I should receive my postal vote, but no vote ever arrived," she said.
"I tried to ring to change my vote to a proxy, since a family member could vote for me instead at the last minute, but they said it was not possible. 
"I will sadly not be voting today, and I think it's obvious where my vote would be."
Ms Zell said she checked the address on the confirmation email was correct and had at least one other friend who experienced the same problem.
"Another friend of mine in Sussex did not receive her postal vote either. Crucially, if a lot of voters overseas in Europe didn't receive their vote, the outcome will be a bit squiffy," she added.
EU referendum - in pictures
EU referendum - in pictures
1/18

A woman in a wheelchair with British and European Union flags shows her support for the United Kingdom to remain in the European Union on the day of the EU Referendum in Gibraltar

Getty Images

2/18

A polling station being used in the EU referendum at Batley Town Hall in the constituency Labour MP Jo Cox

PA

3/18

People arrive to vote in the EU Referendum at the Library where British MP Jo Cox was shot and fatally wounded last week in Birstall

EPA

4/18

A man arrives to vote at a polling station for the Referendum on the European Union in north London

REUTERS

5/18

Voters queue to enter a polling station at Trinity Church in Golders Green in London

Getty Images

6/18

British Prime Minister David Cameron and his wife Samantha Cameron leave after voting in the EU Referendum at Central Methodist Hall, Westminster

Getty Images

7/18

Labour Party leader Jeremy Corbyn cast his vote at a polling station at Pakeman Primary School in Islington

Getty Images

8/18

Chelsea pensioners arrive at a polling station near to the Royal Chelsea Hospital

PA

9/18

A woman wearing an "I'm In" t-shirt, promoting the official "Remain" campaign, leaves a polling station in London

AFP/Getty Images

10/18

People queuing outside a polling station on Amott Road in London

PA

11/18

Scotland's First Minister and Leader of the Scottish National Party (SNP), Nicola Sturgeon and her husband Peter Murrell, react as leave after casting their votes at a polling station at Broomhouse Community Hall in east Glasgow

AFP/Getty Images

12/18

A man wearing a European themed cycling jersey leaves after voting at a polling station for the Referendum on the European Union in north London

REUTERS

13/18

Ukip leader Nigel Farage arrives to cast his vote at Cudham Church of England Primary School in Biggin Hill, Kent

PA

14/18

Justice Secretary and prominent 'Vote Leave' campaigner Michael Gove poses with his wife Sarah Vine after voting in the European Union referendum at their local polling station in Kensington

Getty Images

15/18

Nuns leave a polling station after voting in the EU Referendum in London

EPA

16/18

People arrive to cast their ballots in the EU Referendum in Gibraltar. The United Kingdom and its dependant territories are going to the polls to decide whether or not the the United Kingdom will remain in the European Union

Getty Images

17/18

A man driving a van covered in stickers urging people to vote for the United Kingdom to remain in the European Union drives outside a polling station on the day of the EU Referendum in Gibraltar

Getty Images

18/18

A sign on a gable wall in Belfast's, Loyalist Tigers Bay urging voters to leave the EU using scripture from Revelation 18:4, as voters head to the polls across the UK in a historic referendum on whether the UK should remain a member of the European Union or leave

PA
Alex Rayment, from Cumbria, is currently travelling in Australia and signed up for a postal vote to be sent to his new address.
It never arrived despite him registering within the government's deadline, he said, describing himself as "annoyed".
A British chemistry teacher working at an international school in Bangkok was also among those left out.
Andrew Deighan, from Kirklees in Yorkshire, said he too received nothing after receiving confirmation of his registration.
"I emailed the council and they said they sent it and there was nothing they could do," he added. "It is hugely disappointing as this vote means a lot to all British people."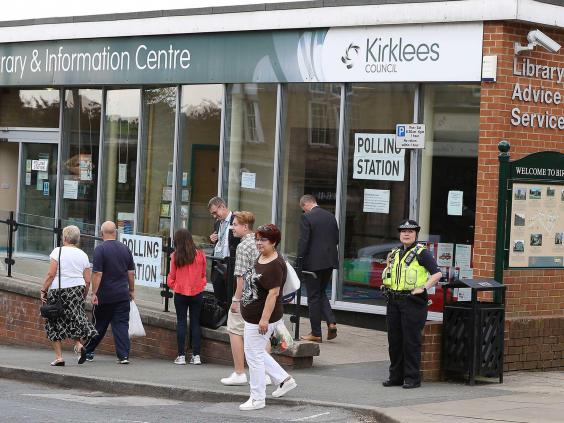 One concerned voter ordered a replacement ballot but did not receive it until Thursday morning, meaning it was impossible to post it back to the UK in time. 
Charlotte Mason, a Leeds University student, is working at a publishing company in Paris on her year abroad.
She said she registered for a postal vote on 31 May – a week before the deadline – and was told it had been sent by her local council.
After being refused an emergency proxy vote, a new ballot paper was sent and Ms Mason was eventually able to vote by scanning it and emailing it to electoral officials with just hours left before polling stations closed in the UK.
"Although I'm very grateful that the council allowed me to vote in the end, I had to really fight to get them to do it," she said.
"The people I spoke to told me things like 'It's a shame' I couldn't vote and 'Sorry but we don't control the postal system'. 
"They wanted me to simply accept that, oh well, I wasn't going to be able to vote, which for me, was totally unacceptable."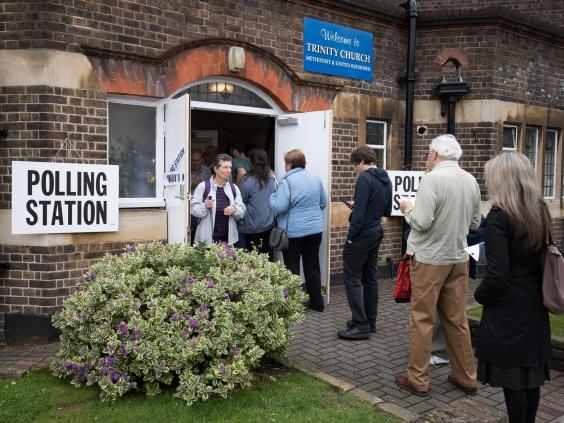 A woman living in Germany also told The Independent her postal vote never arrived, adding: "There are so many Brits abroad whose votes obviously don't matter or count."
Electoral Commission did not comment on the cases or explain what had happened to the missing votes, or how many people were affected.
A spokesperson said postal votes are dispatched by counting officers in batches and that applicants were encouraged to register "as early as possible".
"Postal votes will have been issued throughout the referendum period, but anyone who applied very close the application deadline will not have been sent a postal vote until the final update to the register on 20 June," she added.
"The Chief Counting Officer directed that postal ballot packs to overseas addresses should be dispatched between 23-27 May…and that Counting Officers make arrangements with Royal Mail for an international business response licence and ensure that this is used on all return envelopes included in postal ballot packs to be sent to overseas addresses."
A record 46.5 million people are eligible to vote on Britain's membership of the European Union, including Brits living overseas who have been registered to vote in UK elections within the past 15 years.
Did your postal vote fail to arrive? Let us know by emailing lizzie.dearden@independent.co.uk.
Reuse content