Two senior European politicians have sketched the outline of a possible pre-referendum deal with David Cameron that would allow Britain to become a kind of "low-definition" member of the European Union.
Emmanuel Macron, the French Economy Minister, said that it was time to "accept the idea of a two-speed" Europe in which some countries would stand aside from progress towards greater unity and integration.
Meanwhile, the President of the European Parliament, Martin Schulz, a German Social Democrat, urged other members to accept Mr Cameron's demand for Britain to be exempted from the EU objective of an "ever-closer union".
Although negotiations are at an early stage, the comments suggest that important political figures in the two most influential countries in Europe are open to a deal which would formalise Britain's status as a kind of semi-detached member of the EU. Mr Cameron made similar proposals – to a mixed reception – during his two-day, four-capital European tour last week.
Both the French and German politicians made it clear that they were speaking personally. Mr Macron, 37, said that he was talking as a representative of a "younger generation" of European politicians, who wanted to revive the "European dream" and fight the notion that the EU had become irretrievably "dead and technocratic".
In an interview with Le Journal du Dimanche, he called for the broader EU of 28 countries, including Britain, to become "simpler, clearer and more efficient". This would involve, among other things, a European single market in energy and technology. At the same time, Mr Macron said, the "avant garde" of the 19 countries that use the euro should push ahead with "more solidarity and more integration". This would involve a single budget, common debt and convergence of tax policies.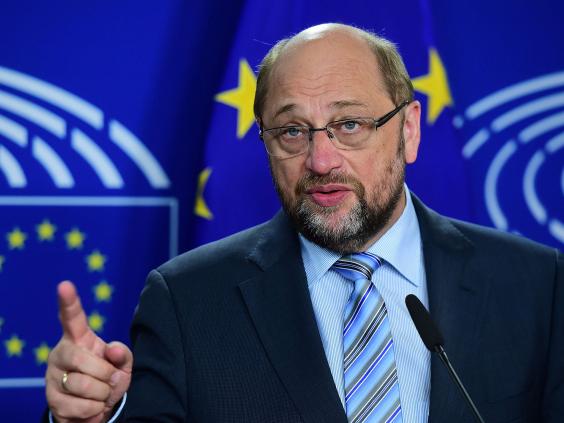 Much of what Mr Macron said might have been taken from Mr Cameron's own script. Before a dinner with the French President, François Hollande, last Thursday, the Prime Minister said he had "no objection to" and even "supported" the idea of greater economic integration for other EU countries within the eurozone. Mr Macron is expected to express similar ideas this week in a joint statement with the German Economics Minister, Sigmar Gabriel.
Mr Schulz also called for a recognition of a de facto separate status for Britain in an interview with the Frankfurter Allgemeine Sonntagszeitung. "In past decades, the only country to have exempted itself from the process of European integration through special conditions has been Britain," he said. By accepting Mr Cameron's call to be exempted from ever-closer union, "we would only be recognising what has been the case for London for some time".
Mr Schulz said he wanted Britain to remain in the EU, but not at any price. "I will not allow myself to be blackmailed in order to satisfy the ideological interests of the right wing of the Tory party," he said. "My red line is that we must not start plucking the EU apart."
What does five more years of the Tories mean for Britain?
What does five more years of the Tories mean for Britain?
1/8 Welfare payments will be slashed

One of the most controversial parts of the Conservative manifesto was to cut benefits for the working age poor by £12 bn over the next three years. But during the campaign they only said where £2 bn of these savings would come from. That leaves £10 bn still to find. Some experts think the only way they can close that gap is by means testing child benefit – with millions of families losing out

Getty

2/8 There will be tax cuts for those in work and those who die

The Tories will increase the threshold at which the 40p rate of tax becomes payable to £50,000 by 2020. They haven't said so but it is also likely that at some point in the next five years they will abolish that 45p rate of tax altogether for the highest earners. They also want to increase the effective inheritance tax threshold for married couples and civil partners to £1m

Getty

3/8 There will be an in/out EU referendum in 2017

The next two years are going to be dominated by the prospect of a referendum on Britain's membership of the EU. First off David Cameron has the daunting task of negotiating a deal with other EU leaders an acceptable deal that he can sell to his party so he can go into the referendum campaigning for a 'yes' vote. This may be unachievable and it is possible that the Tories may end up arguing to leave. Opinion polls show Britain is divided on EU membership, one poll this year showed 51% said they would opt to leave compared to 49% who would vote to stay in

Getty

4/8 There will be more privatisation of the NHS

Having won the election the Tories now have a mandate to go further and faster reforming the NHS. In order to make cost savings there is likely to be greater private involvement in running services, while some smaller hospitals may lose services they currently provide like A&E and maternity units

Getty

5/8 There will be many more free schools – and traditional state schools will become a thing of the past

The Tories plans to create 500 new free schools and make 3,000 state schools become academies. They will also carry on reforming the Department of Education and remove more powers from local authorities over how schools are run

Getty

6/8 On shore wind farms will be a thing of the past and fracking will be the future

Government spending on renewable energy is under real threat now the Lib Dems are no longer in power with the Tories. Subsidies are likely to be slashed for off-shore wind farm and other green energy supplies. Meanwhile there will be generous tax break for fracking as ministers try and incentivise the industry to drill for onshore oil and gas

Getty

7/8 There maybe more free childcare – but not necessarily

In the campaign the Tories pledged to double the amount of free early education for three- and four-year-olds from 15 hours a week to 30. The extra hours would only be offered to working families where parents are employed for at least eight hours a week. However they have not said where the money will come from to fund the pledge

Getty

8/8 Workers' rights could be reduced

The Tories want to slash business regulation, merge regulator and cut costs. The Lib Dems stopped them from reducing the employment rights of workers in power – but these are now under threat

Getty
The idea of a formalised "two-speed" Europe would allow negotiations with Mr Cameron to be merged into plans to strengthen the eurozone. Both issues are to be discussed at a summit in Brussels later this month. But even as a member of a "lower-speed" Europe, Britain would remain subject to supranational European law.
The Polish government made it clear last week it would veto any attempt by Britain to weaken the rights of free movement for European citizens.