David Cameron has U-turned on the EU referendum question, scrapping plans to ask voters a 'Yes/No' question that the elections watchdog warned was too biased.
In a boost for those campaigning to leave the EU, voters will now be asked whether they want the UK to remain in the European Union or leave it, replacing the 'Yes' or 'No' format previously proposed.
The Prime Minister's spokeswoman confirmed the Government had decided to accept the recommendation from the Electoral Commission to amend the question so it no longer involve 'Yes' and 'No' answers.
The Government will now amend the question to the Commission's recommendation: "Should the United Kingdom remain a member of the European Union or leave the European Union?"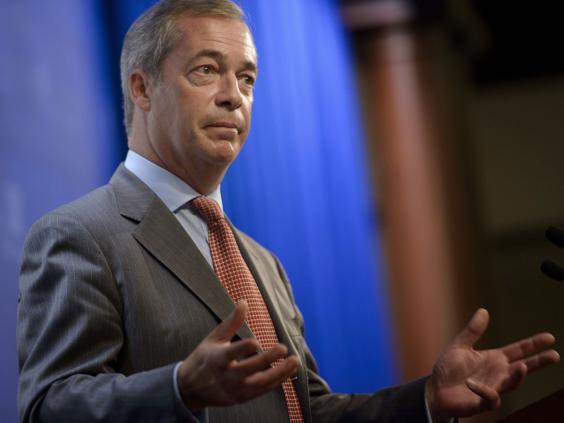 The responses would be "Remain a member of the European Union" or "Leave the European Union" if the amended question is accepted by MPs when they return on September 7.
The planned change in the wording was welcomed by campaigners for a British exit, or "Brexit", who believe it gives them a better chance of winning over the uncommitted. It is thought that people who are asked about an issue on which they have no strong feelings either way are more likely to answer "yes" because they do not like to be negative.
The Commission recommended the change after its research and consultation found that the current question planned - "should the United Kingdom remain a member of the European Union" - was not balanced and favoured the 'Yes' camp.
The referendum will be held before the end of 2017 but it could be staged as early as next year if the Prime Minister succeeds in his mission to secure reforms from the 28-state bloc by the end of 2015.
Eurosceptics welcomed the decision, saying it gave voters a much clearer and balanced choice.
I'm in no doubt that the Yes/No offering was leading to great confusion and that Remain or Leave is much clearer.

— Nigel Farage (@Nigel_Farage) September 1, 2015
Explaining the Electoral Commission's recommendation to amend the question, its chair Jenny Watson said: "Any referendum question must be as clear as possible so that voters understand the important choice they are being asked to make.
"We have tested the proposed question with voters and received views from potential campaigners, academics and plain language experts.
"Whilst voters understood the question in the Bill some campaigners and members of the public feel the wording is not balanced and there was a perception of bias.
"The alternative question we have recommended addresses this. It is now for Parliament to discuss our advice and decide which question wording should be used."
This morning Nigel Farage said he was willing to work with "absolutely anyone" to ensure voters opted to leave the EU.
Speaking as Ukip prepared to launch its own 'Brexit' campaign, he ruled out heading the official 'Out' campaign, which will be granted higher spending limits, television broadcasts and will be given a grant.
He told Radio 4's Today programme: "Let's be clear, I'm not refusing to work with anybody, in fact the opposite, I'll work with absolutely anyone for us to get a no vote in this referendum," he said.
Eurosceptic Tory MPs
Eurosceptic Tory MPs
1/7 Owen Paterson

Formerly a cabinet minister, Owen Paterson is now free to make his opinion known on the backbenchers. On the subject of Europe, he does so regularly – claiming recently that the EU referendum was "rigged" in favour of staying in

Getty

2/7 John Redwood

A longstanding eurosceptic, Mr Redwood warned last year that businesses that spoke out in favour of EU membership would be punished at the check-outs by anti-EU

Getty

3/7 Bill Cash

Awkward squad rebel Bill Cash said last year that he thought the EU had become an undemocratic, German-dominated project. "An increasingly assertive German Europe is at odds with British national interests," he wrote in the Daily Telegraph

Getty

4/7 Philip Davies

From the Conservative party's hard right wing, Philip Davies has been a longstanding critic of the EU. He founded the Better off Out campaign and is so eurosceptic that Ukip decided not to stand a candidate against him in 2010 because they agreed with him

Rex

5/7 Nadine Dorries

Outspoken Tory MP Nadine Dorries has previously advocated an alliance with Ukip. At the height of the Greek crisis in 2013 she said that the EU was "dying on its feet"

Rex

6/7 Liam Fox

The former defence secretary is a central figure on the right wing of the Conservative party. He's long put pressure on David Cameron over EU negotiations

Getty

7/7 Zac Goldsmith

A socially liberal eurosceptic, Goldsmith was one of the founding members of the People's Pledge campaign to get MPs to sign up for an EU referendum. His father ran the Referendum Party, a precursor to Ukip

Getty
"All I'm saying is I'm not choosing one side or another, I will work with whichever of them gets the nomination although I have to say privately before we get to that point I hope there is a coming together of the two of them because both of them have got skills.
"There has to be an umbrella group and whoever gets it we'll work with but I think the unique role that Ukip can play within this is that we've got 50,000 members, hundreds of branches across the country and we can do the ground campaign."
It is still not known whether Boris Johnson will join a Brexit campaign. Asked on LBC radio whether there were any circumstances under which he might campaign to leave the EU, London's Mayor replied: "Yes of course." But he hedged his bets by declaring that he had "strong confidence" that Mr Cameron could negotiate a satisfactory deal with other EU states that would make continued membership acceptable.
The power of yes
Experts say that there is a subtle advantage to being on the "yes" side. "It's the Bob the Builder philosophy," Matt Qvortrup, an expert on referendums from Coventry University, told the BBC. "It is the 'Yes we can' mood that was used by Obama. It is an attempt to be the positive campaign because nobody likes to be seen as negative."
But there is also ample evidence that when faced with a complicated choice, people are more likely to be swayed by a fear of losing what they already have rather than the hope of any gain – which suggests that inviting people to vote to "remain" may be easier than getting them to vote to "leave".
Reuse content