Michael Gove, the former Education Secretary is still driving the Conservatives' education policy rather than his successor Nicky Morgan, according her Liberal Democrat deputy.
In an interview with The Independent, David Laws said: "While Nicky Morgan's instincts are moderate, the people who control education policy in the Conservative Party are still Michael Gove, David Cameron and George Osborne."
Mr Gove was moved from the Department for Education to come Tory Chief Whip last July after becoming "toxic" in the eyes of voters and Ms Morgan has adopted a more conciliatory approach towards the education world. But Mr Laws, the Schools Minister, said: "The face and language may have changed but the Tory policies haven't."
Lifting the lid on what he called "some pretty big rows" inside the Government, he suggested that Ms Morgan and the Lib Dems were often on the same side, battling against Mr Gove, Downing Street and the Treasury.
He said that happened over Mr Cameron's plans to create another 500 free schools; a Treasury attempt to block a pay rise for teachers of up to 2 per cent, -- an increase which was eventually approved --and Number 10's initial reluctance to act on the problem of asbestos in school buildings before the May election.  "In all of these areas, the block seemed to be outside the Department [for Education], not inside it," he said. "It is policy driven by an ideological approach rather than a calm appreciation of the facts and evidence." 
Michael Gove's memorable moments
Michael Gove's memorable moments
1/5 Gove 'claims people move to London for "loads of hot sex"'

The Tory politician allegedly made a surprising claim that no doubt led to chair of Tech City UK Joanne Shields spluttering into her coffee when he reportedly explained to her that London's young entrepreneurs have been attracted to the capital because of all of the "hot sex" on offer. Hmmmm.

Getty

2/5 Gove and the #BritishValues backlash

The Twitter sphere decided to educate the Education Secretary on some of the traits actually associated with being British, after it emerged schools would be required to encourage the promotion of "fundamental British values" in the classroom in the wake of the Birmingham "Trojan Horse" investigation. Among the many suggestions were Stuart Brown's summary of: "Being wary of foreigners while having a Belgian beer with an Indian curry in your Spanish villa wearing Indonesian clothes." LBC presenter James O'Brien meanwhile suggested "queuing; dressing inappropriately when the sun comes out; warm beer; winning World Wars; immigration & Pot Noodles" could be placed within the British Values bracket, while "socks and sandals" and "complaining about immigration" have proved relatively popular.

PA; E+; Getty Images

3/5 Gove performs Wham! rap to school children

As part of the BBC's News School Report project, school children were given the opportunity to interview Mr Gove, who claimed to be a fan of rap music. When asked by one girl if he would give them "a taster of your favourite rap", he responded with an impromptu performance of a Wham! song, complete with bobbing, fist clenching and the lines: "Hey everybody look at me, I've got street credibility. I may not have a job but I have a good time with the boys I meet down on the line."

4/5 Gove is filmed falling over in a Vine

The (very blurry) moment Gove was filmed falling over before hurriedly climbing back up and walking off in a Vine quickly went viral.

5/5 Gove poses for selfie with school children

In a trend that stubbornly refuses to disappear, Mr Gove decided to jump on the bandwagon by posing for a selfie – although he did apparently warn the children to "watch out that he didn't break the camera".

Getty
The Lib Dem minister said he enjoyed working with Ms Morgan, describing her as "nice, constructive, sensible and well intentioned." But he believed that Mr Gove was still heavily involved in shaping policy. "He has been the key to the Tories' education policy for years and years. He now sits at the centre of government. He has passionate views about education and he is massively influential with the Prime Minister and George Osborne," he said.
Mr Laws did not know whether Mr Gove still saw official papers from the  Department for Education (DFE). "He is a Chief Whip who went there not only to be Chief Whip but to be very influential in advising the Prime Minister and being part of the central Tory team. It wouldn't surprise me if he saw  a lot of what is going on in the DFE and I suspect he does in many other departments as well," he said.
The Schools Minister warned that Mr Cameron's announcement of 500 more free schools in the 2015-20 parliament was "a number picked out of a hat." He warned: "The Tories  want to scatter 500 new schools around the country, regardless of whether they will be good quality schools or whether they are actually needed. This is a barmy way to make policy."
He added: "Worse still, it would mean a £4bn raid on other budgets, consigning children and teachers to crumbling classrooms and leaving some without a school place at all. It is impossible to justify."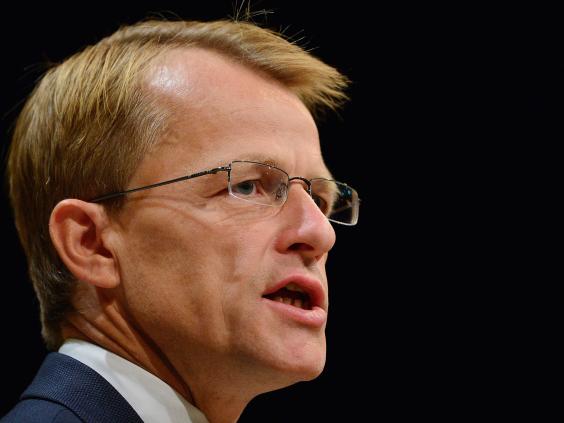 Mr Laws claimed Downing Street had not wanted to go public before the election about the need to tackle asbestos in school buildings, even though it was a "child safety issue." New guidance will now be issued and there will be more air monitoring in schools. He said the growth of academy schools outside local authority control meant the DFE needed a more pro-active approach to the problem.
He said: "We have had this bizarre situation where the Education Secretary was out there paying lip service to the importance of teaching, while  the Chancellor was blocking the measures that will let schools boost teachers' pay and the PM was blocking measures that will make schools safer."
Mr Laws said funding for a Royal College of Teaching would be announced before the election, to put teaching on an equal footing with professions such as law and medicine. "This has the potential to finally give the teaching profession the recognition, respect and high status it deserves," he said.
A Number 10 source dismissed Mr Laws's remarks about Mr Gove, saying: "This claim is simply not true - Nicky Morgan is a strong and highly effective education secretary." On Monday, Mr Cameron suggested Ms Morgan would remain in her post if the Tories retain power in May.
Reuse content