The Scottish National Party (SNP) has been accused accused of attempting to sabotage government plans to reach a new constitutional settlement for the UK after it ripped up a long-standing convention not to vote on English-only laws in Westminster.
The SNP leader, Nicola Sturgeon, went back on a pledge she made in February that the SNP would not "vote on matters that purely affect south of the border" with an announcement that her party would vote against a government plan to relax fox-hunting regulations in England and Wales.
As a result of the SNP's decision, the Government announced it was dropping the fox-hunting proposals that faced certain defeat in the House of Commons.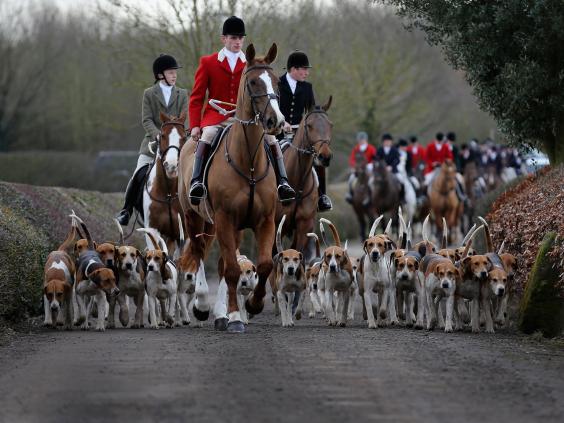 But Tory sources claimed the SNP's true motivation was to force the Government to take a tougher stance on English Votes for English Laws (Evel) than has been proposed – and that would prevent a similar situation from recurring.
This would then provide a pretext for the SNP to say that the constitutional relationship with the UK had changed enough to justify a second independence referendum.
"This seems like an attempt to force us to take a tougher line on what Scottish MPs can vote on," they said. "The SNP have never voted on English matters in the past and said before the election that they had no intention of doing  so. You have to ask yourself what's changed."
Asked if he might strengthen the Evel proposals in the wake of the SNP move, David Cameron suggested that the Government would resist the temptation to retaliate for fear that it could incense voters north of the border and play into the nationalists' hands.
"I am a believer in the United Kingdom," he said. "I want us to stay together as a United Kingdom and… what we are proposing is relatively modest, it really is, that you should not be able to legislate in the United Kingdom Parliament against the wishes of English MPs. It's a veto, a block, rather than a right of initiative. I think that is right."
However, the Prime Minister is likely to come under pressure from his own back benches to take a tougher line when the Evel proposals are debated again in the House of Commons on Wednesday.
Ms Sturgeon said her party had decided to vote on the fox-hunting issue to highlight what she claimed was a lack of "respect" shown to Scottish MPs in Westminster.
"Since the election, David Cameron's Government has shown very little respect to the mandate that Scottish MPs have," she said. "On the Scotland bill, reasonable amendments backed by the overwhelming majority of Scottish MPs have been voted down. The English Votes for English Laws proposals brought forward go beyond any reasonable proposition and look to make Scottish MPs effectively second-class citizens in the House of Commons.
"So, I think if there's an opportunity – as there appears to be here – and on an issue where David Cameron appears to be out of touch with majority English opinion as well, to actually remind the Government how slender their majority is." She added: "I respect that David Cameron won the election… All I ask is that he recognises that people in Scotland voted in a different way and the MPs from Scotland also come with a mandate."
Opponents of fox hunting in England and Wales celebrated their unexpected victory. While the Government pledged to bring forward fresh legislation to overturn the ban "before the end of the Parliament", many in Westminster believe that this will never pass. The Queen guitarist Brian May told noisy protesters outside Parliament they had scored "a victory" for wild animals and democracy.
Reuse content