The Government is unlikely to try and lift the ban on fox hunting in the near future, Downing Street has said.
On Thursday Theresa May appointed Andrea Leadsom as the Environment Secretary, a job which has overall responsibility for rural affairs.
Just this month Ms Leadsom reiterated her commitment to repealing the hunting ban, arguing that to do so could have "animal welfare" benefits. 
Her appointment raised concern among anti-hunting groups. Eduardo Goncalves, the chief executive of the League Against Cruel Sports, said the group was "disappointed by Andrea Leadsom's commitment to a free vote on repeal". 
Ms May has also expressed support for the animal killings in the past. 
A Number 10 spokesperson however told an official briefing of journalists today that bringing back fox hunting was unlikely to be a priority for the new Prime Minister. 
"I think there is plenty of government business at the top of the agenda at the moment – focusing on the immediate priorities for the government – so I don't think fox hunting is top of the in-tray," she told journalists.
In fact, MPs have had plenty of spare parliamentary time in recent years – with the Government bringing forward little legislation for fear of defeat on its slim majority.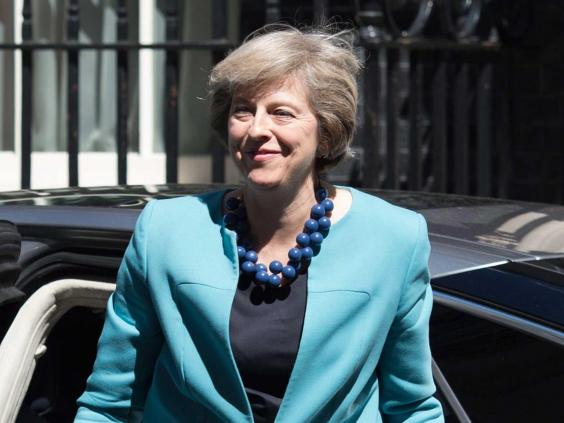 Ms Leadsom had told ITV News: in an interview: "I would absolutely commit to holding a vote to repeal the hunting ban. It has not proven to be in the interests of animal welfare whatsoever.
"I do believe we need a proper licensed regime which works much better and is more focused on animal welfare."
Theresa May's Cabinet: Who's in – and who's out?
Theresa May's Cabinet: Who's in – and who's out?
1/27 Andrea Leadsom

Andrea Leadsom has been appointed Secretary for Secretary of State for Environment, Food and Rural Affairs

Getty Images

2/27 Priti Patel

Priti Patel has been appointed International Development Secretary

PA

3/27 Alun Cairns

Alun Cairns will stay on as Welsh Secretary

Reuters

4/27 Karen Bradley

Karen Bradley is now Secretary of State for Culture, Media and Sport

Rex

5/27 Greg Clark

Greg Clark has been appointed Secretary of State for Business, Energy and Industrial Strategy

PA

6/27 James Brokenshire

James Brokenshire has been appointed as Secretary of State for Northern Ireland

PA

7/27 Stephen Crabb

Stephen Crabb has resigned as Work and Pensions Secretary

PA

8/27 Theresa Villiers

Theresa Villiers will not return as Northern Ireland Secretary. She was reportedly offered a role by Theresa May, but turned it down, saying it was not one she felt could take on

Getty

9/27 Chris Grayling

Chris Grayling has been appointed Transport Secretary

PA

10/27 Damien Green

Damien Green has been appointed Work and Pensions Secretary

Getty

11/27 Liz Truss

Liz Truss has been appointed Justice Secretary

Getty Images

12/27 Patrick McLoughlin

Patrick McLoughlin who was Transport Secretary has been appointed Tory Party chairman and Chancellor of the Duchy of Lancaster

Getty Images

13/27 Justine Greening

Justine Greening has been appointed as Education Secretary

Getty Images

14/27 Gavin Williamson

Gavin Williamson is to become the new Government Chief Whip

Reuters

15/27 Jeremy Hunt

Jeremy Hunt will continue as Health Secretary

Getty Images

16/27 Nicky Morgan

Nicky Morgan lost her job as Education Secretary

Reuters

17/27 Michael Gove

Michael Gove has been sacked as Justice Secretary

Reuters

18/27 John Whittingdale

John Whittingdale left his job as Culture Secretary

EPA

19/27 Oliver Letwin

Oliver Letwin, the Chancellor for the Duchy of Lancaster, has been sacked from his role in the cabinet

PA

20/27 Philip Hammond

The former Foreign Secretary has been made Chancellor

EPA

21/27 Boris Johnson

Leading Brexit campaigner is given the role of Foreign Secretary

Getty

22/27 Amber Rudd

Leading Remain campaigner takes Theresa May's old job of Home Secretary

PA

23/27 Michael Fallon

Stays as Defence Secretary

AP

24/27 Liam Fox

The former Defence Secretary is named as head of new Department for International Trade

PA

25/27 David Davis

The former shadow Home Secretary and leadership rival to David Cameron is named Secretary of State for Leaving the European Union - aka Brexit minister

PA

26/27 George Osborne

Gone as Chancellor - and fails to secure any new role in May's government

GETTY

27/27 David Mundell

The Conservative Party's only Scottish MP retains his role as Scottish Secretary

Getty Images
Polls suggest fox hunting continues to be is very unpopular, with even most Conservative voters opposed.
Pollsters Ipsos MORI found in December 2015 that 83 per cent of the public say fox hunting should not be made legal again, up from 72 per cent when the question was asked in 2008.
Crucially, opposition to the animal killings was just as strong in rural areas as urban areas – with 84 per cent and 82 per cent opposed respectively.
Tory voters were split 70 per cent to 27 per cent in favour of keeping the fox hunting ban when asked.
The Conservatives stood on a manifesto in 2015 of holding a free vote on legalising hunting, which was banned by the last Labour government. 
The prospect of a free vote was however kicked into the long grass after it became clear that anti-hunt Tories could dereal any attempt at repeal. 
An analysis by the League Against Cruel Sports conducted last year found that a growing minority of Conservative MPs – around 50 – would likely vote against lifting the ban.