Standing in the bohemian Stokes Croft area of Bristol it's easy to see why Darren Hall thinks he has a chance of becoming the city's first Green MP.
The last Green Party candidate to stand in Bristol West lost his deposit in 2010 after a miserable performance, but Mr Hall, 46, is more hopeful. Bristol West, an area dotted with trendy coffee shops and vibrant graffiti, has been named by the party as a "key target seat". It feels like parts of Brighton, the city where, in 2010, Caroline Lucas became the first Green MP elected by an English constituency.
Working on a mural on a side street, artist Luke Baines, 30, seems to speak for many when he says: "There's a strong sense of community and activism here. Darren Hall talks about the issues people care about."
Down the road at Canteen, an artisan coffee shop and bar, Mr Hall is frank about those issues, and his obvious popularity in an area where locals staged rowdy protests in 2011 over the opening of a Tesco supermarket.
Election Analysis: The Key Voters
Election Analysis: The Key Voters
1/6 Settled Silvers

These are the comfortably-off over-60s, still in work or drawing a decent pension – or both – who are enjoying their entitlements such as the Winter Fuel Allowance, free bus passes and free TV licence. They are worried about immigration and Europe. Both the Conservatives – who are pledging to keep benefits for wealthier pensioners – and Ukip want their votes

Micha Theiner

2/6 Squeezed Semis

Slightly older than the Harassed Hipsters, they are the second key group for Labour's family-focused election strategy. They are married couples on low to middle incomes who own unpretentious semi-detached homes in suburban areas. In 2001, these were the Pebbledash People sought by the Conservatives. Now the pebbledash is gone and a modest conservatory has been built at the back

Micha Theiner

3/6 Aldi Woman

In 1997 and 2001 she was Worcester Woman – a middle-class Middle Englander shopping at Marks & Spencer and Waitrose. Today, the age of austerity means she still goes to Waitrose for her basic food shop but cannily switches to Aldi for her luxury bargains such as Parma ham and prosecco. Identified by Caroline Flint, she is a key target of both Labour and the Conservatives

Micha Theiner

4/6 Glass Ceiling Woman

In her thirties or forties, she has an established career under her belt, perhaps in the "marzipan layer" – one position below the still male-dominated senior executive level. She is now, according to Nick Clegg, forced into making the "heart-breaking choice" between staying at home to bring up her children and going to work and forking out for high-cost, round-the-clock childcare

5/6 Harassed Hipsters

One of the two key groups identified by Labour as crucial to hand Ed Miliband the keys to Downing Street. Well-paid professional couples, often with children, they live in diverse urban and metropolitan areas rather than the suburbs. More comfortably off than most swing voters, they are time poor – struggling to balance raising a young family with busy work schedules

Micha Theiner

6/6 Neo-Greens

These are mainly first-time voters, though some are in their twenties – students and digital-age generation renters helping to fuel the "Green Surge". Idealists, but with no tribal loyalty to any party, they are anti-austerity, middle class, living in urban areas. Despite studying at university or recently graduated, they are struggling to find decent jobs and want cheaper housing and a higher minimum wage

Micha Theiner
"Stokes Croft is a bit of a microcosm, and whether my support here translates more broadly we'll have to see," he says. "Labour and the Liberal Democrats say we can't win, but there are a lot of people here who are really pissed off with the mainstream parties – and that gives us huge opportunities."
That's a message the Greens are promoting in key seats, including Bristol West and Norwich South, encouraged by the much-hyped "Green surge" and poll ratings suggesting they are doing better on a national basis than the Liberal Democrats. More recently, though, that poll rating has softened across the country, and in Bristol it's unclear how far the surge has gone beyond a few alternative heartlands.
On the face of it, Mr Hall is your average Green Party member. He is fascinated by sustainable engineering, green housing projects and social justice. He voted Liberal Democrat in 2010 and only joined the Greens a year ago, after stepping down from a council job in which he led the project that won Bristol the European Green Capital Award.
But dig deeper and he's far from typical. He served in the Royal Air Force before becoming a civil servant, and spent a spell working for arms firm BAE Systems, where he helped develop the Nimrod, a surveillance and anti-submarine aircraft. Mr Hall says he resigned from BAE in a fit of conscience.
He isn't afraid of colourful language: "Bristol is a global city, an activist city and we've managed to retain a dampening of the consumer society," he says.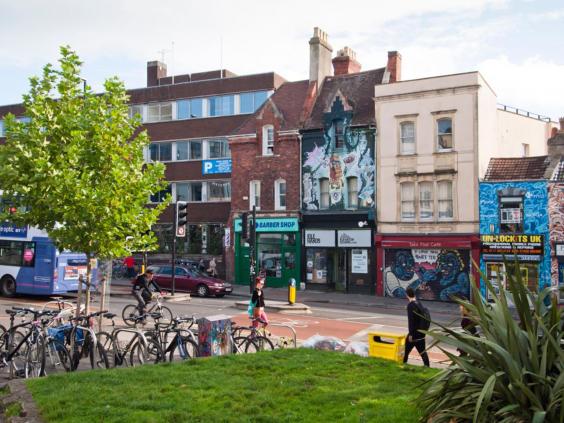 "People here are so p***ed off they are willing to think about something new, they think the system is completely f***ed up, and [want] leadership that's actually going to take us in a different direction."
Bristol West isn't Brighton, though. In 2005 the Green Party scored nearly 10,000 votes in the seaside city before building enough momentum to win the seat at the 2010 election. In the Bristol suburb of Bishopston, the incumbent Liberal Democrat MP, Stephen Williams, is quick to make that point. He is defending a 10,000-vote majority and says he is proud of his record as a junior minister. He seems flabbergasted that many in the media and the Westminster bubble are buying into the story of a Green surge in Bristol.
The psephology backs him up on this, and Mr Williams is quick to point out that the Green Party scored a lamentable 2,090 votes in 2010, and that "to win here they would have to be the first party in modern history to go from losing their deposit to overturning a 10,000-vote majority".
Nationally, he says the polling that suggests the Greens are outperforming the Liberal Democrats is "b*******", though he admits the Greens "did well" in last year's European elections in the city, coming third after Labour and Ukip. But Mr Williams fiercely rejects the Green claim that the party scored 30 per cent "across all the wards in Bristol West" in the most recent local elections. "It's bogus and total trickery," he says – and an analysis of the figures confirms the Greens have been somewhat selective in their reading of the voting history of the seat.
As far as the Labour candidate Thangam Debbonaire is concerned, the people of Bristol West are most concerned about "bread and butter stuff", such as the quality of housing and affordable childcare, not poll ratings and Liberal Democrat spats with the Greens over election promises and leaflets.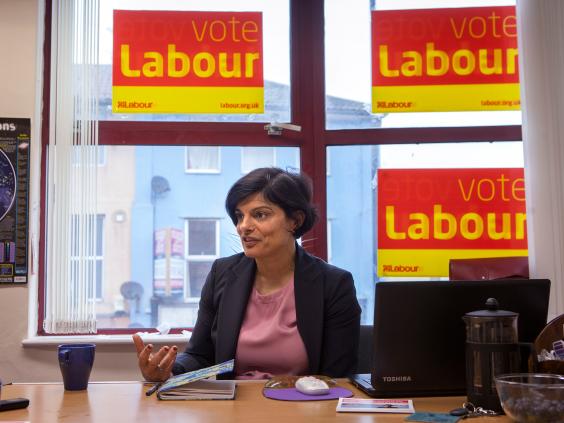 She says: "It's going to be tight; but if you walk around here you'll find few people who know who the Greens are. There are thousands of people living in council flats within a mile of my office, but they are not talking about a Green surge, they are talking about their standard of living."
In common with her Liberal Democrat rival, Ms Debbonaire is a little frustrated at the attention the Green Party is getting in the media. "Yes, this is a city of activists and activists tend to vote – but they are not the majority of the population. Most people in Bristol West aren't on Twitter and aren't protesting against Tesco: they are too busy for Twitter and they are shopping at Tesco."
Back in Stokes Croft, Mr Hall is preparing to visit the leafy suburb of Cotham to articulate a vision of a world where "environmental justice and social justice go hand in hand".
At times he's short on detail, but local lawyer Pete Ashford is one of those converted to the cause. He says: "I like their [Greens'] environmental policies and it would be good for democracy to have another Green MP in Parliament."
Reuse content