Jim Murphy's promise that a Labour government would protect Scotland from future spending cuts was contradicted by three of his senior colleagues on Monday, leading to claims that he had been "hung out to dry" by his party's Westminster leadership.
The Scottish Labour leader's pledge that further cuts in Scotland would not be necessary after 2016 were disowned by Ed Miliband, Ed Balls and Chuka Umunna on the day that the party launched its general election manifesto.
In pictures: Experts' predictions for the General Election - 11/04/15
In pictures: Experts' predictions for the General Election - 11/04/15
1/10 Andrew Hawkins (ComRes)

"Events last week have reinforced my prediction that the Tories will be the largest party. Ukip's slow puncture may help the Tories most, and Nicola Sturgeon may well fulfil her wish to keep David Cameron in No 10 by reducing Labour's Scottish MPs to numbers that could fit in a stretch limo."

Andrew Hawkins

2/10 Joe Twyman (YouGov)

"The national picture remains largely unchanged, but YouGov's Scotland polling shows the SNP at an all-time high. Only 44 per cent of Labour supporters felt Jim Murphy performed best in the first Scottish leaders' debate."

3/10 Ben Page (Ipsos MORI)

"I need to see a more decisive shift in the polls to think that Labour have definitely moved ahead of the Conservatives. There has been more good news for Labour than the Conservatives, with Ed Miliband's personal ratings improving. Still, a hung parliament remains the most likely option."

4/10 Rick Nye (Populus)

"No change."

5/10 Nick Moon (GfK)

"I haven't changed my broad view that the Tories will be the largest party, but Labour is likely to form a minority government. Last week's projection (Con 280, Lab 273) looks pretty likely to me. The risk for Labour was that, as decision time looms, voters might take ahold of nurse, but that may be mitigated by Miliband's showing in the debates."

6/10 Damian Lyons Lowe (Survation)

"Unchanged, except for an SNP uptick at Labour's expense. The SNP's surge in Survation's polling continues unabated. Nicola Sturgeon scored well in our debate polling."

7/10 Michelle Harrison (TNS)

"Despite all the sound, fury and bluster, there has been no game-changer. If anything, it's become even tougher for the major parties, with signs of a softening in Conservative support and continued evidence that the SNP will inflict major damage on Labour."

8/10 James Endersby (Opinium Research)

"Our latest polling figures, published today, show movement back towards the Conservatives (a two-point Tory lead). My prediction last week of a shaky sway back in favour of the Tories on election day holds fast; and with a hung parliament, who on earth knows who'll be able to form a government?"

9/10 Martin Boon (ICM)

"At the equivalent point before the 2010 election, our poll suggested 37 per cent for the Tories and 31 per cent for Labour, which more or less nailed the actual result. I think that campaigns mostly reinforce perceptions rather than change minds."

10/10 Lord Ashcroft (Lord Ashcroft Polls)

He refuses to make predictions. "My polls are snapshots, not predictions."

Rex
The confusion was immediately seized upon by the SNP leader, Nicola Sturgeon, who said it proved that Labour in Scotland would "continue to be no more than a branch office" of its main Westminster operation if the party was elected next month.
In last week's Scottish leaders' debate on STV, Mr Murphy cited a report by the Institute for Fiscal Studies which said Labour could increase spending and still meet its fiscal targets, saying it had been "very clear" that further cuts in the future would not be necessary.
But on Monday Mr Balls confirmed that cuts in unprotected budgets during the next parliament would affect Scotland. "We will have cuts in our non-protected areas, outside health and education, as part of getting the deficit down…Those spending cuts are, of course, UK wide," he said.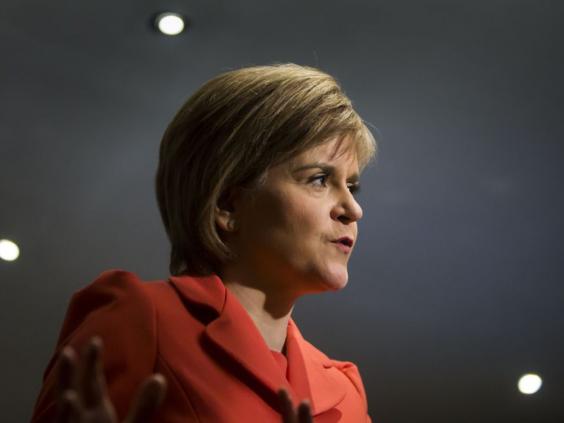 Labour leader Ed Miliband later reiterated the point during a question and answer session at the party's manifesto launch, before Chuka Umunna put it even more bluntly. "The leader of the Scottish Labour Party will not be in charge of the UK budget," he said.
Reacting to their comments, Ms Sturgeon said: "The truth is out about Labour spending cuts. Jim Murphy's false claims in the TV debates have been rubbished by his own party bosses at Westminster, who have hung him out to dry.
"Labour would impose swingeing spending cuts on Scotland and the rest of the UK, carrying on with austerity where the Tories left off…It sweeps away Jim Murphy's pretence, and leaves him devoid of any credibility in this campaign."
Responding to the apparent contradiction, a Scottish Labour spokesperson said: "Jim Murphy and Ed Balls have always been very clear that we will balance the books in a fair way – through tax rises on the wealthiest few, making work pay to increase tax revenues, and making sensible savings.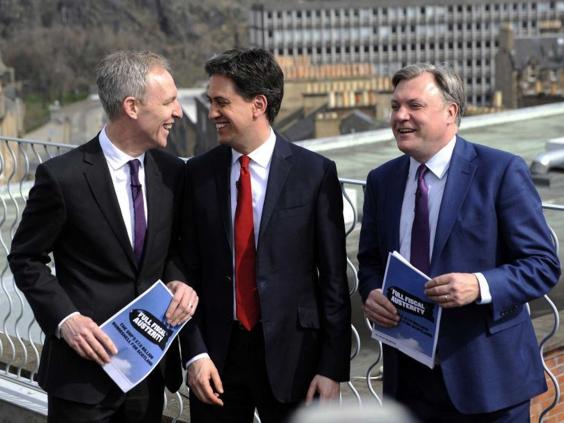 "Jim has said this several times before and the Tories and Nationalists have reacted this way each time. They are doing it again because their own plans for fiscal austerity and for unfunded NHS spending are falling apart."
The SNP received another boost on Monday when a poll suggested it has almost doubled its lead over Labour in the general election race in Scotland. More than half of those questioned (52 per cent) said they would vote SNP, with only 24 per cent backing Labour, the TNS poll found.
Reuse content