Journalists, election candidates and other political geeks found the break over the Easter weekend so hard to bear that they invented a new game on Twitter.
The aim was to rewrite song titles to include constituencies and it became so popular that the hashtag #constituency profiles started trending.
Among the best suggestions were: Hove Will Tear Us Apart; Harrow? Is it me you're looking for?  and Fear of a Black Thanet.
But there is one candidate running for election who already has his very own constituency song. 
Meet Pete Lowe, the Labour candidate fighting the key marginal battleground seat of Stourbridge in the West Midlands.
He is hoping to become the first MP for Stourbridge who was born and bred in the town and he his election slogan - Born, Bred, Believes - has been adopted by a local artist:
Stourbridge is currently held by Conservative MP Margot James, who won a 5,164 majority in 2010 but the seat was previously held by Labour and Mr Lowe is confident of winning it back. Earlier this year the polling website May2015 predicted he had cut the majority down to around 500 votes.
In pictures: Top 12 wacky candidates seeking your vote in 2015
In pictures: Top 12 wacky candidates seeking your vote in 2015
1/12 Charlotte Rose, Brighton Pavilion

Sex worker Charlotte Rose stood in last year's Rochester and Strood by-election on a platform of legalising brothels (she came 11th) and says the issue is "important for democracy"

Image taken from Twitter

2/12 Solomon Curtis, Wealden

The youngest candidate to emerge so far is Labour activist Solomon Curtis. Just 18, the young chap has a Tory majority of 17,000 to overturn to become the youngest MP ever

3/12 Doris Osen, Ilford North

The oldest candidate to declare, Doris Osen, 84, of Epic – Elderly Persons' Independent Party – spent £1,000 on 30,000 fliers to voters

4/12 Dave Wasgij, Preston

Standing to give "piece a chance", comedian Dave Wasgij has been captured by the jigsaw lobby and is promising free puzzles for OAPs

5/12 Joe Stead, Calder Valley

Protest singer Joe Stead will provide colour at the count. He says war can be prevented through music alone

6/12 Arthur Uther Pendragon, Salisbury

He's stood for Parliament in five elections and believes he's the reincarnation of the King Arthur. Apparently, the stones say this is finally his year

Matt Cardy/Getty Images

7/12 Greg Clough, Islington

An Australian married to a Greek, Ukip's Greg Clough wants to stop immigrants using "our" NHS

8/12 Colin Bex, Eastleigh

Colin Bex's mission is self-government for the ancient lands of Wessex

9/12 Dave Bishop, seat TBC

Standing alternately as Elvis Loves Pets, The Church of the Militant Elvis, Lord Biro and the Bus Pass Elvis, Dave Bishop (below) has stood since 1997. Among his policy ideas are "free neutering for cats and Boris Johnson"

10/12 Mark Flanagan, Leeds North West

Mark Flanagan is giving voters the option of voting for "none of the above" and thereby rejecting every other candidate

11/12 Al Murray, South Thanet

Presumably wants a boost in sales for his next comedy DVD

PA

12/12 Robert Boaler, South Thanet

Robert Boaler for the Al-Zebabist Nation of Ooog party, wants to build a "great wall of Thanet" to save the town from nearby elite in Broadstairs
Mr Lowe has such a cult following in the local community that he even has his own Born, Bred, Believes beer named after him: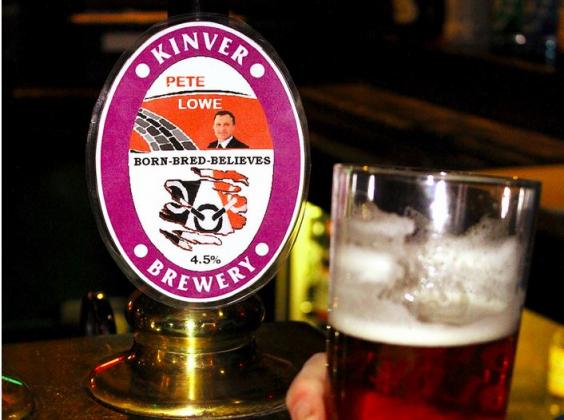 Mr Lowe's town of Stourbridge also featured in the #constituencysongs game on Twitter last night:
How about Stourbridge Over Troubled Waters and Dudley Looks Like A Lady? #constituencysongs #ithinkidbettertryharder

— Chris Mason (@ChrisMasonBBC) April 5, 2015
But there were better contenders out there:
I'd do anything for Hove (but I won't do that) #constituencysongs

— lukewaterfield (@lukewaterfield) April 5, 2015
It was a chance for Tories to plug George Osborne's Tatton constituency:
The sun has got his Tatton #constituencysongs

— David Gauke (@DavidGauke) April 5, 2015
Even the Number 10 cat Larry was in on the fun:
Devon North I'm Miserable Now #constituencysongs

— Larry the Cat (@Number10cat) April 5, 2015
If you think you can do better, share this article on Twitter and give your own suggestion.
Reuse content