Labour leader Ed Miliband has warned of the "stealth privatisation" of a "two-tier" NHS under a Conservative government.
The Labour leader, campaigning in Stevenage earlier today, said that ordinary people faced being "pushed to the back of longer and longer queues" and called for a cap on the proportion of private work NHS trusts could carry out.
Mr Miliband's party says leading English hospitals saw their income from private patients rise by more than half since 2010 – a charge denied by Conservatives.
The Tories claim that private patient income was falling as a proportion of hospital budgets, and that under their governance private health provision within the National Health Service slowed after accelerating under Labour.
Backed by the Liberal Democrats - who claim that Labour were "totally beholden to the private sector" – the coalition parties have argued that private health provision only increased from two per cent over the last five years.
But Mr Miliband claimed: "A Tory second term means stealth privatisation of the National Health Service - NHS patients finding themselves pushed to the back of longer and longer queues, operations delayed and an NHS not there when people need it.
"Under the Tories, it would be a two-tier NHS where you have to pay to get seen."
---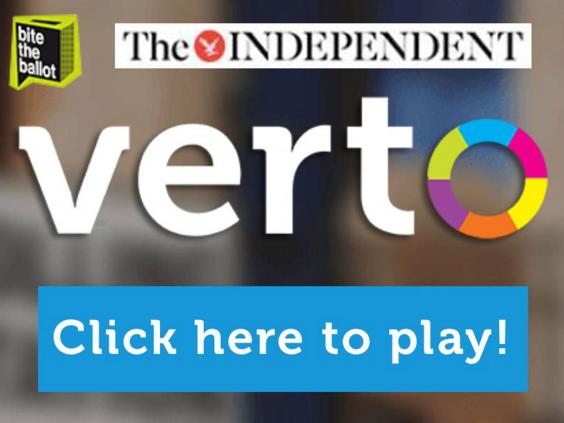 Are you undecided about who to vote for on 7 May? Are you confused about what the parties stand for and what they are offering? Take this interactive quiz to help you decide who to vote for...
---
The average income from private patients per NHS foundation trust rose 58 per cent from £1.7m (2009/10) to £2.7m (2013/14), according to documents from NHS trusts and financial regulator Monitor.
Labour claim that over the same period, waiting times for A&E and cancelled operations increased.
Mr Miliband's two per cent cap on work for private patients as a proportion of total income would dramatically scale back the coalition's health reforms.
In pictures: Experts' predictions for the General Election - 19/04/15
In pictures: Experts' predictions for the General Election - 19/04/15
1/10 Andrew Hawkins (ComRes)

"I am thinking Labour will be the largest party. Cameron is making no headway and refusing the debate was a misjudgement. Even if the Conservatives are the largest party I cannot see how they can win enough seats to form a viable alternative to an Ed-led, three-way arrangement with the Lib Dems and SNP."

Andrew Hawkins

2/10 Joe Twyman (YouGov)

"Ed Miliband's performance at the challengers' debate could boost his ratings, and may result in a short-term boost for his party's fortune, but I think it unlikely to change the overall picture longer term."

3/10 Ben Page (Ipsos MORI)

"Labour had the better week, and Ed Miliband is improving his personal ratings from a low base, but neither of the two main parties is getting a majority in these numbers."

4/10 Rick Nye (Populus)

"Still no change."

5/10 Nick Moon (GfK)

"I agree with Rick [Nye, who said "no change" last week]. Most campaigns don't really see much change."

6/10 Damian Lyons Lowe (Survation)

"On the balance of Thursday's debate – I'm staying unchanged."

7/10 Michelle Harrison (TNS)

"The Conservatives and Labour have barely moved. The most notable event? The SNP hitting 52 per cent on the latest TNS Scotland poll. A key theme for this election is the impact of 'edge' politics on the centre."

8/10 James Endersby (Opinium Research)

"Our poll gives the Tories a four-point lead. It was carried out either side of Thursday's TV debate so we haven't seen the expected dent in Tory fortunes yet. The pattern we've seen for a while now appears to be unaffected by week-to-week events. If our figures hold fast, the Lib Dems would still be kingmakers as Tories plus DUP wouldn't equal 326 seats, but neither would SNP plus Labour. Both sides would need the Lib Dems to eke out a majority."

9/10 Martin Boon (ICM)

"We caused something of a kerfuffle this week with a Tory six-pointer. Looking back over the last four campaigns, on each occasion the incumbent government just failed to reach the vote share achieved on our first campaign poll. As I'm reaching for an answer, on that basis alone I'll go for 36 per cent for the Tories and 34 per cent for Labour."

10/10 Lord Ashcroft (Lord Ashcroft Polls)

He refuses to make predictions. "My polls are snapshots, not predictions."

Rex
The 2013 Health and Social Care Act, which came into effect in England, allowed trusts to earn up to 49 per cent of their total income from private services.
Despite his promises, the Labour leader has added a caveat that if the trust meet strict safeguards to ensure NHS patients are unaffected then hospitals can exceed the two per cent limit.
A Conservative spokesperson called Labour claims a "gimmick", adding that Labour were "fixating" on the issue of "privatisation".
They added that "official figures show that outsourcing accounts for just 6p in each NHS pound, and private patient income is actually falling as a proportion of hospital budgets."
---
The Independent has got together with May2015.com to produce a poll of polls that produces the most up-to-date data in as close to real time as is possible.
Click the buttons below to explore how the main parties' fortunes have changed:
All data, polls and graphics are courtesy of May2015.com. Click through for daily analysis, in-depth features and all the data you need. (All historical data used is provided by UK Polling Report)
Reuse content