A potential economic short-fall of £7.6bn that would face a Scottish government given  full control of tax and spending by Westminster, has been described as "irrelevant" by Nicola Sturgeon.
The SNP leader dismissed recent independent analysis by the Institute for Fiscal Studies (IFS) as "snap-shot, one year figure" and insisted the scale of the deficit should not mean Scotland was denied full control of its own economy.
Ms Sturgeon, engaged in fiscal combat with the leaders of Scotland's three main parties for the third time in less than a week,  was accused by Labour's Jim Murphy, of  "making it up as she goes along" after she failed to explain what "magic policy" the nationalists' could deploy to address the funding gap.
In pictures: Experts' predictions for the General Election - 11/04/15
In pictures: Experts' predictions for the General Election - 11/04/15
1/10 Andrew Hawkins (ComRes)

"Events last week have reinforced my prediction that the Tories will be the largest party. Ukip's slow puncture may help the Tories most, and Nicola Sturgeon may well fulfil her wish to keep David Cameron in No 10 by reducing Labour's Scottish MPs to numbers that could fit in a stretch limo."

Andrew Hawkins

2/10 Joe Twyman (YouGov)

"The national picture remains largely unchanged, but YouGov's Scotland polling shows the SNP at an all-time high. Only 44 per cent of Labour supporters felt Jim Murphy performed best in the first Scottish leaders' debate."

3/10 Ben Page (Ipsos MORI)

"I need to see a more decisive shift in the polls to think that Labour have definitely moved ahead of the Conservatives. There has been more good news for Labour than the Conservatives, with Ed Miliband's personal ratings improving. Still, a hung parliament remains the most likely option."

4/10 Rick Nye (Populus)

"No change."

5/10 Nick Moon (GfK)

"I haven't changed my broad view that the Tories will be the largest party, but Labour is likely to form a minority government. Last week's projection (Con 280, Lab 273) looks pretty likely to me. The risk for Labour was that, as decision time looms, voters might take ahold of nurse, but that may be mitigated by Miliband's showing in the debates."

6/10 Damian Lyons Lowe (Survation)

"Unchanged, except for an SNP uptick at Labour's expense. The SNP's surge in Survation's polling continues unabated. Nicola Sturgeon scored well in our debate polling."

7/10 Michelle Harrison (TNS)

"Despite all the sound, fury and bluster, there has been no game-changer. If anything, it's become even tougher for the major parties, with signs of a softening in Conservative support and continued evidence that the SNP will inflict major damage on Labour."

8/10 James Endersby (Opinium Research)

"Our latest polling figures, published today, show movement back towards the Conservatives (a two-point Tory lead). My prediction last week of a shaky sway back in favour of the Tories on election day holds fast; and with a hung parliament, who on earth knows who'll be able to form a government?"

9/10 Martin Boon (ICM)

"At the equivalent point before the 2010 election, our poll suggested 37 per cent for the Tories and 31 per cent for Labour, which more or less nailed the actual result. I think that campaigns mostly reinforce perceptions rather than change minds."

10/10 Lord Ashcroft (Lord Ashcroft Polls)

He refuses to make predictions. "My polls are snapshots, not predictions."

Rex
Appearing on the BBC's Sunday Politics programme, which included Scottish Tory leader Ruth Davidson, and Liberal Democrat,Willie Rennie,  Ms Sturgeon said that "full fiscal autonomy" would mean a nationalist-led government in Holyrood having "powers" to grow the Scottish economy.
In heated and often chaotic studio debate, where all four politicians attempted to speak over and shout each down, Ms Sturgeon was repeatedly pressed to explain how Scotland could deliver twice the growth rate of the rest of the developed word, including the United States.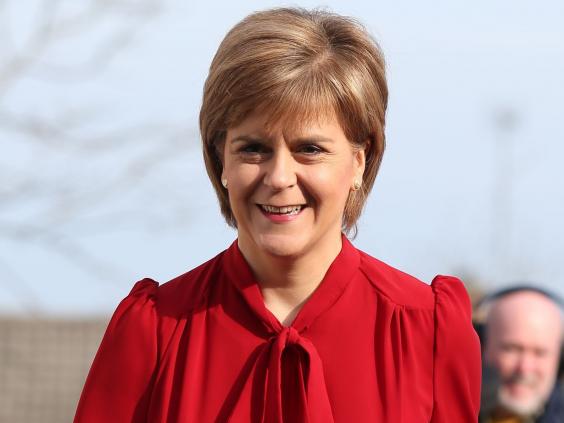 There was no answer from her other than a brief suggestion that Scotland would resort to borrowing on the international money markets and negotiations with Westminster would lessen the scale of the funding gap.
Although the two televised debates last week, in Edinburgh and Aberdeen, appeared to put the SNP on the back foot after Ms Sturgeon was forced to admit that another independence referendum could be back on the political agenda within 12 months,  the party's poll ratings in Scotland continue to rise.
Labour are still forecast to be left with only a handful of Scottish MPs on May 7.
As her three opponents on the TV programme appeared to corner her, comments on social media exploded with accusations of a "biased BBC" deliberately choreographing the attacks, and others saying "BetterTogether"  - the pro-union campaign against independence – were re-using last year's anti-independence arguments.
This is the dilemma facing her main opponents in Scotland: the harder they attack the nationalists, the more impregnable Ms Sturgeon's position looks.
One pro-SNP commentator said that while the SNP had been "fairly weak" on the finances of fiscal autonomy, "this doesn't seem to matter very much".  He said Scotland had "fallen in love with Sturgeon; she is adored."
Writing in the Sunday Herald newspaper, regarded as an unquestioning supporter of independence, the SNP leader said her opponents in the 2015 election had re-engaged in the "fear mongering" of the referendum, and did not want to hear "an alternative approach"  to "the dismal Westminster consensus on austerity."
---
The Independent has got together with May2015.com to produce a poll of polls that produces the most up-to-date data in as close to real time as is possible.
Click the buttons below to explore how the main parties' fortunes have changed:
All data, polls and graphics are courtesy of May2015.com. Click through for daily analysis, in-depth features and all the data you need. (All historical data used is provided by UK Polling Report)
Reuse content