The prospect of a post-election deal between Labour and the Scottish National Party makes one in four voters less likely to support Ed Miliband's party, according to a new survey.
Pollsters ORB, which questioned 2,000 people, found that a potential Labour-SNP deal made 25 per cent less likely to vote Labour and 16 per cent more likely – a difference of nine points, which could be crucial in a tight election. Many of those saying such an agreement makes them more likely to vote Labour already intend to back Labour. Six in 10 people said such an arrangement would make no difference to how they vote.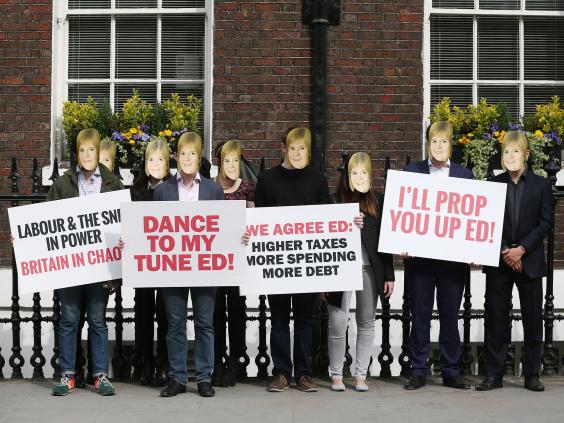 People who intend to vote Ukip were most likely to be put off by the prospect of  a Labour-SNP deal. Some 29 per cent of them said it would make them less likely to back Labour, while only 7 per cent said it would make that more likely.
---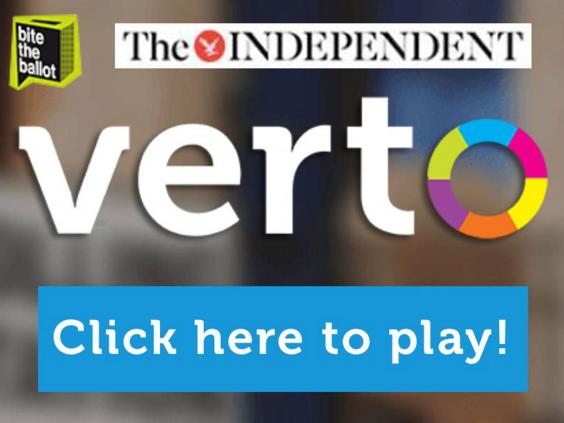 Are you undecided about who to vote for on 7 May? Are you confused about what the parties stand for and what they are offering? Take this interactive quiz to help you decide who to vote for...
---
The findings will boost Conservative hopes that by talking up the possibility of such a deal, they can win back former Tory supporters who have switched to Ukip before the election in nine days.
The prospect is not putting off most Labour supporters: 31 per cent said a link-up with the SNP would make them more likely to back Mr Miliband's party, while 16 per cent said it would make it less likely. Among Liberal Democrat supporters, a Lab-SNP deal would make them 27 per cent less likely to back Labour and only 13 per cent more likely.
In pictures: Experts' predictions for the General Election - 26/04/15
In pictures: Experts' predictions for the General Election - 26/04/15
1/10 Andrew Hawkins (ComRes)

"This is an election of wild promises and political cross-dressing; so no differentiation, no breakthrough, no majority. The most likely outcome is Ed Miliband in No 10 because only he will be in a position to work with enough parties (that is, the SNP) to form a workable government."

Andrew Hawkins

2/10 Joe Twyman (YouGov)

"As each day passes and the Conservatives fail to increase their vote share, the likelihood of Ed Miliband becoming PM (albeit still with a minority) grows. That's due to the continued performance of the SNP in Scotland and former Lib Dem voters propping up Labour in England."

3/10 Ben Page (Ipsos MORI)

"A better week for Ed Miliband than for David Cameron – personal ratings improving, and the betting markets moved in his favour. The poll numbers have him ahead by a whisker which, combined with the electoral maths, makes him more likely to be able to form some kind of government on the raw numbers right now. However, Cameron will be hoping for a 1992 moment when ultimately voters can't quite bring themselves to try someone else – and 38 per cent of voters still say they may change their mind."

4/10 Rick Nye (Populus)

"The Populus/Hanover Predictor has Ed Miliband ending up as Prime Minister in more than five out of six simulations we run."

5/10 Nick Moon (GfK)

"Tories most seats, SNP 45 or more, Ukip fewer than five: minority Labour government."

6/10 Damian Lyons Lowe (Survation)

"Ukip's vote share is prone to be squeezed, benefiting the Conservatives, while the SNP's onslaught on Labour continues. Based on three UK/Scotland polls, I am upgrading the Conservatives and the SNP, and downgrading Labour. Both the Lib Dems on 30 seats and Ukip on 5 to 10 remain unchanged."

7/10 Michelle Harrison (TNS)

"Still no change, but Nicola Sturgeon goes from strength to strength in Scotland. For me, who the biggest party is will hinge on the crucial marginals. But what ultimately wins – safety first, for the Tories, or Labour's 'get out the vote' ground war?"

8/10 James Endersby (Opinium Research)

"Our poll today shows a one-point Tory lead, statistically a tie. It's going to be incredibly tight. Labour and the Tories would do well to be negotiating with the smaller parties behind the scenes. In the likely event of a hung parliament, we've been testing various combinations of coalition. Labour teaming up with the Lib Dems would be more popular than with the SNP, which in turn would be more popular than a Tory/UKIP scenario."

9/10 Martin Boon (ICM)

"Not much going on really, and no reason to change my mind. Tories by a couple of points.

10/10 Lord Ashcroft (Lord Ashcroft Polls)

He refuses to make predictions. "My polls are snapshots, not predictions."

Rex
The findings chime with reports from constituencies by Labour and Lib Dem officials that the Tory attacks on a Labour-SNP link-up are persuading former Tories to return "home" from Ukip.
Tory hopes of breaking the election deadlock were boosted when a poll by Lord Ashcroft, the party's former deputy chairman, gave it a six-point lead and showed Ukip down. It put the Tories on 36 per cent (up two points on last week); Labour on 30 per cent (unchanged); Ukip on 11 per cent (down two points); the Lib Dems on 9 per cent (down one point) and the Greens on 7 per cent (up three points).
Meanwhile, a TNS survey in Scotland found that the momentum is still with the SNP. It put the party on 54 per cent (up two points on last week); Labour on 22 per cent (down two); the Conservatives on 13 per cent (unchanged);  the Lib Dems on 6 per cent (unchanged); the Greens on 2 per cent (down one point) and Ukip on 2 per cent (up one). However, one in three people who intends to vote has not yet made their mind whom to support.
In recent days, Labour has used tougher language on a possible arrangement with the SNP in an attempt to halt the Tories' campaign to exploit the issue. After initially ruling out a coalition, Mr Miliband has insisted there would be "no deal" of any kind.
But Nicola Sturgeon, the SNP leader, talked up the prospect of backing a minority Labour government, saying her party would vote for Labour's plan to reduce university tuition fees in England and Wales even if there were a majority against it among English MPs.  In a BBC TV interview, she said the SNP would vote for a Labour Queen's Speech even if she did not agree with most of it.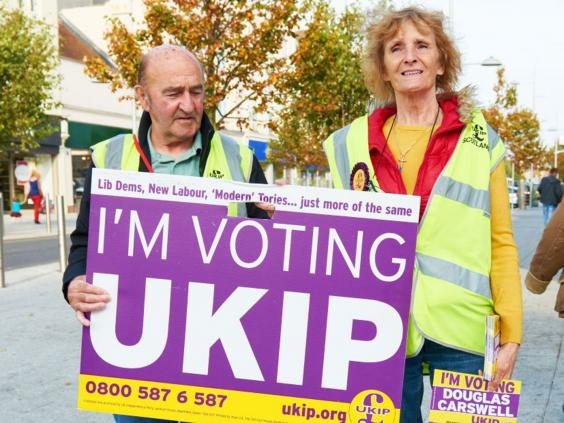 The SNP leader told BBC Radio that she did have rows with her predecessor Alex Salmond but said that was "not very often", and insisted she now had the final say. She said that even if the SNP won all 59 Scottish seats at the election, that would not be a mandate for another independence referendum.
Ms Sturgeon  added: "In recent days we have seen the opposition parties resort to the fears and scare tactics that they always seem to fall back on. They are out of ideas – and they are running out of time."
At the start of the election campaign, Jim Murphy, Labour's leader in Scotland, said the forecast of a Labour wipe-out north of the border would change as election day got nearer. But  his party's prospects look bleaker than ever.
Labour's  strategy of trying to expose holes in the SNP's demands for more greater economic power has made little impact.  However, in  Glasgow yesterday both Ed Balls, the shadow Chancellor, and Mr Murphy made a detailed attack on why the SNP's sums do not add up.  Mr Balls said: "The fundamental truth is that the SNP is committed to a fiscal approach for Scotland which rejects the pooling and sharing of resources across the United Kingdom."
Reuse content