Nigel Farage was snapped wearing a life jacket as he walked past a sign warning of the "slippery" path ahead as he visited a fishing port in Grimsby today.
If a picture painted a thousand words, this one painted the story of Ukip's slippery slide in the polls of late.
This graph shows how Ukip's vote has faded since its highs last autumn, according to our poll of polls:
Yesterday Mr Farage admitted Ukip's support had fallen back to levels seen last August, after it won the European Parliament elections but before former Tory MPs Douglas Carswell and Mark Reckless defected to the party and won two by-elections.
"We are exactly where we were last August, exactly where we were having won the elections, we were 14 and a bit per cent," he said in a bid to settle nerves in the party after signs that the party's support was being squeezed at the most crucial of times before the election.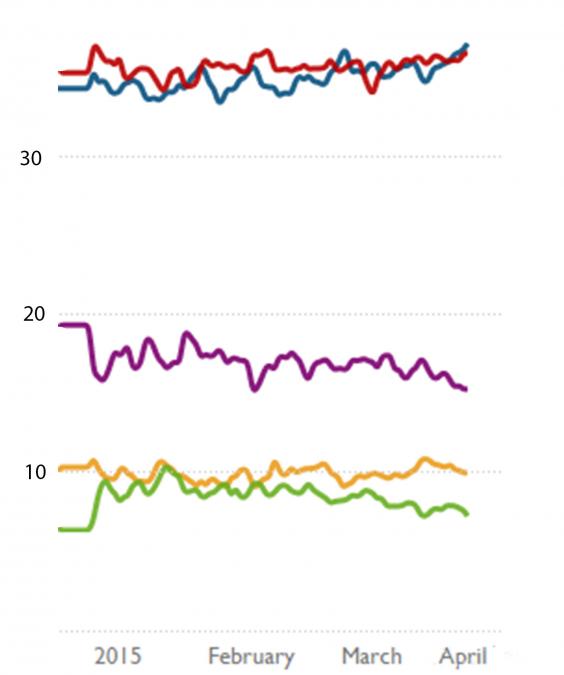 Meanwhile Mr Farage faces the biggest political battle of his life in his personal fight to win a seat at Westminster after a ComRes poll commissioned by Ukip's wealthiest donor Arron Banks found that he is trailing one point behind the Tory candidate for South Thanet, Craig Mackinlay, and is only one point ahead of Labour's Will Scobie.
However he sounded bullish when speaking to Radio 4's World At One today: "If I'd listened to all you pundits throughout the years I'd have given up years ago," he said.
"I've been very good at confounding the critics, and that's because I'm thinking outside the box. "I've never said it was going to be a cake walk. But do you know what, I'll get my nose on to that tape ahead of the others."
But the narrowing in the polls in South Thanet prompted him to issue an appeal for help from Ukip supporters around the country.
Messages posted to Mr Farage's official Twitter and Facebook profiles asked his followers to "please do me a personal favour" and travel to the parliamentary seat in Kent to canvass on his behalf.
I'm campaigning in #SouthThanet today. If you can't come and help in person, you can contribute to our campaign here: http://t.co/H5JSieaOVe

— Nigel Farage (@Nigel_Farage) April 6, 2015
Failure to win South Thanet could spell the end for Mr Farage after he announced he would stand down as leader of Ukip if he was not elected an MP in May.
The Independent has got together with May2015.com to produce a poll of polls that produces the most up-to-date data in as close to real time as possible.
Click the buttons below to explore how the main parties' fortunes have changed:
All data, polls and graphics are courtesy of May2015.com. Click through for daily analysis, in-depth features and all the data you need.  (All historical data used is provided by UK Polling Report)
Reuse content