While presidents and prime ministers have been queuing up to publicly congratulate David Cameron, the surprise Tory success has also set alarm bells ringing around the world.
And the Conservatives' promised in-out EU referendum appears to be a cause for concern internationally - along with the Scottish National Party (SNP) landslide victory, which has renewed fears of Scottish secession.
Leading German magazine Der Spiegel wrote that the Prime Minister's re-election was "bad news".
"A referendum on Europe is now certain and it will be fatal for Europe," a comment piece said.
"His party's Eurosceptics, screaming on the back benches of Parliament for years, are now even more powerful…anyone looking at the new political map sees a divided country."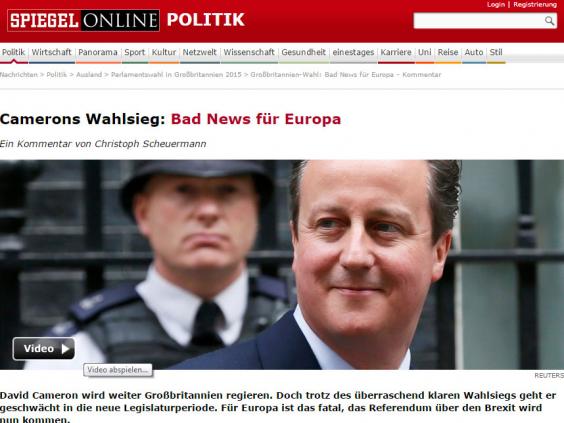 Greece's Kathimerini newspaper said all countries in the EU were struggling to "place the common good above their national interest".
An editorial said both the Syriza-led government in Athens and Britain were "testing the limits of membership and the Union's cohesion".
It added: "All players should remember two simple facts: Thanks to ever closer union, Europe has enjoyed 70 years of unprecedented peace and prosperity; pulling too hard can break any bond."
Panorama, a current affairs magazine in Italy, echoed the sentiment, saying the triumph of the SNP effectively gave the UK "two leaders and marching to two different tunes".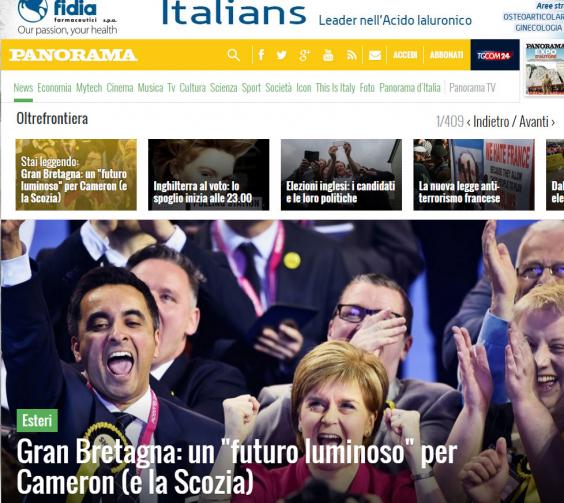 In France, the left-leaning Liberation said the election had turned the British political landscape "topsy turvy" as Mr Cameron is confronted with the "chilling prospect of his country shattering".
It added: "The crushing victory of the Conservatives, combined with the fiasco of an opposition that has been decapitated, has for the moment, confirmed the Prime Minister as above any threat."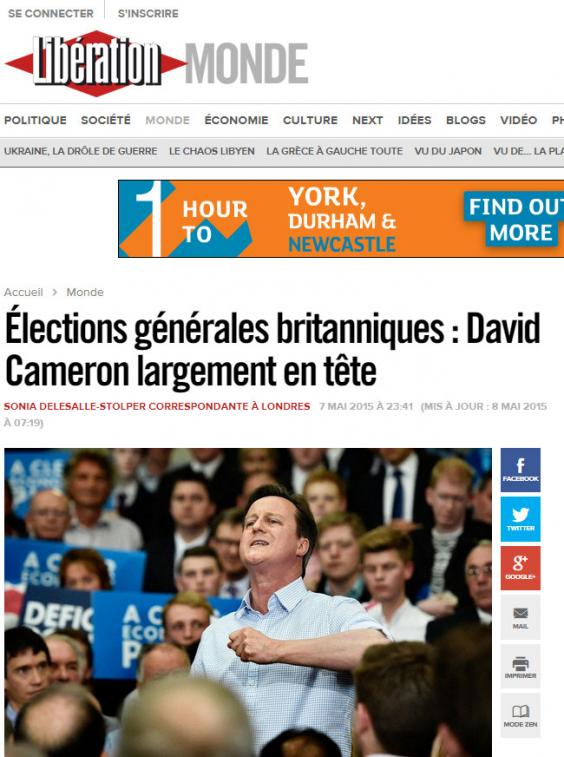 Even newspapers in countries outside Europe immediately voiced concern about the impact of an unshackled Tory government.
In the US, the Washington Post said a working majority only "heightened the degree to which the country faces a period of internal debate, inward-looking politics and potential instability, with questions about the durability of the United Kingdom and its place in both Europe and the world still to be answered".
Meanwhile, the New York Times warned that Britain's potential exit from the EU would distance it from Europe-wide policy making, "inevitably having an effect on Britain's ties to Nato and the United States".
Australia's Sydney Morning Herald was less concerned, pointing out that without the Liberal Democrats, the Conservatives were "paradoxically weakened" by a wafer-thin majority.
What does five more years of the Tories mean for Britain?
What does five more years of the Tories mean for Britain?
1/8 Welfare payments will be slashed

One of the most controversial parts of the Conservative manifesto was to cut benefits for the working age poor by £12 bn over the next three years. But during the campaign they only said where £2 bn of these savings would come from. That leaves £10 bn still to find. Some experts think the only way they can close that gap is by means testing child benefit – with millions of families losing out

Getty

2/8 There will be tax cuts for those in work and those who die

The Tories will increase the threshold at which the 40p rate of tax becomes payable to £50,000 by 2020. They haven't said so but it is also likely that at some point in the next five years they will abolish that 45p rate of tax altogether for the highest earners. They also want to increase the effective inheritance tax threshold for married couples and civil partners to £1m

Getty

3/8 There will be an in/out EU referendum in 2017

The next two years are going to be dominated by the prospect of a referendum on Britain's membership of the EU. First off David Cameron has the daunting task of negotiating a deal with other EU leaders an acceptable deal that he can sell to his party so he can go into the referendum campaigning for a 'yes' vote. This may be unachievable and it is possible that the Tories may end up arguing to leave. Opinion polls show Britain is divided on EU membership, one poll this year showed 51% said they would opt to leave compared to 49% who would vote to stay in

Getty

4/8 There will be more privatisation of the NHS

Having won the election the Tories now have a mandate to go further and faster reforming the NHS. In order to make cost savings there is likely to be greater private involvement in running services, while some smaller hospitals may lose services they currently provide like A&E and maternity units

Getty

5/8 There will be many more free schools – and traditional state schools will become a thing of the past

The Tories plans to create 500 new free schools and make 3,000 state schools become academies. They will also carry on reforming the Department of Education and remove more powers from local authorities over how schools are run

Getty

6/8 On shore wind farms will be a thing of the past and fracking will be the future

Government spending on renewable energy is under real threat now the Lib Dems are no longer in power with the Tories. Subsidies are likely to be slashed for off-shore wind farm and other green energy supplies. Meanwhile there will be generous tax break for fracking as ministers try and incentivise the industry to drill for onshore oil and gas

Getty

7/8 There maybe more free childcare – but not necessarily

In the campaign the Tories pledged to double the amount of free early education for three- and four-year-olds from 15 hours a week to 30. The extra hours would only be offered to working families where parents are employed for at least eight hours a week. However they have not said where the money will come from to fund the pledge

Getty

8/8 Workers' rights could be reduced

The Tories want to slash business regulation, merge regulator and cut costs. The Lib Dems stopped them from reducing the employment rights of workers in power – but these are now under threat

Getty
Any contentious vote "could be upset by a few fractious backbenchers, well aware of the power they now wield," the newspaper continued.
Israeli Prime Minister Benjamin Netanyahu called Mr Cameron to congratulate him personally but left-leaning newspaper Haaretz accused the Tories of using "scare tactics" and smears against Ed Miliband to win.
"The election results underline not only the growing distance between Scotland and the rest of the UK, but also deepening divides between classes and minority communities," a comment piece warned.
Iran focused on its own problems, with an advisor to the President Hassan Rouhani calling for increased British involvement in negotiations on its nuclear capacity.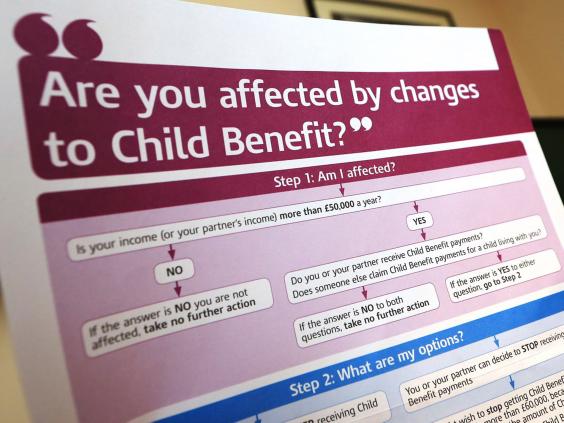 Hamid Aboutalebi, deputy chief of staff for political affairs, said: "British policy in the region and on the nuclear issue in recent years has been far from the capacities of that country and has been overshadowed by American policy."
Predictably, Russian newspaper Pravda, associated with the country's Communist Party, had little complimentary to say.
"For great swathes of the UK," it claimed. "Prime Minister Cameron is seen as an arrogant, out of touch, over-privileged, aristocrat who hates the poor, disadvantaged, elderly, disabled, affordable social housing, those unable to find work in a shrinking job market and just about anyone not from his money-mired hunting and country mansion pals."
The article went on to claim that the Coalition's austerity programme had led to "suicides and financially related deaths" that will continue under the new Government.
Reuse content