A second referendum on Scottish independence should be held if the UK votes to quit the European Union, Nicola Sturgeon has said.
Scotland's First Minister insisted this election was not about a second independence referendum but refused to rule out staging one after next year's Scottish Parliament elections.
The Conservatives have pledged to hold a referendum on Britain's membership of the EU in 2017 if they win power and the Liberal Democrats have shown signs they may be willing to accept an EU vote in exchange for concessions if they enter a second coalition with David Cameron's party.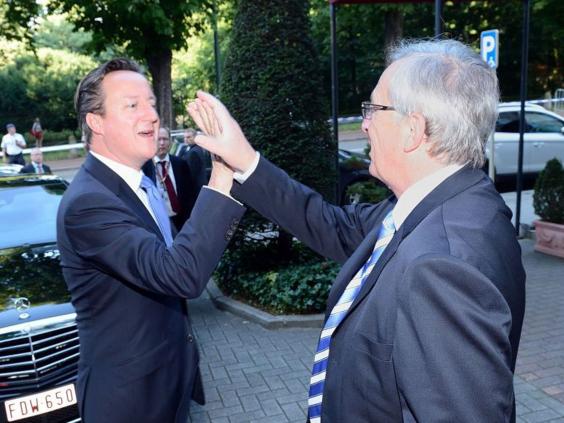 The SNP manifesto, which Ms Sturgeon unveiled yesterday, calls for each of the UK nations to be given a veto on leaving the EU and will propose a "double majority" rule.
This would mean that unless England, Scotland, Wales and Northern Ireland each vote to leave the EU, the UK would remain a member state. If this was resisted, it could lead to a second independence referendum, she said.
In an interview with the Daily Mail, Ms Sturgeon said: "I'm quite clear - a vote for the SNP at this election, I'm not taking that as a mandate for another referendum, she said.
"So it would have to be something like the EU situation, if there was an out vote across the UK and Scotland wants to stay in."
"If I put a commitment to a referendum in any future SNP manifesto, people have to vote for that manifesto, so I can't do that lightly. I have to be sure that there is a change of circumstances that has led to people by majority opinion wanting another referendum."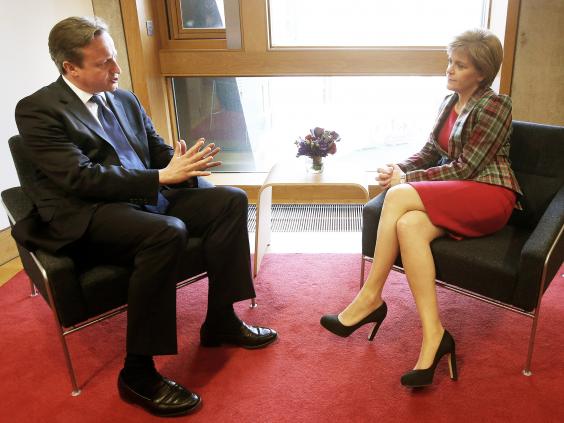 Support for the SNP has been on the up, despite the vote against independence last year, with polls suggesting there could be a record number of Scottish nationalists at Westminster.
A survey of bosses of the 10 top polling companies for their predictions for The Independent on Sunday suggested the SNP could win 45 seats, while other calculations puts the party's seats projection even higher.
With the election apparently on track for another hung parliament, that could see Ms Sturgeon and her party holding the balance of power across the UK.
Some of Labour's top figures also face losing their seats to the SNP, including the party's Scottish leader Jim Murphy and shadow foreign secretary Douglas Alexander.
The SNP manifesto makes the case for "modest" increases in public spending, resulting in "at least £140 billion extra investment" across the UK.
This would see an additional £9.5 billion above the rate of inflation for the NHS by 2020/21, a total increase of £24 billion.
SNP MPs would back an increase in the minimum wage, wanting this to rise to £8.70 an hour by 2020, and would also vote in favour of the reintroduction of the 50p rate of income tax for top earners, as well as mansion tax and a bankers' bonus tax.
While the tax changes are similar to those set out by Labour, one key difference between the two parties remains over the issue of Trident.
In pictures: Experts' predictions for the General Election - 11/04/15
In pictures: Experts' predictions for the General Election - 11/04/15
1/10 Andrew Hawkins (ComRes)

"Events last week have reinforced my prediction that the Tories will be the largest party. Ukip's slow puncture may help the Tories most, and Nicola Sturgeon may well fulfil her wish to keep David Cameron in No 10 by reducing Labour's Scottish MPs to numbers that could fit in a stretch limo."

Andrew Hawkins

2/10 Joe Twyman (YouGov)

"The national picture remains largely unchanged, but YouGov's Scotland polling shows the SNP at an all-time high. Only 44 per cent of Labour supporters felt Jim Murphy performed best in the first Scottish leaders' debate."

3/10 Ben Page (Ipsos MORI)

"I need to see a more decisive shift in the polls to think that Labour have definitely moved ahead of the Conservatives. There has been more good news for Labour than the Conservatives, with Ed Miliband's personal ratings improving. Still, a hung parliament remains the most likely option."

4/10 Rick Nye (Populus)

"No change."

5/10 Nick Moon (GfK)

"I haven't changed my broad view that the Tories will be the largest party, but Labour is likely to form a minority government. Last week's projection (Con 280, Lab 273) looks pretty likely to me. The risk for Labour was that, as decision time looms, voters might take ahold of nurse, but that may be mitigated by Miliband's showing in the debates."

6/10 Damian Lyons Lowe (Survation)

"Unchanged, except for an SNP uptick at Labour's expense. The SNP's surge in Survation's polling continues unabated. Nicola Sturgeon scored well in our debate polling."

7/10 Michelle Harrison (TNS)

"Despite all the sound, fury and bluster, there has been no game-changer. If anything, it's become even tougher for the major parties, with signs of a softening in Conservative support and continued evidence that the SNP will inflict major damage on Labour."

8/10 James Endersby (Opinium Research)

"Our latest polling figures, published today, show movement back towards the Conservatives (a two-point Tory lead). My prediction last week of a shaky sway back in favour of the Tories on election day holds fast; and with a hung parliament, who on earth knows who'll be able to form a government?"

9/10 Martin Boon (ICM)

"At the equivalent point before the 2010 election, our poll suggested 37 per cent for the Tories and 31 per cent for Labour, which more or less nailed the actual result. I think that campaigns mostly reinforce perceptions rather than change minds."

10/10 Lord Ashcroft (Lord Ashcroft Polls)

He refuses to make predictions. "My polls are snapshots, not predictions."

Rex
---
The Independent has got together with May2015.com to produce a poll of polls that produces the most up-to-date data in as close to real time as is possible.
Click the buttons below to explore how the main parties' fortunes have changed:
All data, polls and graphics are courtesy of May2015.com. Click through for daily analysis, in-depth features and all the data you need.  (All historical data used is provided by UK Polling Report)
Reuse content