The leader of the Green Party has urged the West to make concessions to Russia over the Ukraine crisis because Vladimir "Putin has to walk away with something".
Natalie Bennett urged countries around the negotiating table to avoid a punishing "Versailles approach" and keep valuable international alliances intact.
"What we need to do is put diplomatic pressure on Russia, but we also have to understand that if we are negotiating with Russia it's really important not to take what you might call the Versailles approach, to understand that President Putin has to walk away with something - things that we might not necessarily like," she told BBC Radio 4's Today programme.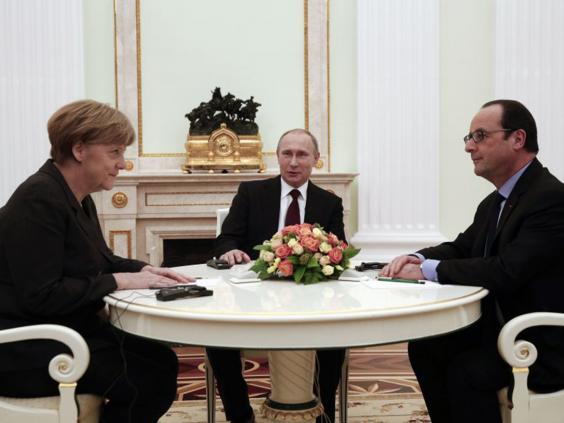 "So we have to stand up for international law, for human rights, but we also have to acknowledge that we are living in the real world, so use all of those pressures but use them subtly, build international alliances, work together."
The Green Party manifesto includes a pledge to slash defence spending- a move that had significant public support in the wake of the Iraq and Afghanistan wars but is looking less alluring amid rising tensions in Europe.
Ms Bennett was questioned on the response to Russian bombers approaching British airspace off the coast of Cornwall last week – one of several times in recent months that the country's planes have caused the RAF to scramble fighter jets.
The leader said the UK should seek a new role in the world rather than get involved in a new arms race, claiming more anti-aircraft missiles is not "any kind of answer".
"We are in the place we are now as a product of decades of Cold War thinking, we are acting as the world's policeman with America in places like Iraq and Afghanistan, wars that we opposed," she added.
"We need to build a new place in the world as a champion of human rights, as a champion of international law."
Ms Bennett also outlined some of the Greens' key pledges, supporting a "citizens' wage" of £72 a week for all adults just weeks after her party's only MP appeared to ditch the policy.
The six-party election: key figures
The six-party election: key figures
1/12 Conservatives

2/12 Lynton Crosby (Con)

Chief election strategist

Rex

3/12 Labour

4/12 Lucy Powell (Lab)

Vice chair of general election campaign

5/12 Liberal Democrats

6/12 Paddy Ashdown (Lib Dem)

Campaign director

Getty

7/12 Ukip

8/12 Suzanne Evans (Ukip)

Deputy chairman

9/12 Greens

10/12 Chris Luffingham (Green)

Campaigns director

11/12 Scottish National Party

12/12 Angus Robertson (SNP)

General election director

PA
Caroline Lucas said the plan, which would cost an estimated £280 billion a year and had been criticised for being unrealistic, was a "longer term aspiration", adding: "It's not going to be in the 2015 election manifesto."
Ms Bennett said a commitment to a basic citizen's income would indeed be in the Greens' manifesto - even though there was no possibility of it being introduced before 2020.
"It will be in the manifesto but what we are saying…we are looking at a massive change in the welfare system, it's not something that we would expect to be able to introduce overnight or indeed in the term of the next parliament."
The party also wants to tax wealth not only through earnings and property but also pensions, holdings and even luxury cars.
According to the Green Party's own statistics it now has 54,500 members – higher than the most recent numbers for Ukip and the Liberal Democrats held in the Commons Library.
By the end of last month, Nigel Farage's party had around 42,000 members and the Lib Dems were on 44,000.
The Scottish National Party had more than double that figure, while the Conservatives and Labour soared ahead with 149,800 and 190,000 members respectively.
Additional reporting by PA
Reuse content