Britain must build on the green belt if it is to have any hope of solving the current housing crisis, a senior Labour MP has said.
Speaking at a public debate organised by The Independent, David Lammy cited the fact that only 40 council properties were built in London last year as evidence of the UK's dysfunctional housing market.
"The housing crisis is deep, and my sense is at the moment we're heading for a bigger crisis," he said. "We need a huge housebuilding programme… I think we've got to review the green belt. We cannot have a situation where we're selling off playing fields in inner London and basically saving car parks in outer London."
The Labour MP for Tottenham, who is hoping to run for London Mayor next year, also called for a cap on rents to prevent tenants being priced out of fashionable neighbourhoods. "It's not socialist to do that," he added.

However, the green-belt idea was dismissed as a "disgusting, philistine concept" by the Independent columnist Janet Street-Porter, who said there was "ample space" for housing in cities such as London if industrial land could be freed up for development.
Ivan Massow, the Conservative entrepreneur who is also hoping to stand for London Mayor next year, said there was "hectare upon hectare" of brownfield sites that could be used for housing. "You have to be very rich or very poor to live in London – there's nothing in the middle," he said.
The event, held at the Banking Hall, was chaired by Amol Rajan, the Editor of The Independent, and featured an eclectic panel of politicians including Respect MP George Galloway and Maajid Nawaz, the Liberal Democrat candidate and chairman of the counter-extremism think-tank Quilliam.
Mr Nawaz, who is standing for the London constituency of Hampstead and Kilburn in May, said he could not afford to buy a house in the city he was hoping to represent. The next government should appoint a specialist housing minister with the sole aim of "getting us out of this fix", he added.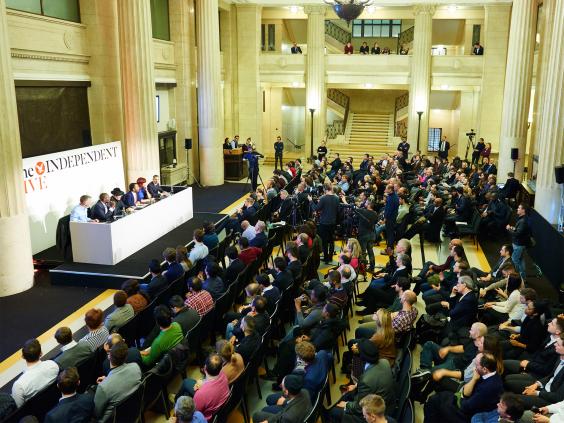 Mr Galloway conceded that Ed Miliband's promise to build 200,000 new homes every year by 2020 was "one of his better ones". But he said a key part of the problem was foreign buyers purchasing high-value homes "purely as a nest egg for their money", which he described as a "monstrosity".
In a wide-ranging debate, the panel were also asked about the best way to combat Islamic extremism. Mr Nawaz said Britain's "polite society" must start talking about it over the dinner table. "Civil society needs to start challenging this extremism where we see it – and not be afraid of being called racist," he said.
During a discussion on the monarchy, Mr Galloway raised laughter by predicting that republican feeling will "swiftly rise" in Britain when Prince Charles becomes King.
Independent Live was held at the Banking Hall, www.bankinghall.com
Reuse content