The Ukip leader Nigel Farage branded a group of LGBT rights protesters "filth" and "scum" after they invaded a pub where he was having lunch with his family – apparently causing his children to run away.
Campaigners claiming to represent "those who have been targeted by Ukip" planned to stage a demonstration of around 100 people at Mr Farage's local pub in the village of Downe in Kent.
When they realised the Ukip leader was actually at another pub across the road, they ran across and "took the cabaret of diversity into that pub" instead, according to the activists.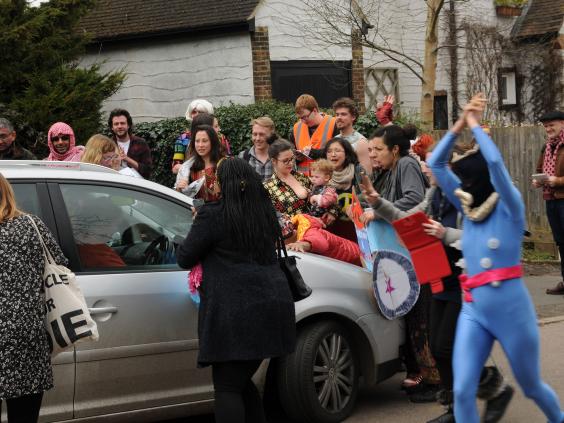 Mr Farage was pictured leaving the pub through a throng of people to his waiting car, after which protesters chased him down the road and tried to jump on the car's bonnet.
The politician claimed to be in the pub with his wife and two younger children, aged 15 and 10, when the activists wearing fancy dress came in.
Speaking after the incident, he said: "I hope these 'demonstrators' are proud of themselves. My children were so scared by their behaviour that they ran away to hide.
Ukip's confusing policies
Ukip's confusing policies
1/6 Deport migrants

Ukip MP Mark Reckless suggested he would deport existing EU migrants, a policy Nigel Farage rejected out of hand.

Reuters

2/6 US-style NHS

Farage was caught on film in 2012 saying healthcare headed towards insurance-based system, though he has since said he would keep it free at the point of use.

Universal Images

3/6 Handbag tax

Ukip Economy spokesman Patrick O'Flynn said he would introduce a tax on high-price items like shoes, Nigel Farage disowned this idea.

4/6 Same-sex couple adoption

Ukip candidate Winston McKenzie likened adoption by same-sex couples to "child abuse", but the party rejects that view.

PA

5/6 Gay marriage?

In early 2014 Ukip released a statement saying it would review its gay marriage policy, but later said that was an error.

AFP/Getty Image

6/6 Sex education u-turn

Nigel Farage told Leaders Live that he backed sex education for under-11s but later admitted that is not Ukip policy.

Getty
"At the time of writing this a relative has gone to look for them, and they are not yet at home. These people are scum."
It was later reported that the children had been found and returned home.
But protesters inside the pub claimed that Mr Farage was at the bar with his "entourage" and an almost-empty pint when they came in.
One, who asked to remain anonymous, said Mr Farage "charged like a bull" and questioned why they were there, calling the protesters "filth".
Protest organiser Dan Glass said the campaigners wearing fancy dress included migrants, HIV activists, gay people, disabled people and breastfeeding mums.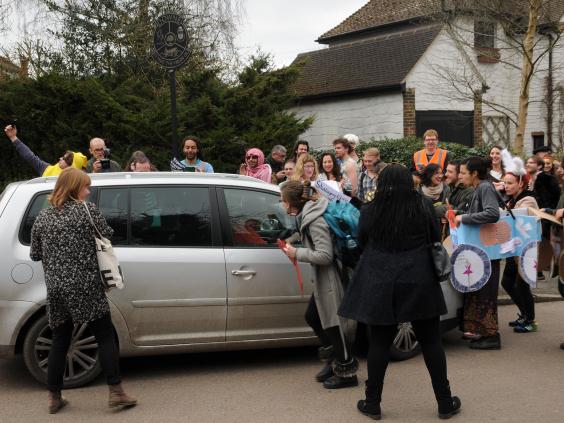 "Ukip are a con," he said. "They pretend to be anti-establishment but this couldn't be further from the truth.
"By wrongfully shifting the blame for the economic crisis on to immigrants they have let the bankers off the hook.
"We will not succumb to their prejudice. We will create the world we want to live in. A world beyond Ukip."
Responding to reports that Mr Farage's children had fled from the protest, Mr Glass said: "He was sitting on his own and left on his own. We didn't see any kids."
Ukip has requested taxpayer-funded security for Mr Farage during the election campaign, according to the Press Association, amid fears that he is regularly being targeted by protesters. Mike Kear, a freelance photographer attending the protest, said it seemed "very calm" inside the pub throughout and described the demonstration as "a day of celebration".
"It was very good-natured - there was certainly nothing very intimidating about it," he said.
Reuse content