Plans for three live televised leaders debates during the general election descended into chaos, recrimination and legal threats after David Cameron suggested he would rather be "empty chaired" than join a head-to-head debate with Ed Miliband.
The Labour leader accused the Prime Minister of "cowering from the public", after No 10 rejected broadcasters' proposals for two debates featuring seven party leaders and a third featuring just Mr Cameron and Mr Miliband.
Instead, Mr Cameron's aides made a "final offer" of a single 90-minute programme featuring at least seven party leaders to take place before the official start of the campaign on 30 March.
Representatives of Channel 4, ITV, Sky and the BBC met yesterday to discuss the ultimatum and whether to face down the Prime Minister and "empty chair" him if he refuses to participate.
The broadcasters had not announced their next move last night. But they are understood to believe they would not be in breach of election rules on impartiality if the excluded the Prime Minister as he turned down a reasonable invitation to attend. They are expected to make a formal statement on their position as early as today.
But the issue will almost certainly end up in the courts as the broadcasters have refused to include any of the leaders of Northern Irish parties in the debates. The DUP indicated yesterday it will challenge its exclusion in a judicial review.
Liberal Democrat leader Nick Clegg said that he was willing to take the PM's place in the one-on-one debate with Mr Miliband, if Mr Cameron refused to turn up for the clash, scheduled to be shown on Sky News and Channel 4 on April 30 - exactly a week before the May 7 election.
But Labour dismissed the suggestion as "ridiculous". Instead they said Mr Miliband was ready to subject himself to a solo grilling by presenter Jeremy Paxman and a studio audience.
Ukip's Nigel Farage accused Mr Cameron of trying to "sabotage" the debates, while Mr Clegg accused the PM of "lofty pomposity" in trying to dictate their format.
The Electoral Reform Society said it would be a "national embarrassment" if the debates did not go ahead.
In a process of negotiations stretching over months, Mr Cameron has previously raised objections to broadcasters' proposals, first on the grounds that they excluded the Greens, and then that the Democratic Unionist Party had been left out.
Both rival politicians and the broadcasters believe that Downing Street's latest 'offer' is another attempt to sabotage the plans while trying to avoid blame for the debates not happening.
However, this is denied by Cameron aides who claim it is a genuine offer. They suggest that if it is rejected by the broadcasters they might accept a rival proposal being put forward by YouTube and two newspapers to hold a single debate before the campaign starts.
Speaking during a visit to Staffordshire, the Prime Minister insisted he had been "completely consistent" on the debates, saying: "I haven't put hurdles in the way, the broadcasters came up with a series of proposals that other people realised were flawed.
"I am unblocking the log jam and saying let's have this seven-cornered debate and get on with it before the campaign. Then we can actually do what needs to be done, which is to get round the country during the election campaign."
He rejected claims that staging the debates before party manifestos are published would limit the opportunity to scrutinise their plans, insisting: "Everyone knows what the Conservative proposals are and the Labour proposals are, and the other parties can speak for themselves."
Mr Miliband said he was ready to debate the Prime Minister "any time, any place, anywhere".
"It is now clear that David Cameron is ducking the debate with me. He is cowering from the public," said Mr Miliband. "The British people deserve this debate. I'll debate him any time, any place, anywhere. He should stop ducking and weaving and name the date."
Meanwhile, Mr Clegg said he would happily take his coalition partner's place and spare the nation from an "Ed Miliband monologue".
Speaking during a visit to Cornwall, the Liberal Democrat leader said: "I am bemused by the lofty pomposity of the Conservatives that they say they will deign to participate in one debate.
"They're behaving as if they're ordering a drink in the drawing room of Downton Abbey. It's not for the Conservatives to start telling people how these debates are going to happen, they belong to the British people.
Election 2015: Focus groups make unflattering comparisons
Election 2015: Focus groups make unflattering comparisons
1/4 David Cameron

The Prime Minister was likened to 'Wacky Races' villain Dick Dastardly

Getty Images

2/4 Ed Miliband

The Labour leader was compared to Mr Bean

PA; Getty Images

3/4 Nick Clegg

The Deputy PM reminded focus groups of Fred from Scooby Doo

Getty Images

4/4 Nigel Farage

The Ukip leader was described by floating voters as like Ray Winstone

Getty Images
"If David Cameron is too important or too busy to bother to actually defend the record of this government in a debate with Ed Miliband then, yeah, I'll offer up myself to do it instead."
Mr Cameron's latest terms for taking part have been set out in a letter from his director of communications, Craig Oliver, to Sue Inglish, chairwoman of the broadcasters' leaders' debates committee. In a joint statement, the BBC, ITV, Channel 4 and Sky said they would respond to the Conservatives' proposal in due course.
As well as the 30 April two-leader clash, the broadcasters have proposed seven-way debates also involving Mr Clegg and the leaders of Ukip, the Greens, Plaid Cymru and the Scottish National Party on ITV on April 2 and BBC on April 16.
Asked if he thought Mr Cameron was running scared, Mr Farage said: "Yes, he is. He has sabotaged the whole thing.
"He has now said he will do one debate, but he will do it before the proper campaign starts, so it's not going to be a proper debate."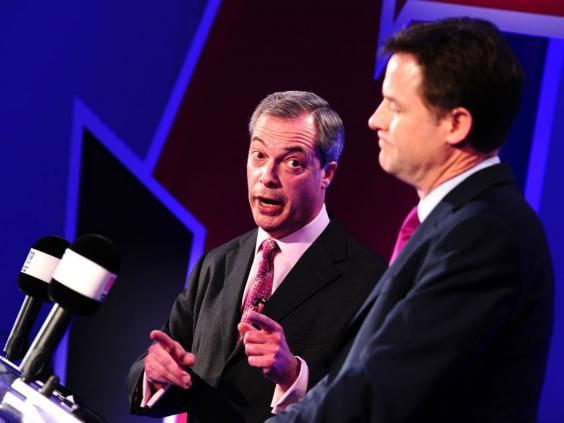 A spokesman for the Greens said: "Not only is Cameron's announcement cowardly but it also shows his contempt for the electorate. People want to see a set of debates between all major party leaders, yet the Prime Minister is clearly scared of scrutiny."
Electoral Reform Society chief executive Katie Ghose said: "This unseemly squabble over TV debates has to end now.
"Compared to other advanced democracies around the world, Britain has been extremely late to the party when it comes to TV debates. It would be a national embarrassment if we end up being the first to leave that party as well.
"No TV debates in 2015 would be a backward step in terms of our democratic development."
What they say - what they mean
David Cameron
What he says: "I haven't put hurdles in the way. The broadcasters came up with a series of proposals that other people realised were flawed."
What he means: "The flaw in the proposals is this: my personal ratings are better than Miliband's. I would be daft to risk that in a television debate."
Ed Miliband
What he says: "David Cameron is ducking the debate with me. He is cowering from the public. The British people deserve this debate."
What he means: "David Cameron is a right slippery customer. He is not giving me the television exposure I badly need. I deserve this debate."
Nick Clegg
What he says: "I am bemused by the lofty pomposity of the Conservatives that they say they will deign to participate in one debate."
What he means: "I am the one who can raise the level of debate. The public needs to hear me. Whatever else happens, let's have a debate featuring me."
Andy McSmith
Reuse content