Nigel Farage has boasted that support for him from within Ukip is "astonishing" and has "never been greater" as he rejected calls on him to resign for the second time in a week.
He pointed the finger of blame at one anonymous figure in Ukip for whipping up a row over his leadership that has plunged the party into civil war this week after he withdrew his resignation and was re-appointed as leader.
Mr Farage accused the individual of cowardice who was "agitating" for change and challenged him to unite behind him as leader or quit the party. He claimed the row was being driven by a Conservative agenda to "destabilise" Ukip in the run up to the referendum on Britain's membership of the European Union.
He was speaking after appearing on BBC Question Time last night, when he defiantly rebuffed calls on him to quit, saying it would be a "massive, massive mistake" to have a leadership contest so soon after the election.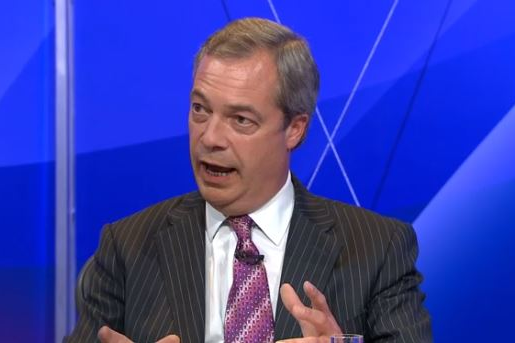 He said he "did not recognise" Ukip election campaign manager Patrick O'Flynn's description of him as a "snarling, thin-skinned, aggressive man"in a newspaper interview.
Speaking from Westerham this morning, Mr Farage said even Mr O'Flynn was "100 per cent supported me" – as was most of his party, he claimed.
"Every single one of our major donors came out in support of me yesterday: the National Executive is united, the leader of our group in the House of Lords, the leader of our MEPs, the Scottish committee, the Welsh committee, the east of England committee," he said.
"I've never had support like it. There is one senior figure in Ukip briefing every single day, consistently and he's now moved on to there must be a leadership election and that individual must make his mind up - whether his future is with Ukip or not.
He added: "What is clear is the sheer level of support for me in Ukip - frankly it's astonishing and to read the ludicrous headlines in some of today's newspapers makes you realises that actually, this is really about a Conservative an attempt by the Conservative lobby to destabilise Ukip and use one or two people within.
"It's very difficult to get more support than I've got and even Patrick O'flynn, who made some personal comments that weren't particularly pleasant, said he 100% supported me.
"There is one person in Ukip agitating for change and for a leadership election, he hasn't had the courage to break cover but he must make his mind up: is his future with Ukip or not?"
The major political figures who lost out in the General Election
The major political figures who lost out in the General Election
1/16 Ed Balls

Ed Balls lost his seat in what was the biggest shock of an extraordinary night of election results. His defeat in compounded Labour's woes in a dismal night, which saw the party lose all but one of its Scottish MPs and will undoubtedly lead to Ed Miliband standing down.

2/16 Nigel Farage

OK, so he came close to being upstaged by a professional comedian – Al Murray aka the Pub Landlord, had also lost in South Thanet. But as he lost his fight to become an MP and resigned his Ukip leadership, Nigel Farage did manage to get in a few gags. He began by railing against the editors of the The Sun and the Daily Mail, sarcastically calling them "geniuses". But perhaps bearing the last election in mind, when he was in intensive care following an air crash, he said after the result that he felt "pretty good". "Never felt happier," in fact. A weight lifted off the old shoulders. Quite right too, old boy. More time for the saloon bar and a pint, or five.

AFP/Getty Images

3/16 Vince Cable

A huge scalp for the Conservatives, even though he was part of their coalition government. The Liberal Democrat Business Secretary lost his Twickenham seat to Tory candidate Tania Mathias. Cable had held the seat since 1997 and was a strong figure in the Lib Dems, having previously been deputy leader.

Christopher Furlong | Getty Images

4/16 Jim Murphy

A sign of how dire things are in Scotland now for the Labour party. The leader of the Scottish Labour Party, Jim Murphy, lost his Renfrewshire East to the SNP, having held the seat since 2005. He held a number of cabinet positions under the administrations of Tony Blair and Gordon Brown.

Jeff J Mitchell | Getty Images

5/16 Danny Alexander

The Chief Secretary to the Treasury and Nick Clegg's right-hand man, Danny Alexander, lost his seat of Inverness, Nairn, Badenoch and Strathspey to the SNP. His aides admitted defeat several hours before the formal decision was due. There were suggestions that the SNP vote could be as high as 50 per cent.

BEN STANSALL | AFP | Getty Images

6/16 Esther McVey

The Minister of State for Employment and one of the few women in David Cameron's male-dominate cabinet, Esther McVey had only held Wirral West since 2010. Her 2,436 majority was overturned and Labour's Margaret Greenwood won the seat with a 417 majority.

BEN STANSALL | AFP | Getty Images

7/16 George Galloway

The former Labour MP had held the seat of Bradford West since 2012 for the Respect Party. He previously held the constituency of Bethnal Green and Bow for Respect between 2005 and 2010, although he unsuccessfully contested Poplar and Limehouse in 2010.

Nigel Roddis | Getty Images

8/16 Charles Kennedy

Another huge Lib Dem scalp, with the SNP taking the seat of Ross, Skye and Lochaber from the former leader of the party. Kennedy had led the Lib Dems between 1999 and 2006 and had become something of an elder statesman of the party. He conceded defeat ahead of the official declaration and said he would not give any TV interviews. He had been an MP since 1983.

Jeff J Mitchell | Getty Images

9/16 Douglas Alexander

The shadow Foreign Secretary and Ed Miliband's Chair of General Election Strategy, Danny Alexander had been the MP for Paisley and Renfrewshire South since 1997. He lost his seat to the SNP, with the party now holding a 9,076 majority. Labour's share of the vote was down by 21.3 per cent.

Jeff J Mitchell | Getty Images

10/16 Simon Hughes

Simon Hughes held a key Liberal Democrat seat in London, Bermondsey and Old Southwark, which he held from 1983. Hughes is a former deputy leader of the Lib Dems and had been minister of state at the Ministry of Justice since 2013. He was previously the President of the party, as well as a two-time leadership candidate, and stood for the party in the 2004 Mayoral election.

Rob Stothard | Getty Images

11/16 Mark Reckless

An MP for Rochester and Strood since 2010, Reckless switched from the Conservatives to Ukip in September 2014 and winning the seat outright in November. He was the second Ukip MP after Douglas Carswell, and his loss is a huge blow to Nigel Farage's party.

Carl Court | Getty Images

12/16 Margaret Curran

Margaret Curran had held Glasgow East since 2010 and was the shadow Secretary of State for Scotland. She had previously been the MSP for Glasgow Baillieston (a seat she might wish she still held, as it is still held by Labour under the title Glasgow Provan).

Jeff J Mitchell | Getty Images

13/16 David Laws

A Liberal Democrat MP for Yeovil since 2001, he was the minister of state for Schools. He had briefly been Chief Secretary to the Treasury after the 2010 election, only holding the office for 17 days after resigning due to the disclosure of his Parliamentary expenses claims. Laws was a key negotiator for the Lib Dems when the coalition was being formed five years ago.

Jeff J Mitchell | Getty Images

14/16 Jo Swinson

On her election in 2005, she was the youngest member of the House of Commons. Under the Coalition government, the Lib Dem MP was the Under-Secretary of State for Employment Relations, Consumer and Postal Affairs and for Women and Equalities. She lost her seat of East Dunbartonshire to the SNP's John Nicholson.

Matthew Lloyd | Getty Images

15/16 Ed Davey

The Liberal Democrat Energy and Climate Change Secretary Ed Davey had been the MP for Kingston and Surbiton since 1997. Davey championed the Lib Dems' role in ensuring the Conservative-led Coalition championed the green agenda. However, the well-known Lib Dem MP lost his seat to the Tories, having held the seat in 2010 by 7,560 votes.

Jeff J Mitchell | Getty Images

16/16 Lynne Featherstone

Lynne Featherstone lost her London seat of Hornsey and Wood Green to the Labour party. She was a former junior Home Office minister with responsibility for equality, then becoming junior minister with responsibility for international development.

Dan Kitwood | Getty Images
Yesterday critics queued up to call for his departure, arguing that the time had come for a less confrontational figure to take over at the helm. There was growing backing in senior ranks for Douglas Carswell, Ukip's only MP, to succeed him following the party's failure to achieve a breakthrough at Westminster.
The civil war was triggered by Mr O'Flynn's explosive comments during which he warned the party was in danger of becoming a "personality cult".
One of the unnamed aides he is understood to have had in his sights, the party secretary Matthew Richardson, resigned. Shortly afterwards Raheem Kassam, whose contract was to end on 31 May, quit early as a senior adviser to the Ukip leader.
Mr Kassam attacked Mr O'Flynn, Ukip's economics spokesman, as "wholly unprofessional", claiming he had "some issues" and should resign as a party spokesman.
Last night Mr Farage attempted to downplay the row between figures such as Mr O'Flynn and Mr Kassam, claiming the pair were "letting off steam".
"I was disappointed that a member of our team said this, but look, general elections you're under a huge amount of pressure and particularly it's like a boiler room, a pressure cooker," he said.
"I'm sure the others would agree, and we maintained discipline as a party extraordinarily well during this general election compared with the past. The election's over, people are letting off steam, and we've seen one or two people fighting personal wars against each other."
There was no sign the row would stop there, however, with Mr Kassam this morning accusing Mr O'Flynn of bringing the party into "major national disrepute" over yesterday's attack and also hit out at Mr Carswell.
"I feel a bit of responsibility in the sense that the characters who brought this up, namely Douglas Carswell and Patrick O'Flynn, are acting on purely selfish terms," he told the Today programme.
"They saw me as Nigel's sort of body armour and that if they went after me that they would get to Nigel.
"These people are not acting in the best interests of the party, what they are doing is bringing the party into major national disrepute and I don't think they have a place in the party."
Reuse content