Did David Cameron or Ed Miliband win the battle of the TV interviews? The conflicting answers to the question following the live event on Thursday night prove we all choose to see what we wish to see, or what we think we should be seeing.
Instant polls suggested that Cameron was the victor. But Miliband and his entourage are genuinely upbeat, more so than they have been for some time. Are they choosing to see what they wish to see, too?
I do not believe they are deceiving themselves, for several reasons.
Without exception, opposition leaders and their exhausted advisers feel a genuine sense of liberation when an election campaign finally begins. Campaigns are physically exhausting with moments of nerve-shredding intensity. But in terms of leadership they are more straightforward than the normal insane demands of opposition.
Once a campaign begins, the tough policy decisions have all been taken. A party unites and is disciplined. Questions about a leader's future cease until the vote.
On Thursday, Ed Miliband became the latest Leader of the Opposition to feel and convey that sense of liberation.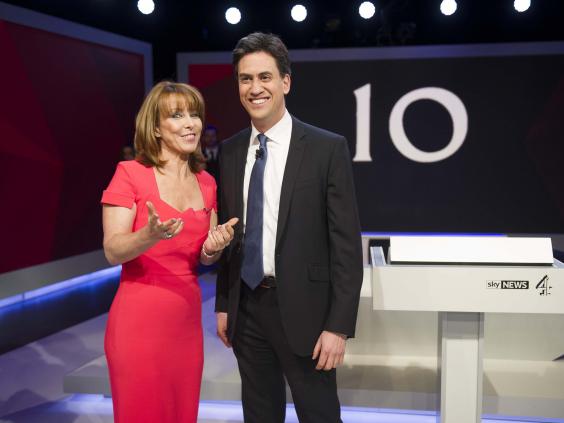 On one level the event was the most daunting he has faced. At the start of a make-or-break election he was live, facing Jeremy Paxman and questions from an audience. Yet he seemed up for it, finally in the campaign and no longer burdened by the other agonising contortions of opposition.
Oddly Miliband performed less well in front of the audience and was good when challenged by Paxman.
Normally in a Q and A with an audience Miliband is relaxed, conversational, addressing each questioner by their name. On Thursday he answered the first questions by stepping forward and making a mini speech, slightly hectoring, awkward and jarring. But when he got in to his stride he deployed humour and was more relaxed.
With Paxman he managed to engage thoughtfully and wittily, wrong-footing an interviewer who prefers evasive defensiveness so he can to go in for the kill.
In contrast, David Cameron was ill at ease. On the whole, Cameron has enjoyed an easy media ride. He has faced three Labour leaders at points in their career when they were deeply unpopular. Most columnists largely share Cameron's political outlook. He has avoided many probing interviews. But an easy ride means a leader can be ill prepared when the ride suddenly gets tougher.
Election Analysis: The Key Voters
Election Analysis: The Key Voters
1/6 Settled Silvers

These are the comfortably-off over-60s, still in work or drawing a decent pension – or both – who are enjoying their entitlements such as the Winter Fuel Allowance, free bus passes and free TV licence. They are worried about immigration and Europe. Both the Conservatives – who are pledging to keep benefits for wealthier pensioners – and Ukip want their votes

Micha Theiner

2/6 Squeezed Semis

Slightly older than the Harassed Hipsters, they are the second key group for Labour's family-focused election strategy. They are married couples on low to middle incomes who own unpretentious semi-detached homes in suburban areas. In 2001, these were the Pebbledash People sought by the Conservatives. Now the pebbledash is gone and a modest conservatory has been built at the back

Micha Theiner

3/6 Aldi Woman

In 1997 and 2001 she was Worcester Woman – a middle-class Middle Englander shopping at Marks & Spencer and Waitrose. Today, the age of austerity means she still goes to Waitrose for her basic food shop but cannily switches to Aldi for her luxury bargains such as Parma ham and prosecco. Identified by Caroline Flint, she is a key target of both Labour and the Conservatives

Micha Theiner

4/6 Glass Ceiling Woman

In her thirties or forties, she has an established career under her belt, perhaps in the "marzipan layer" – one position below the still male-dominated senior executive level. She is now, according to Nick Clegg, forced into making the "heart-breaking choice" between staying at home to bring up her children and going to work and forking out for high-cost, round-the-clock childcare

5/6 Harassed Hipsters

One of the two key groups identified by Labour as crucial to hand Ed Miliband the keys to Downing Street. Well-paid professional couples, often with children, they live in diverse urban and metropolitan areas rather than the suburbs. More comfortably off than most swing voters, they are time poor – struggling to balance raising a young family with busy work schedules

Micha Theiner

6/6 Neo-Greens

These are mainly first-time voters, though some are in their twenties – students and digital-age generation renters helping to fuel the "Green Surge". Idealists, but with no tribal loyalty to any party, they are anti-austerity, middle class, living in urban areas. Despite studying at university or recently graduated, they are struggling to find decent jobs and want cheaper housing and a higher minimum wage

Micha Theiner
Cameron is very good at tonal variety, smartly emollient and witty when delivering tough Thatcherite messages. He had no space for tonal variety under the Paxman interrogation. As a result he looked uneasy because, I suspect, he felt uneasy – self aware enough to realise the exchange was not going well.
Revealingly, he was thrown by opening questions about the number of food banks in the UK. In his preparation for the interview I suspect that food banks did not come up. They are not on his radar as he fights a more orthodox Thatcherite campaign arguing for a smaller state and cuts in welfare spending and tax.
Miliband's confidence will have been boosted by his first experience of a live national TV election event. I believe this will be the most important consequence of the programme, perhaps the only one.
Miliband emerged feeling energised rather than downcast. He genuinely seemed to almost enjoy the event. If he had flopped, the next few weeks would seem even more daunting. Instead he is on a bit of a high. The mood at the formal launch of Labour's campaign yesterday was tangibly more hopeful than it might have been.
When Miliband is feeling low, his public appearances can seem awkwardly defensive. But positive or defensive, performance in an election is of limited significance. Neil Kinnock fought the better campaign in 1987 and was heavily defeated in the election. At the start of the 1983 election campaign even Michael Foot felt suddenly, fleetingly optimistic, liberated from his nightmarish pre-campaign pressures. He too was slaughtered when the votes were cast.
Of much greater importance is the policy division between parties and the degree to which one party can unite voters on either the left or the right – how much one leader in his or her values more closely reflects the mood of the times.
Early confidence in the minds of leaders and their advisers is important, however. Even if most viewers saw a different debate on Thursday to the one that Miliband's close allies saw, it is Miliband and his close allies who feel they won.
Although relieved by the instant polls, I suspect Cameron and his advisers know he did not perform especially well. They saw what they saw.
Miliband looks ahead to the first full week of the campaign with cause to feel upbeat.
Reuse content